Ryan Pope: <br>Gettin' Down With The Get Up Kids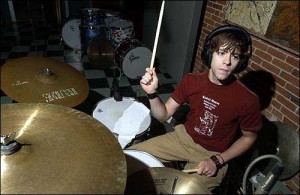 Smart, melodic, and unflaggingly energetic, The Get Up Kids are part of a Midwestern pop-punk tradition that stretches from Cheap Trick through The Replacements and up to the current 'emo' scene. But one of the factors that distinguishes this Kansas City quartet is its powerful but nimble drummer, Ryan Pope.
Pope also has a sophisticated sense of dynamics; on 1999's Something To Write Home About (Vagrant), his playing recalls other "Song-oriented" greats like Charlie Watts and Jim Keltner. "It's more important to maybe make some sacrifices for the tune instead of pounding away and thinking of yourself as an individual player," he maintains.
The Get Up Kids are gearing up to record again with producer Nigel Godrich (Radiohead, Travis) for a spring release. This time, Pope promises "more straight-up rock" a la Neil Young and The Rolling Stones, as well as a new level of playing from the rhythm section, which is completed by his one-year-older brother, Rob. "We're really getting our stuff together right now," he says. "We've always been able to play off each other, and that's been cool. But we're learning how to complete the song and make it what it really needs to be – and that's rad." Advertisement
Jim DeRogatis