Roy Haynes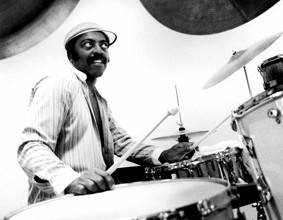 To help celebrate this milestone, we thought this a perfect opportunity to revisit Mr. Haynes with a cover story. And we asked veteran jazz writer (and longtime friend) Ira Gitler to interview Roy. The following story reveals a lot about this master of the instrument, one of the hippest drummers ever to pick up sticks.
It's not always easy to pin down a person as busy as Roy Haynes for an interview because, when he isn't occupied with his profession, he's inclined to relax at home (in the 516 area code) and not motor into New York City. However, earlier this year, during his eightieth-birthday (March 13) week of performances at the Village Vanguard, Modern Drummer had arranged an afternoon photo shoot for this article, and I took advantage of it to sit down with this great artist.
I might as well begin with the first time I heard Roy Haynes in person, because I've often recounted to him my exhilaration and delight on that premier occasion. It was in 1949 at one of those late-afternoon into early-evening Sunday jam sessions that had become part of the New York jazz scene at least as far back as the '30s. The scene was the Hotel Markwell on West 47th Street. Saxophonist/bandleader Georgie Auld had taken over the bar and renamed it Tin Pan Alley. Roy was sitting in and soon began to arrest my attention and amaze me with his four- and eight-bar constructions in conversational exchanges with the horn players, which were called "chase" choruses at the time. Advertisement
"I was developing it as I was doing it," Haynes explains. He went on to think in terms of twelve and sixteen bars, extending these highly rhythmic yet epigrammatic gems.
To understand what made Haynes the intuitive musician he is, you have to go back to his formative years. I've written about him a number of times, and I've read many other pieces about him. Perhaps I missed it, but it occurred to me as I made my way down to the Vanguard recently that I'd never read anything about his early childhood, growing up in Roxbury, Massachusetts. When the photographer finished the shoot and Roy and I had sat down on one of the banquettes that run along the club's side wall of the elevated section, my first question went back to the late 1920s.
"I had an older brother," Roy began. "My mother and father were both from Barbados, and Douglas was born there." After the family moved to America, Roy and his younger brother Vin were born. Doug, according to Roy, was five years older than him. "He didn't get along with my father, seemingly," Roy recalls, "and by the time he was a teenager, he was on the road. He knew a lot about the Savoy Ballroom and about the bands. He had all the records; and he was the one who had a pair of drumsticks in the house. That's where I picked up my first pair."
"Doug didn't play drums," Roy continues. "He played trumpet. After the war he got out of the service. The war messed him up. But he did go to the New England Conservatory at the same time as Cecil Taylor." Advertisement
Haynes cites his brother and "listening to the radio" as the two main influences in his interest in jazz. It was Doug who introduced him to Count Basie's great drummer, Jo Jones. "Jo told me many times that it was my brother who brought me to see him," Roy recalls. "Doug knew everybody. He was my main connection to jazz. And he had a lot of records by Duke, Basie, and Billie Holiday.
"In Roxbury, an Irish family lived on one side of us and a French Canadian lady lived on the other. She played the piano every Sunday – Gershwin, Broadway tunes. And I heard Art Tatum and Bing Crosby records on the local radio station. Across the street, there was a synagogue. I heard them blow the ram's horn and also sing religious music – chanting after a funeral."
But the die was cast for Haynes when he picked up his brother's drumsticks. "I just knew I was a drummer," he says. "I was banging on everything in the house. I may have been eight or nine when my father wanted me to get some drum lessons." Advertisement
Haynes senior, who had been a church organist in Barbados, arranged for his son to study with a man who lived across the street. "He gave me a couple of lessons on the snare drum," Roy says. "It was the first time I ever heard the "mamma-daddy" rhythm."
Roy learned much later that his teacher had been Herbie Wright, the drummer with James Reese Europe's 369th Infantry Regiment Band. In addition to Wright, another drummer who was an early influence of Roy's was Bobby Donaldson. He was three years older than Roy and lived on the same block. Donaldson went on to work with Andy Kirk, Lucky Millinder, and everyone from Benny Goodman, Eddie Condon, and Dorothy Donegan to Herbie Mann, Curtis Fuller, and Charlie Byrd.
Did Haynes participate in his schools' bands" "I was in all of them. I was so hip," he says with a smile. "In junior high I wanted to be the drum major, tell 'em what to do." Advertisement
Roy did put in some time with the drum & bugle corps, but says, "I was never a rudimental drummer, so I think my sound comes from my mind more than my hands."
Those hands got him into trouble at Roxbury Memorial High School, nicknamed "The Synagogue" for its predominantly Jewish student body. "One time I was drumming with my hands on the desk," Roy admits. "I had the class in the palm of my hand. But the teacher actually sent a note to the principal. My father used to say that I was just nervous. I left later in that third year and finished school hanging out with Lester Young and Charlie Parker."
There was a little more formal study in Haynes' future, but quite a lot of first-hand experience. In a short stay at the Boston Conservatory, Haynes took lessons from Karl Ludwig. "during that period," Roy says, "I played with Sidney Bechet at the Savoy on Massachusetts Avenue."
Other gigs with signal players during this period (1943-44) involved trumpeter Frankie Newton and alto saxophonist Pete Brown. Haynes also spent some time in the Sabby Lewis band, a Boston favorite of the time. 'there were no drum parts," Roy recalls, "So I was really impressed when a guy named Joe Booker sat in and read the first trumpet's part. When I left I was replaced by Osie Johnson." Advertisement
Haynes' next job was on Martha's Vineyard with a band led by one Phil Edmond that played stock arrangements. "In those days we had two unions, black and white. I got a special delivery letter, sent to Local 535 on Massachusetts Avenue, from Luis Russell in New York, asking me to join his band. I wanted to go to New York with a big band anyhow. I sent him a telegram saying that I was interested but that I couldn't join until after Labor Day because the Edmond job was for the whole summer."
Russell summoned Haynes on the recommendation of Boston-born Charlie Holmes, a fine alto saxophonist in the Johnny Hodges style, who had played with Russell's band. "Charlie Holmes told Russell about me. He believed in me," Roy says. "As a matter of fact, I stayed at Charlie's house for about a month after I got to New York. Luis sent me a one-way train ticket – and I'm still here."
Haynes' New York debut was an auspicious one – at the Savoy Ballroom. While he was with Luis Russell he was borrowed by Louis Armstrong, who had fronted Russell's band from 1935 to 1943. "In '46, I made a short tour of tobacco warehouses in the South with Louie," Roy remembers. All of this was quite an introduction to the jazz world at large for the young drummer, and a period of invaluable experience. Advertisement
In 1947 he made a transition from Russell's orchestra to the combo of Lester Young. For musicians of Haynes' generation, who had grown up loving the Basie band and the "President" of the tenor saxophone, Lester Young, it had to be a special time. Roy was with Prez into 1949. "I was the instigator, like Tony [Williams] in Miles' band," he says. "The only reason I left Prez is that he went with Norman Granz's Jazz At The Philharmonic, and that's when I joined Kai Winding."
In August of that year Roy recorded for Prestige with trombonist Winding's sextet. Earlier in the month he was on with Bud Powell's quintet date for Blue Note that included Fats Navarro and Sonny Rollins. In November, again for Prestige, he was in the studio with Wardell Gray's quartet. The kind of crisp, swinging, supportively pulsating, inventive drumming that captivated me at Tin Pan Alley is in strong evidence on all three dates.
"My feeling was the thing they liked," pinpoints Haynes in talking about the many and varied leaders in his dossier. "When I first joined Prez, he was thrilled because he thought I was swinging. He didn't particularly like drummers to get too involved, and I was doing different stuff with the left foot and left hand. I was dancing, but it was there. And that's the thing, I'm sure, that carried me all these years, playing with all these different people. Advertisement
"Maybe lots of times I suggested the beat. As Mingus used to say, 'Roy Haynes, you didn't play the beat, you suggested the beat.'"