Robby Ameen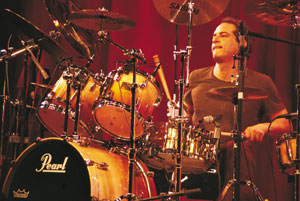 The first thing you notice when entering Robby Ameen's Manhattan apartment is the rich aroma of Cuban cigars, stroking your nose hairs like a dark breeze from an illicit island. Ameen's walls are covered with cigar-box covers from Habana's finest: Cohiba, Montecristo, and Bolivar.
The next thing you notice in Ameen's abode is the cavalcade of percussion filling the room, including an odd-looking cone that has mysterious engravings, a set of vibes, a Fender Rhodes, a frame drum, a gamelan gong, a bell wheel, cowbells, woodblocks, panpipes, congas, doumbeks, bata drums, Indonesian drums, a Brazilian repinique, bongos, guiros, shekeres, turtle shells, chimes–and a doorbell from Spain with a rusted wheel that holds little bells that ring like a waterfall when you turn its crank. Oh, and a shrunken iguana holds court near the fireplace.
Cigars, percussion, old land animals: Robbie Ameen's world mirrors things of the earth, things primitive, percussive, and surreal.
A native of Manhattan by way of New Haven, Connecticut, Robby Ameen's Lebanese heritage gives him a dark Latin look, but the guy is pure American. Intense studies with teachers as diverse as Ed Blackwell, Fred Hinger, and Bill Fitch, along with hours of jam sessions and summers at Berklee, prepared Ameen for his current role as a funky drummer who can rip on guaguancos, jazz, and salsa alike. Employers have included Eddie Palmieri, Dave Valentin, Jack Bruce, Dizzy Gillespie, Paul Simon, Mongo Santamaria, Hilton Ruiz, Gato Barbieri, and Marc Anthony. Advertisement
Robby is also the co-author with bassist Lincoln Goines of the best-selling instructional book/CD Funkifying The Clave: Afro Cuban Grooves For Bass And Drums, which has sold over 25,000 copies worldwide. More recently, a video based on the book has been released on DCI/Warner Bros. Robby is also an active clinician, performing at last year's Modern Drummer Festival, at NAMM and PAS shows, and internationally.
While Ameen has had a stellar career as an in-demand Latin drummer, his latest project is a drummer's dream. With master drummer Horacio "El Negro" Hernandez, Robbie's new album, El Negro And Robby And The Third World War, incorporates information taken from ancient histories and strange lands. The music is a pan global hothouse of Afro-Cuban drumming immersed in salsa, funk, and jazz. With musicians as diverse as Ruben Blades, Richie Flores, Kip Hanrahan, and John Beasley, Third World War is thunderous and mysterious, combining traditional Cuban music, European avant-garde, flat-out funk, and straight-ahead jazz with sweet percussion and raging rhythms.
Robby and El Negro solo up a storm on the disc, but the music is more about synergy than flash, presenting the face of progressive Afro-Cuban music for the 21st century. Full of steaming percussion, gripping dual-meter allusions, and daring compositions, Third World War is like a rainforest set in the heart of a New York City heatwave. Advertisement
MD: How did you and Negro meet?
Robby: We met at the Jazz Plaza festival in Cuba in '84. I was there with Dave Valentin; Negro had just begun with Gonzalo Rubalcaba. We heard each other play and became best friends. We went down there with Valentin doing our take on Afro-Cuban–we didn't try to play traditional Afro-Cuban music. We wanted to mix Afro-Cuban with funk and jazz. We weren't trying to play their music. But Rubalcaba was carving out a whole new thing, rich in tradition but in its own category. A lot of it was the way Negro was playing and how he mixed with the percussionist. I was blown away. He and I became like brothers.

MD: Did you start jamming together?

Robby: We kept in touch for nine years, just seeing each other in Europe. Then he moved to Italy, and when I was there with Ruben Blades, Negro came to the gig. Eventually he did get to the States and when he did we hung out all the time.

MD: What did you actually play together? How did you find your roles?

Robby: I have a theory that drummers should hang out and play together. Drums are meant to be played in a group. If someone like Dennis Chambers is playing in town, a bunch of drummers will go and we'll all sit at the same table. Guitar and keyboard players don't do that. With drummers, there's a competition, but it's to take the music to another level. Negro has some unbelievable stuff he plays, so he would call me up and share it. I wasn't playing left-foot clave at all until I saw him doing it. When I saw Negro in Italy, he had taken that to another level.
Advertisement
MD: Was he the first to do it?

Robby: I don't know, there were some percussionists that did it when they played congas. I believe Walfredo Reyes Sr. had done it. But as far as I'm concerned, Negro was the first guy to take it to the level where it wasn't just a novelty. It's a challenging thing to develop. It's about being able to play anything you want with your hands over the left-foot clave, then freeing up the bass drum. Negro does all that. But with Negro and I, it's all about sharing. If I come up with something, or if he comes up with something, we share it with each other.

MD: You two have shared gigs too, playing together with Jack Bruce, like on his recent disc, Shadows In The Air. Did you instantly find that space that we hear on that record and on Third World War?

Robby: It happened naturally, we never really talked about it. It all started with Kip Hanrahan. I was used to playing double drums on his gig, first with Ignacio Berroa, then with Smitty Smith, and then with JT Lewis. I always dreamed of having Negro in the band.
When Negro and I get together, we really don't talk about it. We don't like to double each other like a lot of guys do in that situation. That probably comes from the Latin cats and Afro-Cuban playing. No matter how big the percussion section gets–congas, timbales, bongos, and drums–you never double each other. If a rhythm section doesn't have a bongo player, the timbale player can play the timbale bell ride and the bongo bell ride simultaneously. Otherwise, his left hand does something else. Same thing with drums in the band. I wouldn't double the timbale player. I might play a pattern off the clave. Advertisement
So it was natural when Negro and I did it. If one guy is playing 2 and 4, then the other guy isn't. And it depends on the music. Groove-wise, we try not to get in each other's way, but still find a groove where we're both playing different things–and we try not to be too busy.