Ralph MacDonald: Living The Island Life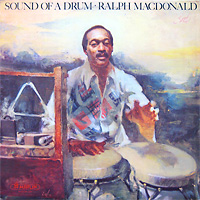 The lyrics from one of Ralph MacDonald's songs on his latest CD, Home Grown, start and end with words that sum up his life: "There is no better life than the island life. I love the island life, it makes my body free, it keeps my head together." Understandable words, from a man who worked hard all of his life to get to a place that is peaceful, laid-back, and very rewarding.
A first-call session percussionist since the-mid '60s, Ralph has performed on countless recordings with just about everyone in the business. A partial list includes Harry Belafonte, George Benson, David Bowie, Diana Ross, Tom Scott, Bob James, Quincy Jones, Billy Joel, Herbie Mann, Bette Midler, David Sanborn, Carly Simon, James Taylor, Phoebe Snow, Grover Washington Jr., and Steely Dan.
In 1980, MacDonald, along with his partners Bill Salter and Bill Eaton, penned the number-1 hit "Just The Two Of Us" for Grover Washington Jr. and Bill Withers. (The tune was recently re-done by actor/rapper Will Smith.) Ralph and his partners are also the songwriters for the 1971 Roberta Flack/Donny Hathaway classic "Where Is The Love," which became a number-1 international hit, sold over ten million copies, and won several Grammy awards. Advertisement
Besides album dates as a percussionist, Ralph has lent his groove to hundreds of jingles and movie soundtracks, as well as many 12″ disco classics that we're still dancing to. Speaking of disco, Ralph's publishing company, Antisia Music, placed the song "Calypso Breakdown" on the Saturday Night Fever soundtrack. That record went on to sell forty-seven million copies and earn MacDonald two Grammys of his own. Not bad for a percussionist who really just wanted to follow in his dad's footsteps. "In my wildest dreams," Ralph says today, "if I thought I would be half as popular as my dad, I would have been very satisfied. My dad was regional – Harlem, Brooklyn, and Queens. In the New York area, he was very popular. But I never thought that I'd be international."
These days MacDonald still spends his time writing and recording when he's not out on the road touring with Jimmy Buffett, who he's been with since the mid-'80s. "Jimmy first called me to write some songs together," Ralph recalls, "and we finally got together and wrote 'Creola' for his Floridays album. Then we did a song called 'King Of Somewhere Hot' and a ballad called 'Pre-You.' Those two songs are on his album Hot Water. So I had some success with him as a songwriter. And then, around 1988, he said, 'Come join the band.' Around that time, I was working with artists in the R&B and jazz scene – guys like George Benson, Bob James, and Quincy Jones. I didn't think I'd have fun playing Jimmy Buffett'type music. Well, Jimmy said, 'Come out and try it for two weeks.' I've been there ever since."
Over his long and incredibly successful career, Ralph has also released numerous solo records. His latest, Home Grown, features top-shelf talent like Will Lee, Jeff Mirnov, and Tom Scott. And on drums is longtime rhythm-mate Chris Parker. Home Grown is yet another highlight in Ralph MacDonald's stellar career. Advertisement
MD: You've played with so many great drummers in your career.

Ralph: Some of my favorites are Steve Gadd and Harvey Mason. Chris Parker is right up there too. You know who else is a fabulous drummer? Buddy Williams. When I go to a date and see these people, I know it's going to be fun. Besides being great friends, it's almost like a family affair.
Speaking of Steve Gadd, everybody knows how great he is. But what I think makes him really special is that he's open to anything musically. We'd be on a date and I could go to Steve and say, "Check this out. Check this vibe." It would be something totally different from what you would normally tell a drummer to play, but Steve would jump right in. He'd not only try it, he'd do it and feel it.
I've been on dates with Steve, and after a few songs I'd realize that he'd been playing brushes. No drummer comes to a date and plays with brushes. They want to play with sticks. You know what I'm saying? So creative. He'd be playing a shaker part with the brushes, which would be so percussive. We had a ball together in the studio. When you heard the rhythm we would create, we'd be so locked in that it sounded like one person playing. Advertisement
People always ask me, "What's your favorite percussion instrument?" I don't have a favorite. The music dictates what instrument I play. It could be a tambourine. It could be a finger cymbal. It depends on what the music calls for. That said, I've seen percussionists go to a date with five trunks of gear, and they'd want to play everything in there. People call me The Doctor; I go to a date with a small doctor bag of gear and people ask, "Ralph, where's your stuff?" I say, "Right here in the bag." And they start laughing. Someone once told me, "I worked with a guy the other day who came in with six trunks. The cartage company made more money than he did." [laughs]

MD: You just mentioned that the music dictates what instrument you play. Do you think that way because you're a songwriter?

Ralph: Definitely. I approach music and percussion playing as a songwriter. There's a form to any song – you have an introduction, a verse, a chorus, there might be a bridge, then you go back to the verse, then back to the chorus, then fade. The introduction doesn't sound like the verse. The verse doesn't sound like the chorus. And the chorus doesn't sound like the bridge. They're all different moods. I would never play something in the introduction and continue playing it throughout the whole song, which a lot of guys do. I approach each section differently.
Sometimes when I'm doing overdubs the producer will say, "Ralph, just listen and play what you want." I'll listen, and then the producer will ask, "Ready to start?" I say, "Yeah. Let's start at the fade." "The fade?" "Yeah, start at the fade," because the fade has the chorus vibe. When you get to the fade it should be cooking like a mother. The fade always sounds good. So I record my part on the fade, and now everybody's saying, 'That sounds good.' Okay, this section happens earlier in the song? 'Yeah, in the chorus.' So I play the same part in the choruses. All of a sudden the song takes on a different shape. So I build my parts within the different sections of the tunes. Advertisement
The problem with some musicians today is, they never had to accompany a singer, they just play. There was no electronic music back when I was coming up. It was acoustic, so you had to listen to each other. That's how we created, that's how we played, off of each other. It was all about the vibe.