Philip Peeples of The Old 97's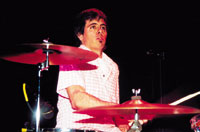 Philip Peeples was once known locally as the guy who loaned his drums to The Old 97's drummer. But after demonstrating a tasteful blend of shuffle, rockabilly, and rock rhythms, Philip became The Old 97's drummer.
That was 1993. Today, the band has a loyal fan base, they're igniting new audiences with their fifth album, Satellite Rides, and they're touring the US to promote it. But had Peeples not loaned a snare and floor tom to an ex-bandmate eight years ago, The Old 97's might be much different today. Back then, the original drummer – a former lead singer – was providing limited drumming for The Old 97's. Curious, one night Peeples checked out the group using his drums.
"I was blown away by the material," he says. "I told myself, 'I've got to be this band's drummer.'" So Peeples approached guitarist Ken Bethea and said, "Listen, if you guys are looking for a real drummer – HELLO." Advertisement
Peeples got an audition. He brought in solid shuffle beats and explosive rockabilly rhythms he honed in a previous band and from studying Johnny Burnette, Mac Curtis, and Johnny Horton albums. It proved a perfect match for the twangy, rockin' energy of The Old 97's, and the band was sold.
They needed a guy who would listen to the songs and play into the band, not all over it," Peeples explains. "Early on, the band would play a lot of 'Train-chuggin" songs. When I started playing those shuffle beats, they were like, 'That's the kind of drummer we've been looking for!'"
Ron Kemm