Mike Portnoy—No Longer The New Kid On The Prog-Rock Block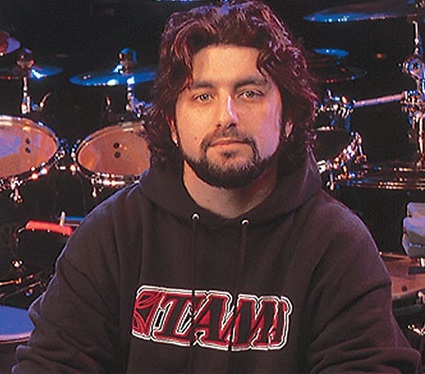 Mike Portnoy is no longer the new kid on the progressive-rock block. The once proclaimed "next Neil Peart" has proven himself many times over to be worthy of acknowledgement. This isn't so much for the commercial success of his band Dream Theater. Rather, it's for his consistent progression of new and exciting ideas in sights and sounds throughout his musical adventures and drumming innovations. As an international clinician, Portnoy has also gained a wider acceptance for his talents and achievements.
Mike's high-profile career has not been without its setbacks and downfalls. Amidst his many MD awards and accolades, Mighty Mike has spent time reassessing his priorities and has come to a new juncture in his busy life. He is healthy, clean, and sober, and his priorities are family first, then music and film. His skills as a producer and director have proven successful with the last couple of self-produced Dream Theater recordings, as well as their videos and the recent Metropolis 2000: Scenes From New York DVD, which Mike directed.
In keeping with his "more is more" philosophy, Portnoy's new touring kit (which he also used on the new Dream Theater double CD, Six Degrees Of Inner Turbulence) is practically the size of a small drum shop. What Portnoy calls "The Siamese Monster" is a combination of his large traditional kit coupled with a smaller setup that he has grown accustomed to in many of his clinics and the other side projects he has done. Some of those projects include the instrumental fusion group Liquid Tension Experiment, his old-school prog band Transatlantic, and a short trio tour with the G3 guitar show. Advertisement
The current Dream Theater lineup finds Portnoy in a happy place as well. He has a deep appreciation for his newfound musical and creative freedom. With his Liquid Drum Theater video and DVD instructional packages, successful side project Transatlantic, drum clinic tours, Tama Melody Master Signature snare drums, Sabian signature Max Stax cymbals, and his wonderful family life, it's easy to see that the star drummer has accomplished a lot in relatively little time. And now Mike is fully energized and ready to hit the road again to tour the world with Dream Theater. Persistence has certainly paid off for Mike Portnoy.
MD: How long has Dream Theater been together?
Mike: The three core members, which include myself, John Petrucci, and John Myung, have been together for over sixteen years. We formed the band at Berklee during our first month of school. We met when we were all about seventeen years old, so it's pretty amazing to think that the three of us have been together nearly half of our lives.
MD: What's your overview of the band's development to this point?
Mike: I couldn't have dreamt of a better scenario for the path that we've traveled. When we put the band together at Berklee, we just wanted to make music for the fun of it. We weren't thinking about record contracts, tours, videos, marketing, or radio airplay. We were just three college kids who were into Iron Maiden and Rush and who wanted to make some cool, heavy progressive music. Advertisement
We became so immersed in the music that it became our lifeblood, and we decided to pursue it as a career. Between then and now it's been a dream come true. And although we're not as commercial as Metallica or U2, in the world that we exist in, we pretty much sit on top of the hill. It's a great feeling to know that all the hard work has paid off. We're very proud of what we've accomplished.
MD: There have been a lot of ups and downs in the band's history, and at one point it was rumored that you were even thinking of leaving the band. Are you satisfied with all aspects of the band, and do you feel that the "Behind The Music" years have come and gone?
Mike: I think so. The mistakes we've made and the lessons we've learned have taught us how to be a stronger unit, and what not to do in the future. The period that was the roughest for me was shortly after my last cover story with Modern Drummer [December '97]. We had just released the Falling Into Infinity record, and we were feeling a lot of pressure from the powers that be. I felt that a lot of control was slipping out of our hands – not only my control within the band, but also control of the band by management and the record company. Advertisement
So we played their game for a little while, because you start to wonder, Maybe they do know better. I tried to have an open mind and be as objective as possible, because at a certain point in your career you've got to open up and trust other people. But when no new ground was broken, and we felt that we were compromising our integrity, it became very frustrating. It got to a point where, if the band was going to continue, we would have to completely gain back our own control.
So when faced with that ultimatum, everything started to turn around. The ball went back into our court – and back into my corner – and it's been an uphill ride ever since. John Petrucci and I have been able to self-produce our last couple of records, and we've also gone on to do several side projects, which has been a healthy thing for us as well. We now have the freedom with the record company that we wanted. If I go to them with the idea of doing a live album or a DVD or letting them know that the new Dream Theater record is a double CD, they're supporting us and letting us do our thing. They know that the only way the band will survive is on our own terms.

Mike Haid