Louie Bellson A Lifetime Of Greatness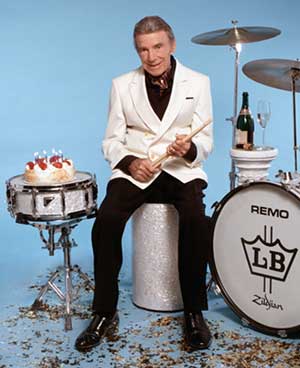 "Young drummers should learn the history of the instrument. You have to know where you came from in order to know where you're going."
When one of the greatest drummers of all time turns eighty, the celebrations continue all over the country – and for months. Louie Bellson marked his birth date of July 6, 1924 with a three-day event called the "Welcome Home Celebration" in Rock Falls, Illinois. It included the placing of a historical marker at his birth house, a clinic, and a concert.
In San Jose, California, where Bellson currently lives (he also has a residence in Sherman Oaks, California), a huge birthday party and concert was held. There was also an exhibit and reception at the River Music Experience Museum in Davenport, Iowa. And in Sterling, Illinois there's a tribute exhibit to Louie that includes the display of the 2003 postal cancellation stamp bearing the drummer's name and image. Let's not forget the fact that Bellson's legendary status is well-represented as part of the Duke Ellington Exhibit at the Smithsonian Institution. And, of course, Louie's hand impression has been forever placed in cement on Hollywood's RockWalk of Fame. Taken in total, this is quite an impressive tribute to a drummer who has become recognized as a national treasure – and deservedly so.
What an amazing career Louie Bellson has had so far. He began professionally at the tender age of seventeen with Benny Goodman, and early in his career went on to work with such masters as Tommy Dorsey, Duke Ellington, and Harry James. In the mid-'50s, Louie served as drummer and musical director for the late African-American vocalist, actress, and UN ambassador Pearl Bailey, who he married during a time of extreme racial tension. Advertisement
Many drummers may not be aware of Bellson's success as a composer. He has written or arranged over a thousand pieces. And, of course, Louie's mark on drumming is deep. Besides his great technique and always-musical approach to the drums, Louie is responsible for designing the first double bass drum setup and popularizing its use, pioneering a new approach to drumming.
As for recorded output, Bellson's discography includes more than two hundred albums with the true greats of the jazz era'duke Ellington, Count Basie, Dizzy Gillespie, Benny Goodman, Tommy Dorsey, Harry James, Woody Herman, Louie Armstrong, and Lionel Hampton, as well as legendary vocalists Mel Torme, Sammy Davis Jr., Sarah Vaughan, Ella Fitzgerald, and Tony Bennett. Louie has done so much in his life – as musician, performer, composer, arranger, and educator'that it's hard to think of any other artist who has come anywhere close to his vast achievements.
Bellson's wife of twelve years, Francine, has decorated the walls of their Sherman Oaks home to pay tribute to her husband's career and contribution to the world. Photos with great artists, letters from presidents, and posters of some of his notable performances through the years give just a glimpse of a life dedicated to creating and playing music. It was among these tokens of a rare musical life that MD sat down with the master. Advertisement
MD: Please talk about some of your favorite recordings that you played on.
Louie: Duke Ellington, "skin Deep" and "The Hawk Talks." For me, to have Duke look at me and say, "You're a composer as well as a drummer," was amazing. He had to ask me several times to bring music in, because when I joined that band there were two geniuses writing for it' duke and Billy Strayhorn. What was I doing bringing in my music? Finally, Juan Tizol said, "Bring the music in," and Duke said again, "Bring the music in." I said, "Well, I'd better or I might lose my gig."
I brought in those pieces and Duke recorded them right off the bat. Max Roach told me a long time ago that he idolized Duke and said how fortunate I was that he played my music. I said, "Max, I still can't get over it." A lot of drummers would give their right hand – or left hand'to play one number with someone like Duke or Basie. I still can't believe it happened to me.
MD: Do you recall recording "skin Deep"?
Louie: "skin Deep" was very different. In those days it was difficult to record fast drum and cymbal parts. When that record came out, Buddy Rich called me and said, "Where did you record that"? I told him we did it live in Fresno, California in an old ballroom. The quality of the recording turned out so good that when we took it to Columbia, they said they couldn't do a better job than that. When Duke heard it in a playback the night we did it, he said, "that's how we're going to do "skin Deep."? [The track can be found on Ellington Uptown.] "The Hawk Talks" was done at a studio in New York. Advertisement
MD: Tell us a story about Duke Ellington.
Louie: People would ask what kind of man he was. Well, he was the kind of man who had his door open for us all the time. The reason he had people in his band for fifty years was because they were like family. When I joined the band, there was no drum book. I had to just sit down and start playing. That was easy for me because, playing in a jazz band, I could look over at the trombone or trumpet part and see where I was.
One time Duke called me to come to New York to play with Leonard Bernstein's New York Philharmonic Orchestra. When I got there, there were a hundred twenty-five musicians all ready to play. There were only two players from Duke's regular band'the bass player and me. We were performing a tune called "The Golden Broom And The Green Apple," twenty-five minutes of music that Duke wrote, and I had nothing to go by. I was sitting there at the stand, and Duke came up on the bandstand, ready to give a downbeat. He looked at me and he could tell I was worried when I shrugged my shoulders. He said, "The first part's in 3/4." I said, "Thanks." That was it. He lowered his hands for a downbeat, I started playing, and watched him real close for an hour and a half.
During the first break, the other musicians asked if I had memorized the piece. I told them I had never heard it before in my life. Duke was a great conductor. That first day, I took the score home with me and made a complete drum part. Then, before we finished recording, I said, 'duke, here's a drum part for whoever comes in after me to play it." He said, "Now you know why I didn't write a drum part. I got you to do it and you're the best." But that experience was one of the most exciting things that happened to me in that band. Advertisement
More with Louie Bellson can be found in the January 2004 issue of Modern Drummer magazine.