Jack DeJohnette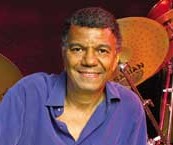 "When I play, I go into an altered state, a different headspace. I plug into my higher self, into the cosmic library of ideas."
"The sound of my music was changing as fast as I was changing musicians," jazz legend Miles Davis recalled in his 1990 autobiography. "I was looking for the combination that could give me the sound. I wanted a drummer to play certain funk rhythms. Jack DeJohnette could play drums like a mother, and he gave me a certain deep groove that I just loved to play over. But he wanted to do other things, like play a little freer, be a leader, and do things his own way, so he left the band.
"In that group with Keith Jarrett and Jack," Miles continued, "they dictated where the sound went and what they played, the rhythms they laid down. They altered the music, and then the music pushed itself out into something else. Can't anybody else play music like that."
For more than thirty-five years, Jack DeJohnette has played drums just like Miles described it, and then some. The greatest living jazz drummer after Max Roach, Elvin Jones, and Roy Haynes, Jack DeJohnette is a titanic figure about whose actual drumming very little has been documented. Jack had recorded various videos and hundreds of records as drummer, pianist, and leader. But in all the interviews he has conducted, the master drummer has revealed scant detail about such topics as his elastic cymbal beat, cathartic soloing concepts, singular sticking technique, and innovative drumset approach. Advertisement
DeJohnette's majestic style – freedom-expounding technique, explosive swing feel, and remarkable soloing – is practically without parallel. Extending beyond established methods, he seems to play the music of the spheres, like a savant channeling the rhythm gods from on high.
Of course, this belies DeJohnette's years of playing in blues and R&B bands, which led to formative work with Jackie McLean, Betty Carter, John Coltrane, Thelonious Monk, and Chick Corea. His breakthrough gig came with Charles Lloyd, which led to even greater exposure when, in 1969, DeJohnette followed Tony Williams into Miles Davis's band for the Bitches Brew sessions.
In the '70s, ECM Records provided a fertile platform for Jack's atmospheric drumming and challenging compositions, resulting in tremendous sideman dates and highly regarded leader recordings with his own bands Special Edition and New Directions. To celebrate his twenty-five-plus years with the label, ECM is about to release Rarum: Jack DeJohnette's Selected Recordings.
All told, DeJohnette has recorded twenty-eight albums as a leader, and his compositions have been recorded by the likes of Stan Getz, Keith Jarrett, Herbie Hancock, Pat Metheny – and even Bernard "Pretty" Purdie. Among his major recordings is Music For The Fifth World, inspired by Jack's studies with Seneca native elder "Grandmother" Twylah Nitsch. This album brought together Vernon Reid, Will Calhoun, John Scofield, and traditional Native American singers. Advertisement
DeJohnette has been brilliant in so many settings, whether it's his records as a leader with New Directions or Special Edition, his molten groove work with Miles Davis, his immaculate swing playing with The Keith Jarrett Trio, his daring improvisation with John Surman and Gateway, or his magical recordings as a sideman with artists like Joe Henderson, Freddie Hubbard, George Benson, Sun Ra, Michael Brecker, Bill Evans, Danilo Perez, and Ornette Coleman.
Even with all he's accomplished, Jack continues to move forward. Currently he's in the middle of a very creative period, having recently established his own record label, Golden Beams Productions, to present projects close to his heart. Among them is a recording featuring bassist Matthew Garrison, laying down grooves for electronica and drum 'n' bass. Through this label Jack will also release music for meditation and healing practitioners, beginning with the CD Music In The Key Of OM.
Other new projects for DeJohnette include a duet with Foday Musa Suso titled From The Hearts Of The Masters. Suso is a world-renown kora player and griot, a musician/oral historian of the Mandingo people of Gambia. In addition, Jack and percussionist Don Alias are recording a percussion duo record. And the drummer has been touring this year in a few settings, including with Keith Jarrett and Herbie Hancock. What's more, later this year he will record with John Scofield and Larry Goldings for Celebrating Tony Williams, an endeavor that will include versions of Williams' Emergency material. Without question, DeJohnette is in the midst of one of his most creative periods. Advertisement
MD caught up with Jack at his A-frame log cabin deep in the woods near Woodstock, New York. (Thanks to Jack's wife Lydia and daughter Minya for their assistance and hospitality.)
Beyond Technique
MD: Your technique is practically beyond technique. You never play licks, you have such a strong voice on the instrument, and you play with such command and commitment.
Jack: The other thing I play with is a lot of restraint, especially with the Jarrett Trio. In my younger years the music was more demanding and high-velocity. But it's much more difficult to play delicately.
With the Jarrett Trio – by the way, we're celebrating our twentieth year – it's a real challenge to play with the subtlety that the music requires. Plus [bassist] Gary Peacock has a hearing problem. He has problems with midrange, so he doesn't like to hear his bass coming back at him. I have to play in such a way so that he can hear, and yet still generate enough propulsion for the music. That's a challenge for my touch.
MD: You've always had a beautiful touch on the drums.
Jack: It's more refined now. I'm in my sixties, so I want to refine what I play, make it smoother, and make it freer in an architectural music setting.
Time Feel
MD: Drummers always mention your cymbal beat, that loose, open vibe you create.
Jack: The amount of "looseness" I play with is based on the music. I don't apply the same feel to everything. As for my approach to cymbals, I like to get the most out of the least. I try to get the most effort out of the least motion. Sometimes, depending on the tempo, I like to push the time ahead or go back and forth a bit.
Billy Higgins had a wide way of playing the cymbal beat'very inspiring. But what approach you take is affected by so many things, like who the bass player is. If I'm playing with somebody like Ron Carter, I may tighten up my cymbal beat. But if I play with Gary Peacock, I may loosen up a little more.
MD: Did you ever practice your ride cymbal to develop speed?
Jack: I don't even know what that is. I don't ever think about how fast I can play. It's about sound, it's about music. I'm trying to create motion as opposed to showing off technique.
Soloing
MD: Can you discuss some of your thoughts on soloing?
Jack: It's hard to pin me down on specifics, because I don't think that way. I know people want to get that concrete thing, but I'm an abstract thinker. I put more weight on the abstract than, "What were you thinking in bar 33?" I don't like to think that way. I can do it, but I like to be more in the flow.
MD: When you're soloing, do you have certain guideposts?
Jack: No. It all starts from a sound. One sound leads to another. I follow the sound with an idea, and that feeds something else. It develops and takes shape. I might put it into a form, or develop an idea until I'm tired of it. Then I move on to something else.
MD: Years ago, in an old Downbeat article, you talked about making mistakes as opposed to playing perfectly and how that is the essence of jazz.
Jack: Perfection is how it all comes out when you play things you didn't intend to play. Miles explained that he would be going for three or four different ideas, and if he could play at least one of them, he would be happy. It's that idea of going for something. When you get that flow, the ideas just come out. Advertisement