Graham Hawthorne: <br>Blending The Third World With The New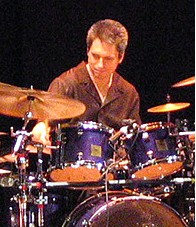 In the past fifteen years or so, a New York City music fan out for a night of high-quality rock, pop, jazz, world music, singer/songwriter folk, or alt-country might well have been moved by the superbly musical and confident drumming of Graham Hawthorne. During this time he was also establishing himself as a player of national importance, recording and touring with artists such as Aretha Franklin, Harry Belafonte, and Joan Osborne.
More recently, Hawthorne received even wider exposure on a lengthy tour with Paul Simon. Now he's out with world music maven David Byrne. Hawthorne's mastery of Brazilian and West African rhythms, as well as his crisp approach to American pop music, makes him a natural for performers as adventurous as these.
Hawthorne's funky, authoritative, yet ultimately supportive drumming can be heard on David Byrne's current My Backwards Life tour. In addition, Hawthorne's passion for world music has led him naturally to assume the role of producer and composer. Information about his own CD, Mbalafunk, can be found at www.mbalafunk.com. Advertisement