Frank Beard of ZZ Top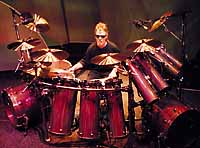 Frank Beard of ZZ Top has created his share of monsters. See if you recognize one of them in the following scenario. You're barely into your first set with your local bar band when somebody howls, "Play some ZZ Top!" If Frank Beard ever falls from fame, he ought to serve the rest of his time in obscure bars playing the rockin' Texas shuffle he made famous with "Tush."
But Beard is decidedly not on the way down, especially after the release of XXX, the band's new record that celebrates their thirtieth anniversary. The disc is sparse and to the point, rendering it fully playable live by the ZZ trio and – you know it – by the rest of us!
Even a casual spin of XXX confirms that the power the band elicits makes them forerunners of Korn-style funk/thrash. "I wish my son could hear you say that," says Frank in a Texas drawl. "But one of the things I'm most proud of is that when one of our records comes on the radio, within a few seconds you say, 'Ah, ZZ Top!' We have our sound." Advertisement
Frank gives a lot of credit to drum tech John Douglas for helping him stay focused lately. An accomplished player, Douglas apprenticed with Frank, doing the artwork on Beard's famous drumsets. Then he got involved with sounds, persuading Frank to switch to larger-size Tama drums in which they planted triggers. Today Beard's setup includes two Tama Starclassic 17×22 bass drums spread ten feet apart. (Relax, he uses remote pedals.) Out front, Frank gives new meaning to "power sizes." His custom, double-headed 8″, 10″, and 12″ toms are 28″ deep! And John has got Frank using smaller Paiste cymbals to cut through stadium PAs.
John also needled Frank about technique, getting him to play a bit more on the new record. You can hear the results in the Mitch Mitchell-inspired triplet fills in "Made Into A Movie." Says Frank, "It's almost a drum solo, it's so loaded down. It's much busier than I learned to play years ago with Freddie King and Lightning Hopkins. Once I played 'Johnny B Goode' with Chuck Berry. You know those stops in the song? I hit the snare to bring the band back in and he scowled at me, 'Don't do that!' I've learned to keep things simple."