Drummers, Feature Stories, Update
Elvin Jones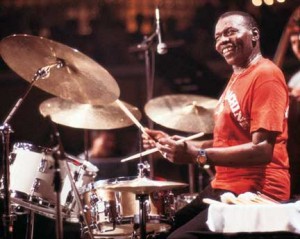 by Rick Mattingly
On the eve of his seventy-fifth birthday, Elvin Ray Jones exhibits the relaxed demeanor and lean physique of a weathered–but still dangerous–championship athlete. When he smiles, which is often, he still looks like he's twenty-five. His sense of humor is sharp, his intellect acute. And as anyone who has seen him perform on what seems like a never-ending world tour will tell you, Elvin is still the man, a drummer of incredible prowess, facility, and earthquake-rendering swing. He's a musician who carries with him the weight of history, but who always works in the moment, summoning a sound that is one of the great musical phenomenons of our time.
Elvin Jones' awesome influence–and his status as perhaps the greatest living practitioner of jazz drumming and one who has raised the art form while bridging the gap between hard bop and avant-garde–cannot be overstated. Listen to the drummers who have followed in his wake and who continue to explore his singular innovations within their own work. From heavy hitters like Jack DeJohnette, Adam Nussbaum, and Jeff "Tain" Watts, to such younger flames as Brian Blade, Eric Harland, and Nasheet Waits, his unique contributions continue to resonate. Just as influential an instrumentalist as his mentor John Coltrane, Elvin Jones is a supreme archetype for today's musicians and for generations of musicians to come.
"What impressed me about Elvin was his commitment to play the drums in a different way," Jack DeJohnette states. "Everyone played a lot differently after he came on the scene. He loosened everything up. Elvin is precise but loose at the same time. He is an organic drummer, a very spiritual drummer. His feeling, along with his drive, is quite different. And Elvin is still playing great today. He's one of our masters, a national treasure. I love him."
Elvin's drumming has gone through many stages, from the gritty hard-bop of the early Coltrane recordings on Atlantic, to the hurricane-force implosions of such Impulse records as A Love Supreme, Crescent, and Sunship, to his sublime work as the leader of Elvin Jones' Jazz Machine on the albums Merry Go Round, Dear John C, and Heavy Sounds. Along the way Elvin has enlivened the music of Wayne Shorter, Larry Young, Freddie Hubbard, Tommy Flanagan, and McCoy Tyner. With Mosaic's recent Complete Blue Note Elvin Jones Session box set, plus numerous new recordings with the contemporary titans of jazz, such as Michael Brecker, Bill Frisell, and Joe Lovano, Elvin Jones' influence remains undeniable and overwhelming.
"Playing with Elvin was a dream of a lifetime for me," says saxophonist Joe Lovano. In addition to playing with Elvin many times, Lovano employed him for his record Trio Fascination, Volume 1. "Elvin plays with the most beautiful sense of feeling and taste. He has such a command of his instrument, and he's so spontaneous. It's a perfect, beautiful balance of his polyrhythmic approach and his own sound and expression. Plus the meaning of what he plays comes out in every little accent. He feels so much inner music."
Relaxing in his Upper West Side apartment, dressed in a colorful Japanese robe and smoking small Davidoff cigars, Elvin greets a guest like an old friend. (His handshake is a vice grip.) His living room is filled with unusual dolls and art gleaned from his world travels, such as an African bust given to him by Carlos Santana. Elvin and his wife Keiko are gracious hosts of the old school: After we talked, the couple laid out a course of snacks and drinks. And then, later on, we visited Elvin's second apartment, where we viewed the motherlode of old K Zildjian cymbals, vintage drums, and pictures of Elvin with various world dignitaries and famous musicians.
Elvin moves a little slower these days than in the heady 1960s. But his playing is still vital, glowing with an otherworldly gravity that seems to emanate from some place beyond knowing, a plane of deeper insight and higher communication where most mortals never enter. But tell that to the ever modest Elvin, and he'll smile and laugh, "You must be talking about someone else."