Eddie Bayers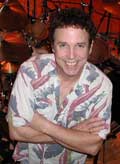 Eddie Bayers is blown away by the fact that, after thirty years of first-call recording status, he's recently become a member of two bands. And in fact, both bands will have significant releases in the coming months.
Three years ago, Bayers formed a band with some of his best friends and fellow studio pals – John Hobb, Brent Mason, Paul Franklin, and Michael Rhodes. They called the group The Players. The group has a new live DVD and features their own performances along with guest appearances by Peter Frampton, Shawn Colvin, Travis Tritt, Vince Gill, and Jim Horn.
"That's not all," Bayers says enthusiastically. "I've also become part of the notorious Cherry Bombs, which is a project that is close to the hearts of many music fans, because I inherited it from our beautiful friend, the late Larrie Londin. I played keyboards with Larrie when I first came to Nashville in 1973. He and I played together at the Carousel Club in Printer's Alley. We became very close, and he inspired me to switch to drums. Larrie was the drummer with The Cherry Bombs. Advertisement
'to make a long story longer," Eddie laughs, "Rodney Crowell was recently given a lifetime achievement award from ASCAP, and he put us together to perform at the event. Tony Brown, who was the keyboard player for The Cherry Bombs, is now president of the Universal South record label, and he decided to sign the band for an album, which we have since finished. And we're all sharing in everything, so it truly is a band." The rest of the lineup includes Vince Gill, Rodney Crowell, Hank DeVito, Richard Bennett, and Michael Rhodes.
Bayers continues to be busy in the Nashville session scene. He's on new recordings by Kenny Chesney, Alan Jackson, Elton John, Catherine Britt, George Strait, George Jones, Craig Morgan, Vince Gill, Rodney Crowell, and Uncle Kracker.