Dave Lombardo Playing for Slayer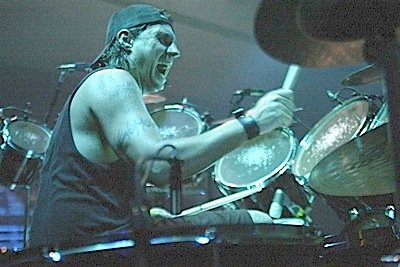 Just as Modern Drummer went to press with the Update on Slayer drummer Paul Bostaph (February 2002 issue), word came in that Bostaph had to forfeit the gig due to a chronic elbow injury that could worsen if he continued to perform with the act. Slayer's management looked no further than a man of the past for a temporary tour replacement, legendary Slayer skinsman Dave Lombardo.
Though Lombardo has prior commitments to his current projects, Fantomas (featuring Buzz Osbourne of The Melvins and Mr. Bungle's Mike Patton and Trevor Dunn) and Grip Inc., downtime in both projects created a window of opportunity large enough to accept the temporary position.
"Slayer's manager called me up and told me about Paul's condition, and he asked me if I was willing to do a short tour," Lombardo says. "I told him I would think about it. Well, it only took me twenty-four hours. I called back and said, 'Sure, why not?' It's been ten years since I last played in the group, and at this point I didn't see anything wrong with the chance to do it again. Advertisement
"They sent me a fax with a list of the new and old tunes," Dave says, "and I immediately went to work analyzing and making notes of the new material so I'd be prepared when I showed up at rehearsal. As for the old tunes, well, I didn't touch them. In fact, I didn't even listen to them. I was curious to see how my memory had stored that info for the past ten years. I have to admit, when we got down to playing some of those tunes, I was just plain clueless. We'd be playing and I'd have to stop and say, 'I've gotta do my homework on this one. This is just not going to work right now.'"
And what about the future for Lombardo and Slayer past this tour? "As far as I know, it's just this tour. But I think it's been a treat for the band's long-time fans. I'm glad to be doing it."