Drummers, Feature Stories
Damon Delapaz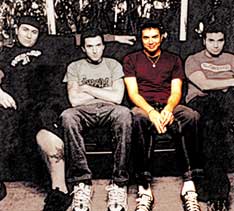 Just over a year ago, Damon Delapaz was the guitarist for Houston, Texas-based pop-punk band FenixTX, then an underground independent group whose tracks hadn't even hit major radio rotation. Yet, all that changed within a matter of a few short months – with a little help from some friends.
When Blink-182 skinsman Travis Barker suddenly dropped out of commission during a national tour with FenixTX, Delapaz offered his services and filled in. His performance with Blink-182 was so exemplary, Delapaz was thrown the throne after FenixTX's original drummer left. That pretty much signaled the end of Delapaz's guitar-playing days.
"It would have been easier than teaching another drummer the songs," Delapaz explains. "When we made up the songs on guitar, I'd usually have the drum parts in my head."
Months later, FenixTX was on MCA Records with a hit song on heavy radio rotation, and Delapaz found himself in Burbank, California's Ocean Studios, tracking drums for his band's follow-up, Lechuza. Tracking that album wasn't as seamless and sequential as Delapaz had hoped, as the band's busy studio schedule was constantly interrupted by their progressively heavy live schedule, often derailing their train of thought and productivity.
"The whole recording took a really long time," Damon recalls. "We kept having to stop. When you're in the studio, it's nice to be able to get in the zone and make your record. But every weekend we kept having to leave to play a show somewhere. We'd get back to the studio and be like, 'Okay, where did we leave off'?"