Chuck Comeau of Simple Plan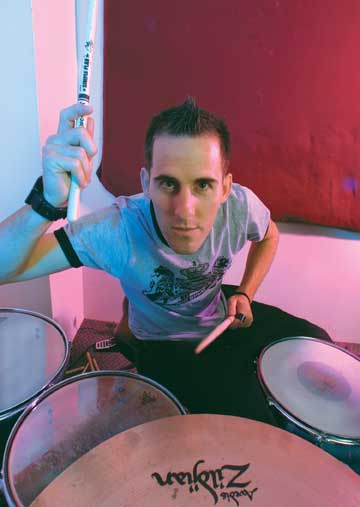 "I don't want to let anyone down at the magazine, but I'm not a very technical drummer," Chuck Comeau explains, while chatting it up with Modern Drummer in the posh lobby of the Westin New York hotel in Midtown Manhattan. "I never took a lesson – well, actually, I took one. I should practice a lot more than I do. And I'm not a gear guy."
Despite his modesty, which tends to go slightly overboard (it must be his punk-anti-musician side manifesting itself), Simple Plan's drummer gets the job done quite well when stationed behind his four-piece Drum Workshop kit. For evidence, check out his impressive chops on Simple Plan's platinum-selling 2002 debut album, No Pads, No Helmets – Just Balls. And Comeau's dynamic drumming shows even greater depth on the Montreal-based pop-punk group's recently released sophomore effort, Still Not Getting Any?, which is leaping out of record store bins just as quickly as its predecessor.
While Comeau downplays his skills, he also admits that playing his instrument "isn't enough." Something else matters just as much to him – or sometimes even more. You see, Comeau is a main songwriter for his fun-loving band, and he values the role immensely. "I love playing drums," he insists. "But I also love to be involved in the music and the lyrics. I wouldn't want to be in a band where I wasn't writing. And since I feel passionate about the songwriting, I really go at it on the drums. It's about "I love this song and I'm gonna give it everything I've got to make it sound great." We also, as a band, take a lot of pride in our arrangements." Advertisement
In the case of Still Not Getting Any?, Chuck insists that pride burned bright up until the last possible minute. "This record was so full of deadlines," he shares. "Because of the way the schedule worked out, we had to write about ten songs in three months." No wonder things got so heated between Comeau and Simple Plan's other main songwriter, singer Pierre Bouvier. "We did fight a lot," the drummer concedes. "It was often like, 'dude, I don't know what we're gonna do today." Pierre would go out and party and get home super late and I'd call him, wake him up, and say, "I don't care what you did last night, get down here! We gotta finish this record!"
The two wrote the record's final cut, "Untitled" – a poignant ballad featuring timbales and a sizeable string section – a day before the last mix date. "We only had two days left on the record," Comeau exclaims. "We didn't have music or lyrics for it, even as it was time to do the artwork. But it turned out to be my favorite song on the album."
Comeau and Bouvier also wrote "One" near the end of the process. ("You gotta call one of your songs "One," Comeau figures. "Metallica did it, so we thought we might as well be cocky jackasses too.") After initially taking a crack at that tune, the group didn't quite dig it. So they re-wrote it with an intriguing dancehall rhythm inspired by Sean Paul. "Most bands in our genre never touch something like that," Comeau says proudly. The song's title, incidentally, isn't the only thing Simple Plan has in common with the metal titans: Both have now worked with a rock-solid producer. Let's find out how the sessions gelled. Advertisement
MD: Many Bob Rock productions feature immense drumming. What was it like being produced by him"
Chuck: When you're around this legend who produced Metallica's "Black Album" (Metallica), Motley Crue, Aerosmith, and Bon Jovi, it's like, "Alright, I'm gonna listen to him." Bob is a genius at recording drums. When we first met him, we explained what we wanted: The Black Album, but with our songs. The Black Album has this really clean yet intense and powerful sound. On our first album, the drums sounded great, but they weren't huge and didn't sound like we sounded live. On Still Not Getting Any? we wanted the drums to sound more open and bigger.
A lot of bands go for that really compressed sound, and that's cool, but we didn't want that on the new album. Bob had so many mic's on the kit, with five different placements for the kick. He built a tent with blankets and boxes around the bass drum to isolate it. I like the bass drum to have a lot of punch and attack, but also bottom. That's why I used a Remo kick pad and switched around the bass drum beater to the plastic side instead of the felt.
MD: Anything you'd like to reveal about the way your drums were tracked?
Chuck: I would do a bunch of takes and feel good about them, and then Bob would sometimes go, "Alright, are you ready to start tracking for real now"? It makes you feel like you have to do it twenty times better. What he ends up doing is making you play for a long time because early on, when you're not tired and feeling great, a drummer can tend to rush the click and be ahead. So he'll push you until you're super tired and then get the take because that's when you're more laid back and actually too tired to be ahead. Advertisement
MD: How would you compare the making of Still Not Getting Any? with the crafting of your first album?
Chuck: We definitely wanted to make the new album, as the cliche goes, more mature than No Pads, No Helmets – Just Balls. This time around, Pierre and I wrote all the songs together in Vancouver, and we laid down demos with Reason. As for the drums, we experimented with different ideas, breaking the groove down to a half-time feel, going into a military-style rhythm, and programming rolls, like in the song "Perfect World." We tried all sorts of things for the demos.
At first I was kind of opposed to that way of doing it – programming our ideas – but then we got into it and realized, Wow, doing it this way really allows you to focus on the song and make it great. So when we eventually got into the studio in Montreal, I used all our demos as a map for what I played on the drums.
We wanted eleven songs that fit together, but which were also different from one another. We felt it was important to not have a uniform kind of beat to the album. "Welcome To My Life" has a weird kind of shuffle with a little bounciness to it. "Shut Up" is super high-energy and in your face. "Thank You" is also really fast – a real punker. "One," as I said, has that dancehall feel. "Jump" has a powerful 311 kind of vibe, but not with 311-style reggae. "Everytime" recalls Ryan Adams. "Me Against The World is the heaviest song we've ever written. We made it so big, especially from a drum standpoint. Advertisement