Drummers, Feature Stories, Update
Chris Knapp of The Ataris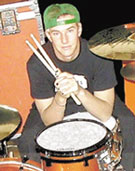 Although The Ataris' Chris "Kid" Knapp is a relatively young twenty-something, barely scoring his first major-label release, his musical career already has plenty of age and wisdom to show for itself.
"I would say never give up hope," he says. "I've had many kids come up to me and ask how I got to the point where I am. I always tell them that there were so many times when I thought this would never work out, that there was just no way to ever make it in the music industry. But there was always this thing in the back of my head that would not let me give up."
It was through this persistent attitude that Knapp came to join the Santa Barbara, California-based pop-punk Ataris in 1997 after the band had lost their original drummer. The group needed an immediate replacement for an impending national tour. Knapp's temporary status quickly became permanent, allowing him to build a healthy recording history, which includes several releases with independent label Kung Fu Records, most of which was recorded with the assistance of Descendants/All drummer and producer Bill Stevenson.
"I never really had any experience in a recording studio prior to The Ataris, Knapp admits, "and I think Bill figured this out quite fast. He showed me how to tune the drums properly for recording, how to use different tape tricks to get rid of unwanted noise, and how to muffle various drums to get the best recording possible. He also turned me on to using bigger cymbals, such as 19″ and 20″ crashes, which I never used before. But I ended up really liking the consistency of sound they produced."
Knapp was forced to engage his quick learning ability, positive attitude, and acquired drumming prowess for the recording of The Ataris' new major-label disc, So Long, Astoria, tracking with producer Lou Giordano (Goo Goo Dolls, Sunny Day Real Estate). Knapp explains that the process was yet another learning experience. "Working with Lou was amazing because he was such a professional," Knapp says. "He knew exactly what to do. If there was a specific sound we needed on the drums, he knew exactly how to go about getting it. This was also my first opportunity to go into pre-production with a producer. I didn't know what to expect, because with the indie releases I just rehearsed with the band a lot, then went in and threw down the drum tracks as is."