Brann Dailor of Mastodon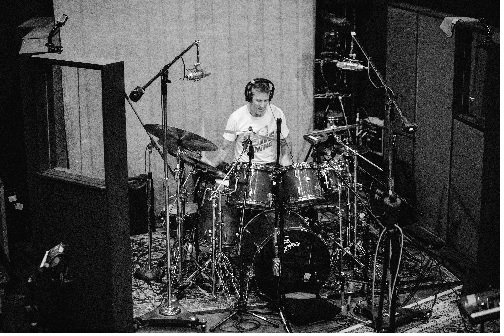 For Mastodon drummer Brann Dailor, playing in a band named after a huge prehistoric beast makes perfect sense. "When I'm performing or writing," Dailor says, "I sometimes think, That definitely sounds like a Mastodon part." Well, how about a "Sea Salt Mastodon" part? On their most recent album, Leviathan, the Atlanta band carves out a monstrous metal/prog song-cycle based on Herman Melville's Moby Dick. (Melville does call his white whale a Sea Salt Mastodon. "A sign from God!" Dailor beams.)
And as the band's crushing riffs, brutal vocals, and prog nuances burn bright, Dailor's drumming remains thunderous, dynamic, and impressive. On "megalodon," he navigates through an ocean of "Totally crazy" riffs (even a cool country lick) while casting all sorts of artful, out-front complexities. "That one was definitely a big job drumming-wise," he admits, "especially since the guitars fit together in such an unorthodox way."
As busy as his drumming gets on Leviathan, Dailor does show a bit of restraint on certain songs. "I would lie awake at night wondering whether or not I was playing enough for some of the songs," he confesses. "But I realized if I could go further, I would have. That said, I wouldn't let my ego interfere with a song being great. A lot of them needed more time to breathe and needed me to play straight, solid beats." Advertisement
One such track was opener "Blood And Thunder." (Dailor wrote the tune, reeling the title right out of Moby Dick.) "I gave that song some meat and potatoes from the drums." It seems that now, the drummer enjoys playing simply as well as in an over-the-top manner. (For fans of notes and aggression – and to hear a more unhinged version of Dailor – check out the band's sprawling first album, 2002's Remission.)
Dailor not only wrote some of the music on the critically acclaimed Leviathan, but he conceived the album's whole concept. The drummer read Melville's masterpiece while traveling to London from Hawaii, where he spent his honeymoon. The parallels between the novel and the story of his own band made him "delirious." "It seemed to fit with what we were doing as a group," Dailor explains. "We were like sailors as we drove around and played basements and clubs for years. We were on a quest for something that might not even be there, and we were sacrificing a lot by leaving our families and friends behind. It was a mixture of Ahab's craziness and Ishmael's lust for life and adventure."
Overall, Dailor feels that Mastodon's music would sink fast "if it didn't cause us to have the hair stand up on the backs of our necks. We all need to go to that "other place" when we perform. For me, I can compare it to a runner's high. It's an endorphin rush to play our music, especially on the drums. It's a workout. My blood starts boiling and my heart starts pounding when I enter that place. You really need to reach down deep to pull that stuff out. Obviously everyone has their crosses to bear, as do we, but it's great when you're able to express things, maybe horrible things, pull 'em out, and leave 'em on the stage." Advertisement
Dailor has been pulling things out with extreme music for years. After exiting the tinnitus-inducing noise-core outfit Today Is The Day, he and his friend Bill Kelliher (also in TITD) ditched the chilly climate of Rochester, New York and migrated to Atlanta. Within weeks they met guitarist/singer Brent Hinds and bassist/singer Troy Sanders, and Mastodon was born.
The band's debut EP, 2001's Lifesblood, is a gritty yet striking blueprint of what was to come. "We were getting to know each other on that record," Dailor recalls. "Since we recorded very early on and didn't cook it too long, the disc really shows us at the very beginning. It was after that when we started touring and sharing ideas.?
Dailor's ideas, especially when it comes to drumming, stem from a massive array of influences. While growing up in Rochester, he was "a human sponge." At home, he enjoyed a steady diet of prog rock. "My mom and dad would listen constantly to Yes, King Crimson, Genesis, and Frank Zappa," he recalls. "I also got into Iron Maiden, Judas Priest, and Slayer. I never lost that interest in heavy metal." Advertisement
MD: You must have a big list of drummer influences.
Brann: For metal, the main guys would be Mikkey Dee, Dave Lombardo, and Nicko McBrain; for jazz, Elvin Jones, Tony Williams, and Billy Cobham; for prog, definitely Phil Collins and Bill Bruford. I also really love John Bonham. And I can't forget Stevie Wonder. He played drums on a lot of his '70s stuff.
Phil Collins is probably my favorite drummer. I never heard beats like his before, and he moved really nicely around the kit, like water. He did these little hi-hat things that were very tasty. I don't think he gets enough credit as a drummer, and he seems to be blamed for ruining Genesis.
MD: What newer drummers have inspired you?
Brann: I really like Jean-Paul Gaster from Clutch – he's a badass, a new John Bonham. Dave Witte from Burnt By The Sun, and formerly of Human Remains, is one of my favorite drummers out there. We've been trading beats since we were teenagers. Other drummers I like include Chris Pennie from Dillinger Escape Plan, Sean Reinert from Gordian Knot, Death, and Cynic, Danny Carey from Tool, and Damon Che from Don Caballero. I like watching my wife play too. She's in a band called Cat Fight. Advertisement
MD: Did anything especially challenging come up in the studio during the Leviathan sessions?
Brann: It went by so quickly. It took about a day and a half to record. There was a song that I mentally started having problems with. It had one part I couldn't get past and every time I approached it, all I could think of was, "Oh God, here's that part that I screwed up last time!" It turns into this psychological thing. And when you're psychologically unable to get past a part, you're not having fun playing.
MD: What song was it?
Brann: "Iron Tusk." I got to a certain fill and couldn't get passed it. The best thing to do is move on to the next song. Then, when you hopefully get your confidence back, you can revisit the tune that's giving you problems.
MD: What are some of your favorite drumming chops and approaches?
Brann: I use paradiddles a lot, and I'm really into grace notes, which I got from Mikkey Dee. I've used his beats over the years, but not copied exactly. It's a tipping of the hat to him, really. My friend Dave Witte from Burnt By The Sun has this ongoing thing of stealing bits and pieces from different drummers, which I do as well. I've done things like throw in a Neil Peart fill that I mixed with a Billy Cobham lick and then ended it with a Phil Collins roll. It's pretty funny. Advertisement
And one of my favorite things to do is play past beat 1. After a standard fill, I think it's fun to go past it and come in later. That adds a lot of excitement to the music.