Andy Narell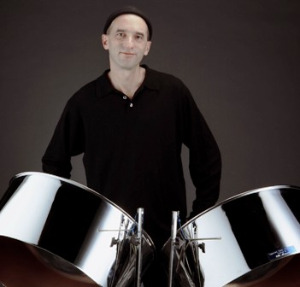 Primarily known as a steel pan player in the jazz idiom, Andy Narell is expanding his musical universe and exploring his version of "The French Connection." The first foreigner to compose for Trinidad's Panorama steel band competition (in 1999), Narell is now working with Calypsociation, a world-class thirty-piece steel orchestra in Paris, on a continent not normally associated with steel band music.
"Most of my work is in a jazz context with conventional instruments, and I'm the only person playing steel pans," Narell explains. "Calypsociation is an orchestra of steel pans, from soprano all the way down to bass. They commissioned me to write their music for the 2002 European Steelband Festival, and when the festival was finished, I offered to keep working with them to develop a whole repertoire of music that we could play in concert."
The result of that collaboration is the recent release of The Passage (Heads Up). "We put in two years of rehearsal and several hundred hours of studio time to create this record," Narell says with a grin. "I tried to capture the sound that you hear when you're standing in the middle of a steel band." In addition to Narell and the nearly three dozen steel pan players, special guests include Michael Brecker, Paquito D'Rivera, and Hugh Masekela. Advertisement
What brought Narell to Paris in the first place? "While playing in the French Caribbean, I met three incredible musicians'mario Canonge on piano, Michel Alibo on bass, and Jean Philippe Fanfant on drums." The four men formed a jazz quartet called Sak'sho (pronounced sah-kay-show), which draws inspiration from the syncopated, polyrhythmic music of Martinique and Guadeloupe.
"It's a leaderless band, and we're all writing music for the group," Narell says. "We're playing a lot of gigs, and we're hoping to do another record later this year." The group's first album, Sak'sho, was released in 2002.
Lauren Vogel Weiss