Drummers, Feature Stories, Update
Adrian Erlandsson of Cradle Of Filth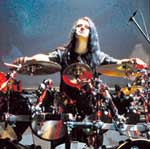 If there's any lesson to be learned from the success of Cradle Of Filth drummer Adrian Erlandsson, it's the valuable concept of persistence. Before joining the successful speed metal outfit in 1999, the Swedish-born Erlandsson worked with the bands At The Gates and The Haunted. But those gigs didn't pay the bills. In fact, back then, Erlandsson found himself toiling at day jobs just to make ends meet. It almost caused him to throw in the towel.
'those days were really difficult," Erlandsson admits, "and I nearly gave up on trying to make a living out of music. But fortunately I stuck with it and have built it up to where I am today. It's a position that I don't take for granted at all. I'm dedicated to maintaining it."
The evidence of such dedication can be heard on Cradle Of Filth's latest release, Nymphetamine, which finds the drummer skillfully burning his way through an impressive assortment of cuts. Of course, such rapid precision doesn't come without a dose of perfectionism. "I'm very particular about playing the take as well as I possibly can, so that we don't have to do any computer editing," says Erlandsson.
"When we recorded the latest album," the drummer continues, "I did all of the tracking with the whole band playing together at the same time. I think that really added to the live feel of the tracks. I also found it very inspiring to hear everything played at once, and it actually caused me to come up with some new parts that I hadn't thought of in the rehearsal room."