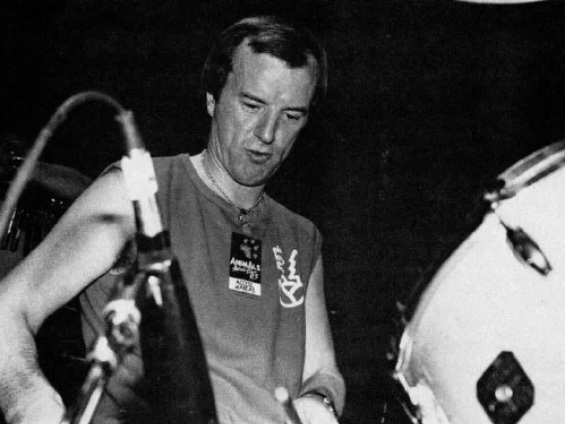 It was June, 1964. People were still trying to get used to four mop tops from England who had taken the country by storm when the radio began blaring a new sound. "There is a house in New Orleans they call the Rising Sun," the singer screamed. His voice sounded as if it were equal parts sandpaper and acid. It was gritty. It was angry and full of hurt. It was close to authentic. And in this case, authentic meant black and very, very blue. Ultimately, it sold more than four million copies—a quarter of a million in its first week in England alone—and became the first non-Beatles English single to end up at the top of the charts. The story goes that it helped inspire Bob Dylan to "go electric" himself the following year.
By then, the Animals had arrived. From the start, they were seen as part of the British Invasion that changed the way America has heard pop music ever since, but the Animals were different from most of the Invasion groups. Like the Rolling Stones, they wanted to be true to the blues that had formed them. Eric Burdon, in fact, wanted badly to be black and finally did lead a black band (War) later in his career.
The Animals were also not "pretty boys" like the Beatles. They were definitely in the Stones' scruffy-and-so-what mold, only maybe even a little further off the beaten path. And they were continually posed as animals, literally—paws up, tongues out, with expressions as nasty as they could muster between attacks of the giggles. The songs didn't hurt that image one bit, either. "Rising Sun" was followed by "I'm Crying," certainly one of the more emotional tunes of the period. Then came "Don't Let Me Be Misunderstood," which was as much a threat as an entreaty. It continued that way, with each song more hard-edged and more gut-wrenching than the last. But it was not all easy or fun, and by May of 1965, organist Alan Price, the very core of the Animals' sound, had left, to be replaced by Dave Rowberry. By the end of the year, drummer John Steel left, too.
The group held together through the fall of 1966, when bassist Chas Chandler announced that he, too, was leaving. After that blow, Burdon decided to disband the group altogether and to re-form a whole new Animals which would sound a lot more like San Francisco than Newcastle Upon Tyne, where the group began.
The original members all got together again at Christmastime 1968 for a single concert in England at the Newcastle City Hall, but by that time, Burdon had fallen from grace in his homeland, and his latest album, Every One Of Us, which contained a heart-twisting "St. James Infirmary," hadn't even been released in England. So the Animals played the old tunes for the crowd, and then forgot about it. In 1977, they regrouped again for a single album, Before We Were So Rudely Interrupted, which didn't sell well at the time, but is certainly no embarrassment today.
Drummer John Steel told Goldmine, a record collector's magazine, about that reunion: "That was just a half-hearted, on-off thing. Circumstances were that I was working with Chas, and Eric came over to Europe for the first time in a while. Alan happened to be free. I think it was the head of Polydor Records who dropped the idea and it took root. We got Hilton [Valentine, guitarist] in from California and borrowed the Rolling Stones' mobile recording studio. But nobody was committed to going out and promoting it, so we made it and flung it out there to see if anybody would buy it, and then went back to what we were doing before."
The current reunion has been a bit different. Eric Burdon continues to tell various publications what a bunch of old hackers he's got for a band, but by all reports, the shows have been special—filled with energy, honesty, and feeling, and not a little hysteria. What's more, the album has gotten pretty fair reviews, and I.R.S., the Animals' new label, wants another one—this time a live, tour album. That means everyone has to be committed to sticking it out for the recording and for the tour. "I got a phone call," John Steel told Modern Drummer. "The idea was put to me—and I think to everyone else, too—as simply as that. But everyone had the same condition—not if it's a nostalgia trip, and not if it's the same old hits. The first thing, really, from day one, was to get together and see if we could play. It had to be something we were proud of. Everything we tackled was brand new. But we kept at it, straight away with the new stuff, and it just kept working, much to our amusement and amazement, I think. We didn't even practice the old stuff."
But Steel and probably the rest of the Animals were wary. They'd been through it all before, and had never made the kind of money the Beatles or the Stones, once they got organized, did. There is still a lot of bitterness in some of the Animals from that time, Steel said. But this time, it all seemed so easy. "No matter how many people shake your hand and say 'Wow!' you know if you're on a bummer," Steel said, adding that he felt good about the Animals, their album and the tour, which has since wound its way across America and is next headed for Japan and Europe. "When you're hot, you've got to strike," he said.
Steel noted that he has been out of music for some time, adding that he would have been just as happy to go home to northern England and take up where he left off— managing a plastics factory. After the Animals broke up the first time, he had stayed in the business, more or less, playing small club gigs in England and then going to work for Chas Chandler, who had discovered Jimi Hendrix just before leaving the group. "Chas was in full flight. He was having great success with Hendrix, and after he stopped working with him, along came Slade, who never broke in the U.S. but were fabulously successful worldwide. So when he asked, I went to work for him in artist relations. I was really a well-paid gofer. But I kept playing, too, because I enjoyed it in the clubs and bars.
"It was just four years ago that I got fed up with living in London, and that's when I went north to a friend who owns this plastics factory. He signed me on as production manager. But even up there, I played with an R&B band. That was alright for me, because generally, I'm the low-key type. I'm not ambitious—chewing me knuckles all the time. Just playing pleases me, because it's no bullshit. That's just the way I am—generally quite easily pleased. After all, it's a tough business to get into at the national or international level. Therefore, there are lots of good groups that aren't great. But the overall standard is very high, and it's very, very competitive, of course," Steel said. He has kept up musically, though, in his low-key way. And he seems not to have worried about whether the Animals would be seen as out-of-date or as purely an oldies group. He said he doesn't think the record label worried too much about that either, despite I.R.S.'s reputation as a "new music" label.
"I've been married to the same girl for 19 years, and we have an 18-year-old daughter who has a tremendously broad view of music. She's very conscious of what's going on now, but she's also fascinated with Dylan and the Stones. She's quite critical musically, but what was rubbish has already disappeared for the most part, and the rest has stood the test of time. She keeps saying, 'I was born too late,' though.
"But I think there's a lot of good stuff going around now musically. And [this time, among the Animals] we never did say, 'We have to play this.' We tried Eric's songs—he had 40 or more—and we did the arrangements the way we liked. There was no desperate need to be current or up-to-date. The timing was also right. We learned later about others regrouping—Simon & Garfunkel, for instance. So our timing was great, but it wasn't planned. I was quite happy as I was. There was no 'have to' about this.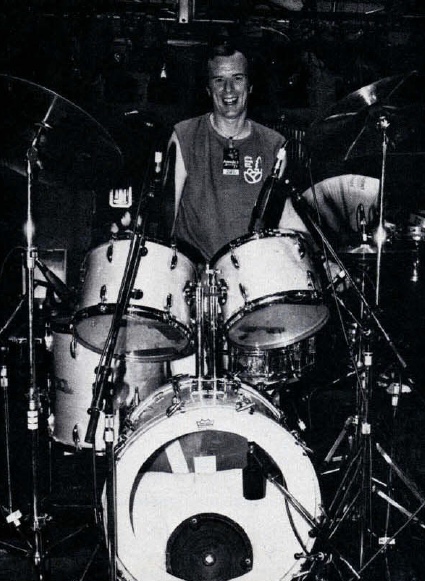 "In 1976, it was very, very different. There was a business meeting in London where someone threw out the idea of doing a record [which became Before We Were So Rudely Interrupted], and again we said, 'Why not?' But it was so half-hearted. Everyone had commitments, and it turned out to be how not to do a comeback. Nowadays, people keep turning up with it for autographs, but this one is on a different planet. We're all so committed; it's really very organic. And by the time this tour is finished, all of us will have six months invested. So it's very different now, 18 years on," Steel said.
But how does he feel about it? Can a middle-aged man really find happiness playing rock 'n' roll on the road? "I know. People aren't supposed to play rock'n'roll when they're middle-aged. Rock'n'roll is just now 25 years old itself. And if you'd asked me at 20—and they did ask Mick Jagger—'Will you still be playing at 30 or even 40?' I'd have said 'Absolutely not!' Yet, you find yourself at 40 still enjoying it. And if you can do it and you enjoy it, well, why not?" he asked. But there are doubts about bringing the Animals into the modern age, especially since the group hasn't really worked together in more than a decade.
"Back in the dark ages, it was every man for himself. You were flying by the seat of your pants and you knew it, because you always have to be ready with Eric. When he goes 'Ooooohf,' and takes off in a different direction, you have to be ready for it. He comes on stage in red, but in 15 or 20 minutes, he's black with sweat. It runs off him, because he's always giving 200%. But even with four extra musicians on stage now, it's the logical extension of where we left off. And the technology we have now makes it a bit easier; at least you can hear what's going on. When we first toured, there were no mic's on the drums. Now I have nine mic's, but since it's not complicated, there's not a hell of a lot to look out for.
"On the other hand, with Eric, you al ways have to be ready, and it's a hell of a responsibility, especially with a nine-piece band. Anyone else can make a mistake, but if I do, it's TILT! I still get a tight knot in my stomach before we go on stage, but that's good, because you're really on. The last time around, there were a certain number of mechanical performances. There had to be, because we were so overworked. So, ultimately this is more satisfying, because this has that extra little bit of effort in it. When we finish, I get the feeling that it was good, you know? And there's nothing like that. Afterwards, it's total exhaustion. We go into the dressing room and just collapse. We see no one for at least half an hour, but it's a complete feeling."
Talking to Steel, you get the feeling that, regardless of what he says about being happy in a plastics factory, there's nothing more fulfilling, more challenging or more a mystery to him than the music. Having remained fascinated with it, he's kept up and can rattle off the names of groups otherwise known only to today's young music audience. However, he hasn't really changed anything about his style or his equipment as the years have passed. "I don't know a thing about synthesizers or other modern advances. I'm playing much the same way I always have. In fact, my playing is probably less cluttered now. I use a very simple Gretsch kit—just two toms and a floor tom, a crash and a ride. There are no Roto Toms, because I wouldn't know what to do with them. I've always said, 'Take me as I am,' because that's all there is.
"I really feel, anyway, that with synthesizers, a certain amount of it is for show. If they'd been around in the '60s, I'm quite sure we'd have used them, but I don't feel that I've lost my craft or that I've fallen behind without them. That Simmons electronic kit sounds like a marvelous little toy, but I've never gone near one. Perhaps somewhere on this tour, when we have time in between shows, I'll go and have a look. But I'm not reactionary. I use what I use. If someone brought something to me, fine, I'd have a go at it. But basically, I'm just lazy, I suppose.
"I always see myself as being very much like Charlie Watts. I'm just after a solid, simple back-up for the band. And I've never had formal training, you know. I go by instinct, and I feel that I've been playing better now than in the past. I can't fall asleep, of course; there's no autopilot in this band." No autopilot, indeed. In fact, John Steel is like the generator in the Animals. Without his driving, precise timing, the rough edges Burdon so loves would quickly make the group sound like any other garage band. And without his taste, the basic blues orientation might sound much more stale and plodding.
Where did that taste come from? Is John Steel a blues player, too? How did he become a drummer in the first place? "I was always an enormous John Coltrane fan, all through the '60s—and Charlie Parker, of course. I remember once we were playing a week at the Paramount Theater in Brooklyn, New York, and I wanted to go to Birdland. I couldn't get down there fast enough to hear for myself. I also went to see Dannie Richmond with Charlie Mingus. We talked and he asked, 'Who's the drummer on "Rising Sun"?' I was just knocked over; it was such a thrill—such a compliment.
"Elvin Jones has always been mind boggling to me, too, but I never even dared to try to play the way he does. He's one of my idols. But again, what I do is just instinct. I listened to jazz from the time I was 14—Bix, Jelly Roll, Louis Armstrong's Hot Five. I was a die-hard jazz fan and wouldn't listen to anything else. But I really do think there's been a tremendous fusion between jazz and rock 'n' roll, and the jazz people have taken what they wanted without taking it very seriously.
"At the end though, we're finding that what we've done has stood the test of time very well—however you define it and wherever it came from. We all had various influences, and they came together in the music we did. Now, when we do 'We Gotta' Get Out Of This Place,' the reaction is simply astonishing. Young kids who were hardly born when we recorded it just go crazy, and then there are the Viet Nam vets who'll say afterward, 'That song got me through the war.' Perhaps it's all a question of taste, and maybe we're all simply in possession of taste. I know I'm risking sounding conceited, but we're just very instinctive, and that's stood us in very good stead over time."