Metallica Helping Hands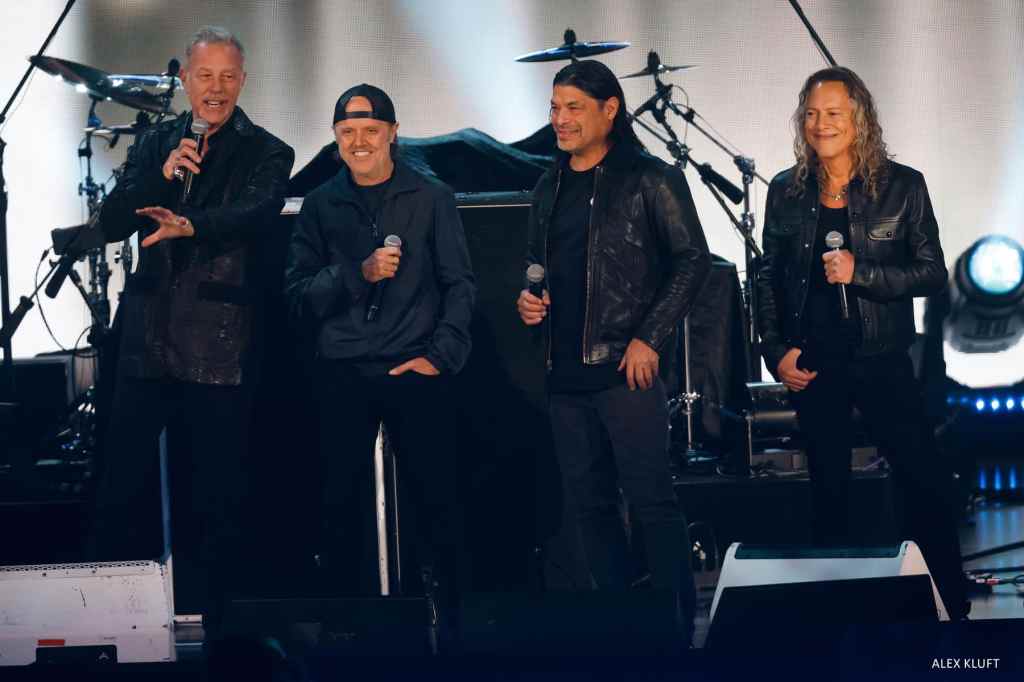 By Alex Kluft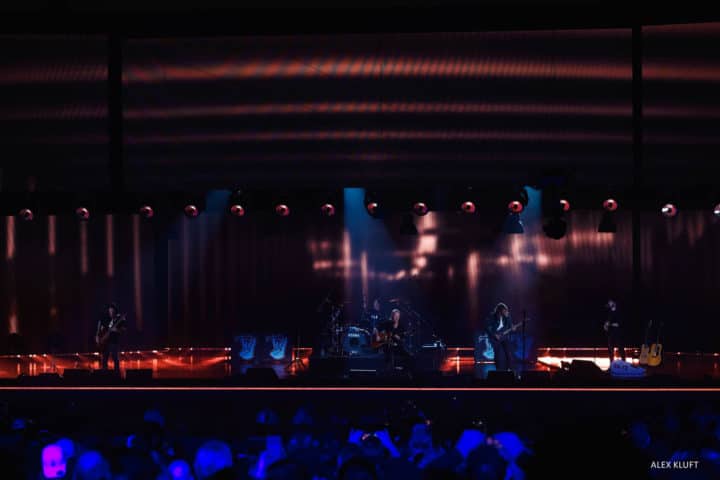 This same time a year ago, Metallica was celebrating their 40th anniversary with two shows at the Chase Center in their hometown of San Francisco, California. Now a year later, Metallica played their final show of 2022 at the Microsoft Theater in Los Angeles, California, benefiting their charity the All Within My Hands Foundation. Even at 7,000 seats, the Microsoft Theater performance was an intimate show for Metallica who recently announced a massive two-year stadium tour playing football stadiums double nights with openers Pantera, Five Finger Death Punch, Mammoth WVH, and Greta Van Fleet.
Back in February, Metallica played Allegiant Stadium in Las Vegas, Nevada, along with Greta Van Fleet as their first show of the year and only one of two west coast shows. Their tour took place mostly in South America and major Rock festivals in Europe. This was also the first Metallica show in a month and half, with the last one taking place November 6th at the Hard Rock Live in Hollywood, Florida. This intimate show honored Megaforce Records founders Jon and Marsha Zazula. This was the label that Metallica released their first two albums on and, for that show, only played songs from that early era.
Following the releases of Kill 'Em All and Ride the Lightning, Metallica would become the biggest metal group worldwide and release six consecutive number one albums starting with their self-titled "Black Album" through to their last release Hardwired… To Self-Destruct. All eight of their albums have been certified between platinum and all the way up to 16x platinum. Advertisement
The Helping Hands concert began with a red carpet including former Guns N' Roses drummer Matt Sorum, skateboard legend Tony Hawk, Rage Against the Machine guitarist Tom Morello, actor Joe Manganiello, St. Vincent, TV host Mike Rowe, Jimmy Kimmel, and Greta Van Fleet. Metallica came out to welcome everyone to the event and talk about their charity before introducing the evening's host Jimmy Kimmel, who then came onstage and hugged each member before they exited to return an hour later. Model Kelly Sawyer Patricof came out to speak about her nonprofit organization Baby2Baby, which All Within My Hands helps benefit. First Star CEO Lyndsey C. Wilson came out to speak about her charity which helps high school youth in foster care be able to have higher education, which All Within My Hands also supports.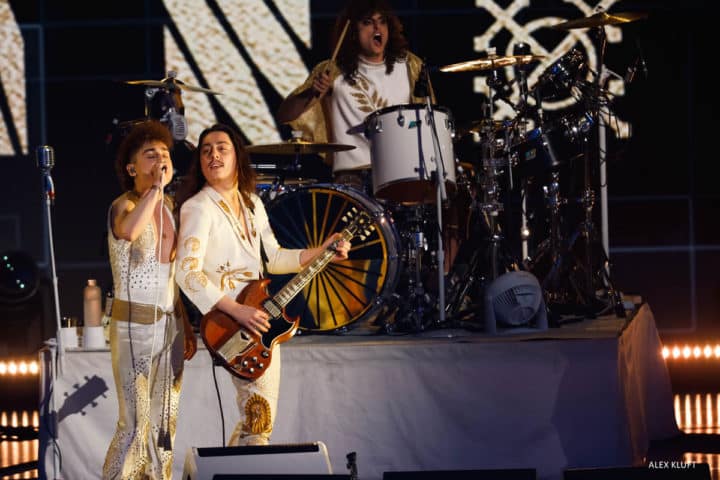 Greta Van Fleet took the stage for a short performance of around 30 minutes with six songs. They started with a jam of "The Cold Wind" leading into "Safari Song." For this show, the band sported new looks. Not only did they have new outfits (which Kimmel jokingly referred to as reminding him of Siegfried and Roy), but front-man Josh Kiszka had a new hairstyle, his brother Jake (guitar) had a mustache, and Sam (bass/organ) had a goatee. Drummer Danny Wagner went for a curly hair look rather than straight. They have a mature sound despite only being in their early to mid 20's. There are only a few modern rock bands keeping the spirit of the legendary bands of the 60's and 70's alive today, and Greta Van Fleet is doing no small part in this.
Before Metallica came out, there were a few speakers including 2022 Global Citizen Prize winner Barbie Izquierdo of Feeding America, Erin Gore and Erich Broksas of World Central Kitchen, and Mike Rowe. Iron Man himself Robert Downey Jr. came out to announce Metallica. Metallica's first set began acoustically with "Blackened" followed by another hit "The Unforgiven." Metallica would follow with their first time playing Thin Lizzy's "Borderline" and UFO's "It's Killing Me" for the first time live before ending with "Whiskey in the Jar." Avi Vincour joined Metallica for the acoustic set playing mandolin and guitar. Kimmel came back to announce the next guest speaker, skate legend Tony Hawk. Notably, the early Metallica track "Whiplash" was in "Tony Hawk's Underground 2" in 2004. Advertisement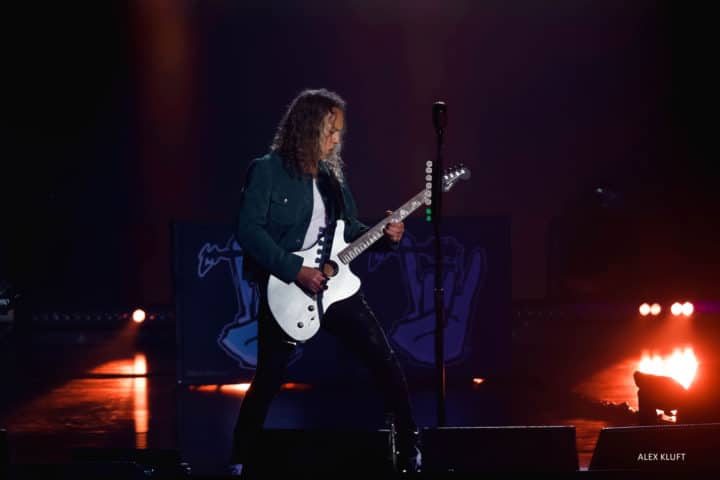 Metallica returned to the stage for a nine song electric set beginning with "The Call of Ktulu" and, of course, "All Within My Hands." They also played fan favorites "Enter Sandman" and St. Vincent joined in for "Nothing Else Matters." Between those two hits, Metallica played their new single "Lux Æterna" from their upcoming album 72 Seasons for the first time live. "Seek and Destroy" closed out the set.
This was their third Helping Hands concert, the first to take place in L.A., and the first to be livestreamed. In addition to the concert raising funds, there was also a major auction of nearly 100 items held online, including their instruments used during the concert, other one of a kind items, and special experiences.

Greta Van Fleet Setlist:
1. Safari Song (with brief jam of "The Cold Wind")
2. Built by Nations
3. Caravel
4. Black Smoke Rising
5. Light My Love
6. Broken Bells
Metallica Setlist:
Set 1:
1. Blackened (2020 Version)
2. The Unforgiven
3. Borderline (Thin Lizzy cover)
4. It's Killing Me (UFO cover)
5. Whisky in the Jar
Set 2:
6. The Call of Ktulu
7. Harvester of Sorrow
8. Holier Than Thou
9. All Within My Hands
10. Creeping Death
11. Enter Sandman
12. Lux Æterna
13. Nothing Else Matters (featuring St. Vincent)
14. Seek & Destroy

All Within My Hands Mission & Vision Statement
"Founded in 2017, All Within My Hands Foundation is dedicated to creating sustainable communities by supporting workforce education, the fight against hunger, and other critical local services. Advertisement
Feeding America is AWMH's primary partner when it comes to combating hunger. While we defer to their numbers in many cases, we remind you that this is an average and a dollar can be stretched further in different parts of the country. In general, for our donations $1.00 = 3 meals. So that translates to 30,000 meals per show.
AWMH supports workforce education through the Metallica Scholars initiative, which we established in 2019 with 10 schools and expanded in 2020 to 15 schools. When it comes to education and the needs of the Metallica Scholars grant recipients, the dollar to impact ratio is less straightforward. Schools are selected through a competitive application process and are given $100,000 each to use in the manner in which they find most beneficial for their programs. That being said, through our partners at the American Association of Community Colleges, we make sure funds are being used appropriately in line with our initiative.
Our intended result is that our students receive instruction enabling them to get higher paying jobs and establish stable careers. In most cases this isn't accomplished by attending school for two years to receive an associate's degree, but rather the result of a three- or six-month certificate program." Advertisement