Introducing dB One Heads & Cymbals from Evans Drumheads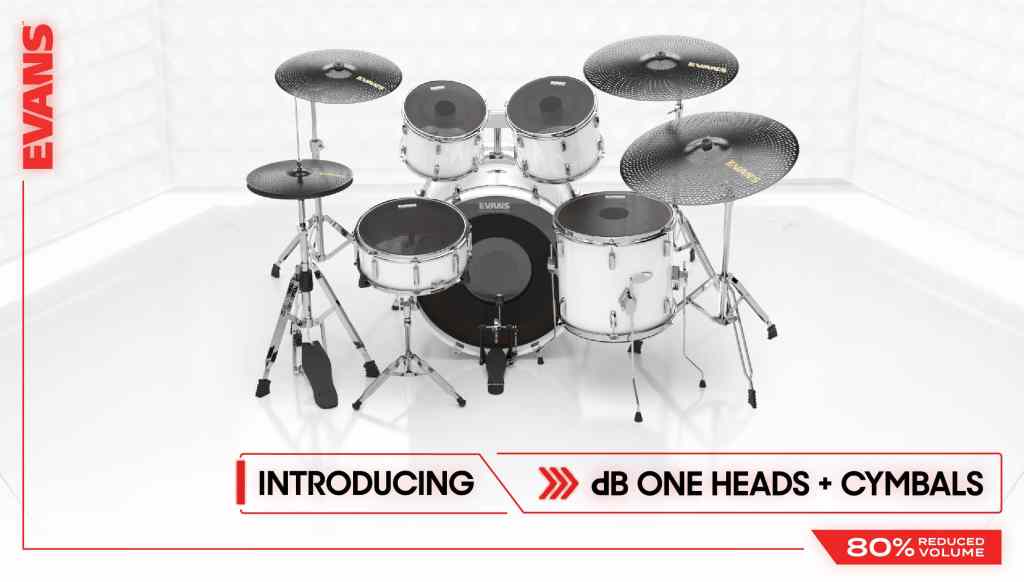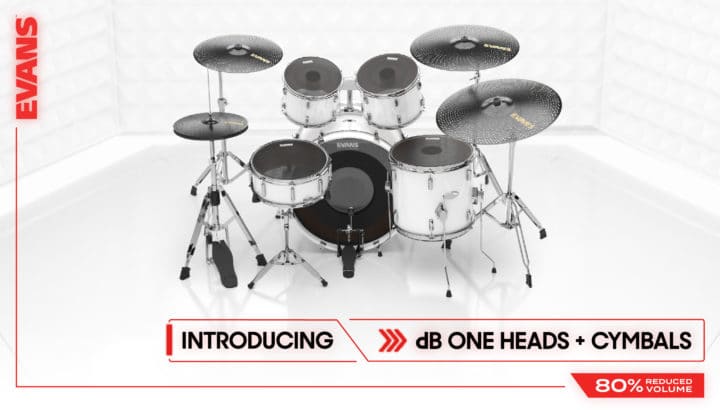 EVANS Drumheads, the most technologically advanced drumheads on earth, is introducing a revolutionary new suite of products, dB reduced volume drumheads and cymbals. The dB product suite includes dB Zero, a rebrand of the popular SoundOff mesh drumheads, and the introduction of dB One Drumheads and Cymbals.  
Drummers now have two options. dB Zero reduces the drumhead's volume to the lowest level possible and is ideal for silent practice and use with drum triggers and sensors. With dB One, drummers can maintain their acoustic kit's natural tone and feel, but at only 20% the volume of traditional acoustic heads.
"The dB One heads are an incredible practice tool, *especially* if you have volume restraints wherever you drum," says Whitechapel and Light the Torch drummer Alex Rüdinger. "The first time I really laid into them was at 2:30 in the morning, with other people asleep in the house, two stories up. No one woke up or even heard a peep!" Advertisement
Available in patented tom, bass, and snare heads, dB One drumheads experience an authentic bounce and attack with ShockWeave MeshTM, Kinetic Transfer FoamTM (KTF), and dB One's innovative Impact Patch striking surface. Additionally, the wire-free Snare SimTM treatment tackles the once impossible-to-fake-buzz and crack of acoustic snares at a reduced level. 
The new dB One suite is rounded out by dB One Cymbals, the first cymbals to sport the EVANS brand and designed to balance and match with the dB One heads as a system. In addition, each cymbal features EVANS' patented dBalanceTM technology, a precision-perforated volume reduction system punched directly into the nano-plated stainless alloy surface in a mesmerizing spiral pattern. This meticulous approach to attenuation achieves a chime and resonance as articulate as many full volume sets but at 20% the volume. 
To learn more about dB please visit https://ddar.io/dBOne.PR.