Tribute to Taylor Hawkins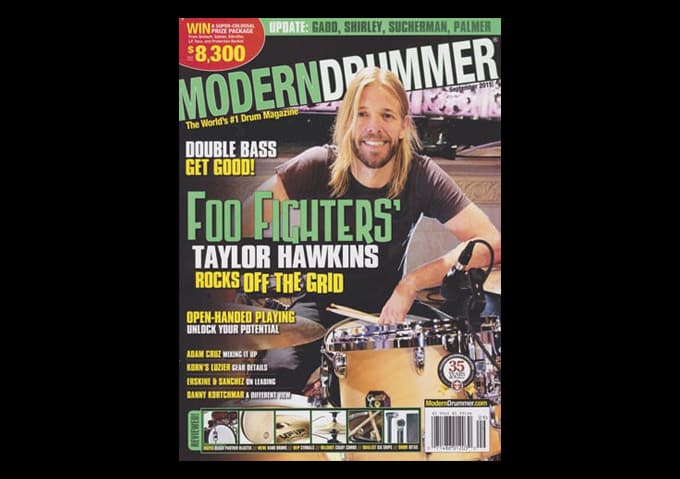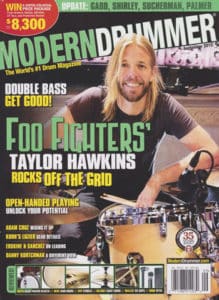 On March 25, drummers and music fans around the world were devastated to learn that drummer Taylor Hawkins had died. Hawkins was a good friend of Modern Drummer, and we join in the sorrow of losing such a wonderful person and amazing musician at such a young age.
In 1997 when Foo Fighter bandleader Dave Grohl plucked the energetic young drummer Taylor Hawkins from Alanis Morrissette's band to join the Foo Fighters, it was the all-important final piece of the puzzle to a great rock band. Taylor Hawkins became one of the most important and influential rock drummers of the 21st Century. His explosive drum parts, unbridled energy, presence, and creativity took great songs into the musical stratosphere.
Taylor's sheer love of music and joy of drumming infected everyone he met. If you had the opportunity to talk to him about his drumming influences Roger Taylor, Stewart Copeland, and Phil Collins, or the popular rock bands of the 70's and 80's like Van Halen and U2, you became instantly inspired. His humility and self-effacing attitude was refreshing, and his knowledge of rock drumming history was invigorating. Throughout his life, a chance meeting with another drummer often resulted in a bit of drum talk and an inspirational memory for a fan. And when Taylor lit up the room with his big smile, you knew he was inspired as well. Advertisement
In the Foo Fighters, we heard musical soul-mates Taylor Hawkins and Dave Grohl (and the rest of the band) grow into a force of nature that became the most important rock band of the 21st century. At the beginning, Hawkins split the drumming duties with Grohl on There is Nothing Left to Lose. Hawkins began playing all of the drums on the recording One By One. As Taylor's drumming evolved the band progressed, and the magnificent music and the accolades piled up.
However, Hawkins musical skills went beyond the drumset. Taylor Hawkins was also a wonderful singer and songwriter as well. This is shown on the three recordings from his own band Taylor Hawkins & the Coattail Riders. Their self-titled debut and the subsequent Red Light Fever and Get the Money are excellent recordings, and showed Hawkins' interest in a more progressive musical side, and spotlighted his lesser-known singing and songwriting skills.
With the Foo Fighters, Taylor made his lead singing debut on an EP, singing a cover of Cream's "I Feel Free," he even played piano on the song "Summer's End" from Echoes, Silence, Patience & Grace. Live, Hawkins would occasionally sing lead with the Foo Fighters as well. But it was his ebullient presence, and his grounded sense of groove ecstasy behind the drums that made him a very special and unique voice in drumming. Advertisement
Musically, everything peaked on 2011's Wasting Light. The bull-dozer groove that Grohl, Hawkins, and bassist Nate Mendel had created became inseparable and undeniable. The sheer strength of that record and the record making process is documented on the DVD called Back and Forth. The DVD also revealed Taylor Hawkins' (and Grohl's) wicked sense of humor, brotherhood, personality, and drive that contributed to the amazing Wasting Light. On the heels of Wasting Light and the subsequent Foo Fighters recordings, the camaraderie of the groove became even stronger, and Taylor Hawkins' drum influence grew even wider.
In his career, Hawkins also recorded with Coheed and Cambria, Eric Avery, Kerry Ellis, Slash, and was commissioned to complete an unfinished recording of Beach Boys drummer Dennis Wilson called "Holy Man." In 2021, he also formed a band with Dave Navarro and Chris Chaney called NHC.
Away from the stage Taylor Hawkins was also just a good "dude" from Orange County, California who was a surfer, a musician, a drummer, and most importantly a father, and a loving husband. Taylor Hawkins is survived by his wife Alison and three children. The entire Modern Drummer family sends our deepest condolences to Taylor's entire family, Dave Grohl and the Foo family, the rest of Taylor's musical family and friends in this most difficult time. Taylor Hawkins was 50. Advertisement
By Mark Griffith