On The Beat with Ricky Fitness of the Aquabats: Talks Inspiration, Gear, and Having Fun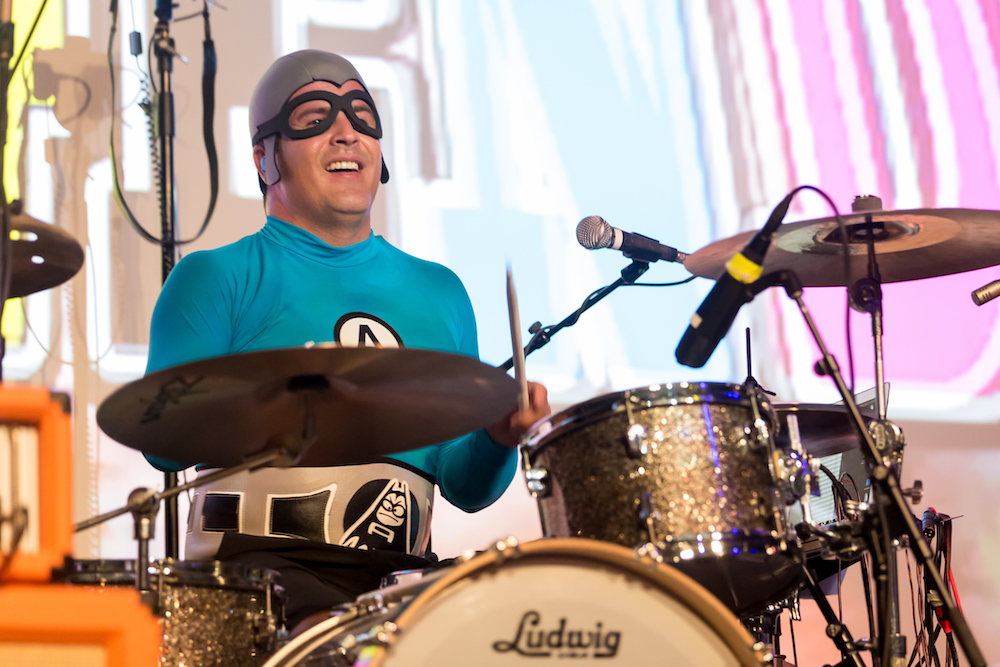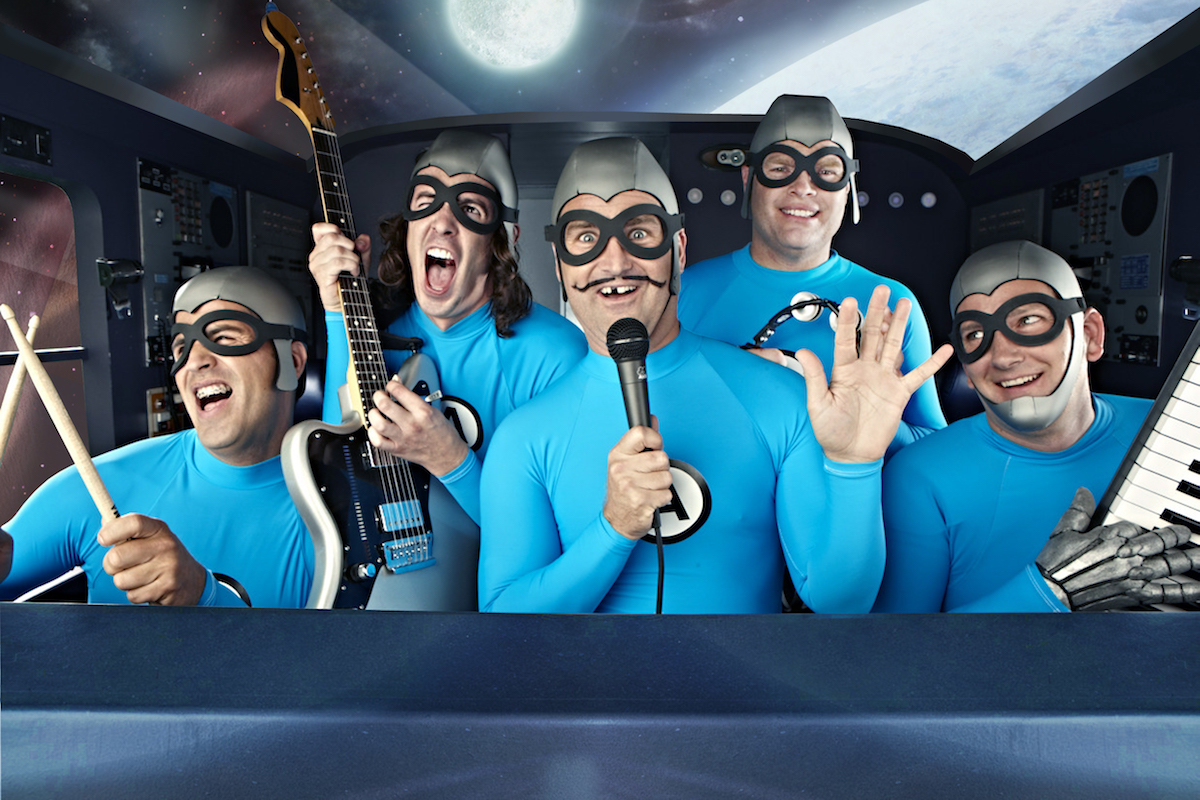 Hi everybody! Ricky Fitness here, from your friendly rock band/superhero combo the Aquabats! We just finished a quick tour and a pretty epic Kickstarter campaign where our fans teamed up and raised enough to let us make two new albums next year, and to bring the Aquabats! Super Show! back as an online mini-series. Next year, we'll have our first new studio album since 2011. It's been incredible.
I'm pretty stoked that we're getting back to writing music. And, as always, I'm pulling inspiration from all types of genres. These days you'll find me listening to everything from '80s freestyle music like Lisa Lisa and Cult Jam and Nu Shooz to my standby of Tom Petty and the Heartbreakers. I've even been throwing reggae in there to keep things spicy.
One of the best parts about the Aquabats is that anything goes so a variety of things are always inspiring me. Being in the Aquabats is a pretty special gig because aside from being superheroes who save the world once in a while we're lucky enough to have incredibly passionate fans wherever we go. Our crowd is made up of fans who have been with us since the beginning, but also adults and kids who discovered us through our TV show. It makes for an awesome dynamic, and we try to promote a friendly atmosphere where everyone can rock together—no matter your age! Advertisement
No two Aquabats shows are ever the same. Sometimes I'll catch myself just sitting back and watching my fellow 'Bats doing hilarious stuff. For us, that's really what it's all about: having fun, doing ridiculous things, and playing cool music with your pals.
Here is what my gear setup is looking like:
Ludwig Keystone maple/oak shells
14×22 kick drum
16×16 floor tom
9×12 rack tom
6.5×14 Ludwig hammered Black Beauty snare
5×14 Ludwig Black Beauty snare
20″ Zildjian K Custom Medium ride
19″ Zildjian K Custom Hybrid crash
16″ Zildjian A Custom EFX
6″ Zildjian Splash Custom
14" New Beat hi-hats
DW 9000 kick drum pedal
DW 5000 hi-hat stand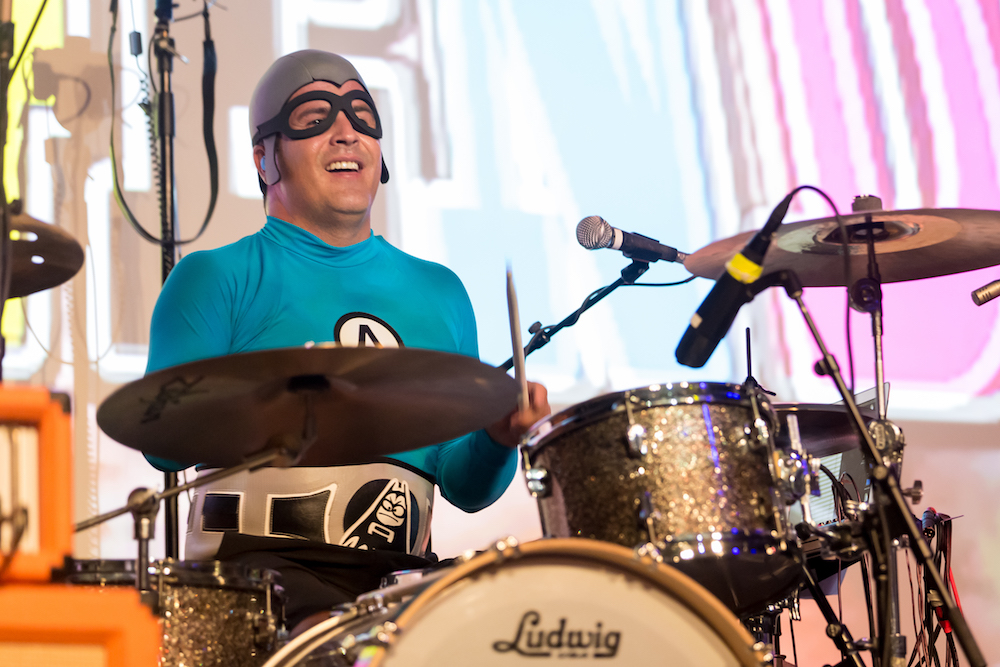 I'm currently using Remo Emperor Colortone drumheads in smoke (and I love them). I use a Roland SPD-SX sample pad in between songs to create a kind of score and SFX for our banter and bits. It keeps things interesting and adds a cool dynamic. My 808 always get people dancing! I also use a MacBook Air to run our videos. My setup has kind of evolved into a bit of a spacecraft control room. Advertisement
Once we have a new record, we'll be touring it around, and hopefully we'll land in a city near you. If you want to see us sooner, we'll be at the House of Blues in Anaheim this December, for an encore show for the twentieth anniversary of The Fury of the Aquabats!
Keep up to date on all of the Aquabats news at https://www.theaquabats.com and on the band's Facebook, Twitter, Instagram, and YouTube. You can also follow Ricky on Twitter and Instagram. Thanks for reading!
Photo of Ricky by Forrest Locke