On The Beat with Chris McNeill of Glass Tiger: Talks New Album, Multiple Projects, and Gear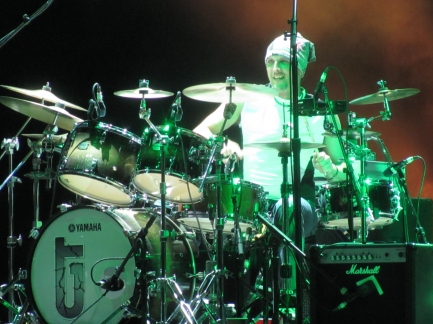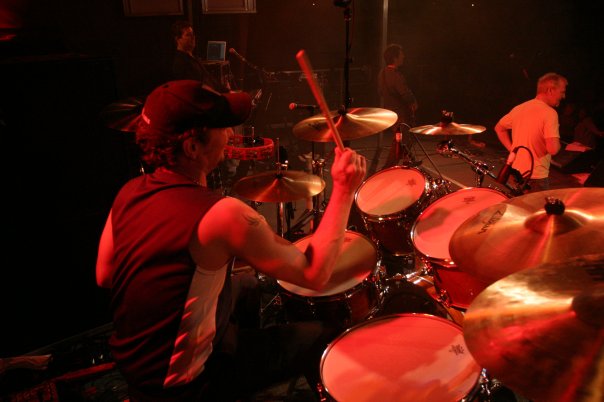 Hey there MD! Just touching base with a quick update on some fun stuff that's been going on. Holy cow, does time ever fly! I'll soon be going into my twentieth year playing with Glass Tiger, the Canadian rock band known for "Don't Forget Me (When I'm Gone)." Today the band includes original members Alan Frew on vocals and guitar, Sam Reid on keyboards, Al Connelly on guitar, and Wayne Parker on bass. What a ride it's been!
We recently played the great Massey Hall in Toronto, a world-famous venue that has been around since 1894. We were humbled to join the ranks of the huge list of amazing performers who have graced that stage, including legendary acts such as Oscar Peterson, Bob Marley, Gordon Lightfoot, and Rush. It was a night of great expectations, and we gave it our all to ensure that it was a memorable show. We divided that night into two parts, the first set being acoustic and the second set full rock. The fun part about that for me was the chance to use two different kits on the same bill. My acoustic kit was the Yamaha Manu Katché mini, and the rock set was my newly acquired silver sparkle Yamaha Absolute Hybrids. Man, I love this kit!
The sizes I use are 10″, 12″, 14″, 16″, and 22″, along with a 10″ side snare with a 6.5×14 main snare. Our touring rig also consists of J Harvey IEMss, Mackie mixer, Roland Octa Capture, Ableton (for backing tracks via Radial 8 pro DI rack mount), and an X32 iPad mixer. My Sabian cymbals are 14″ AAX Frequency hi-hats, 10″ HHX Attack splash, 18″ AAX Aero crash, 20″ AAX X-Plosion ride, 16″ AAX ISO crash, 13″ XSR Fast stack, 17″ HHX X-Plosion crash, and a 10″ AAX Aero splash. I couldn't have better service and help whenever needed by both Sean Browne of Yamaha and Christian Stankee of Sabian (thank you!). Advertisement
It's been a crazy busy summer with Glass Tiger. Our new album 31 has recently been released, and we have been traveling all over Canada playing various venues and festivals. Upcoming dates include Florida, New York, and the UK. When I'm not on the road with GT, you will also find me playing with Alan Frews' solo band, recording artists Spoons, three-time Juno Award nominee Tom Barlow, and Sonny Boy Mick, who is the owner of Melody Man Studios in Burlington Ontario, where I also teach one night a week.
In the recording world, I have been busy tracking drums for various artists. I was lucky enough to be asked by mega-talented writer/producer/musician Sean Andrews to play drums on his band's album. The band is Seven Symphonies and the album is called Life Times. It's full of heavy sounds that hint at Trent Reznor, Alice in Chains, Weezer, and Queen. Another local artist, the great Stan Miczek, also approached me to play drums on his debut CD Sinister. His songs are flavored with vibes reminiscent of Tom Petty, Foo Fighters, and the Knack. I also produced and mixed Tom Barlow's latest single, "Clarice." It is such an honor to be involved in all of these amazing works!
Another fun recent project was being involved in the testing and development of a cool new ultra thin practice pad called Groovpad. It is the brainchild of my buddy and often bandmate, bass player extraordinaire Tom Lewis. This thing is amazing—it's lightweight, foldable, quiet, can easily stick to most surfaces, and has great feel. The newest version even glows in the dark! Be sure to check it out at major music stores across Canada, amazon.com, and at groovpad.ca. Advertisement
Thanks for taking the time to read this and thanks to MD for letting me update everyone on my musical comings and goings!
Watch Glass Tiger's classic video "Don't Forget Me When I'm Gone' here: 
 Watch "Someday" live July 1, 2017 Canada Day in Fort Saskatchewan here: 
For more on Glass Tiger, visit http://www.glasstiger.ca/.