On The Beat with Danny Wagner of Greta Van Fleet: Talks Influences, Songwriting, and Music Muscle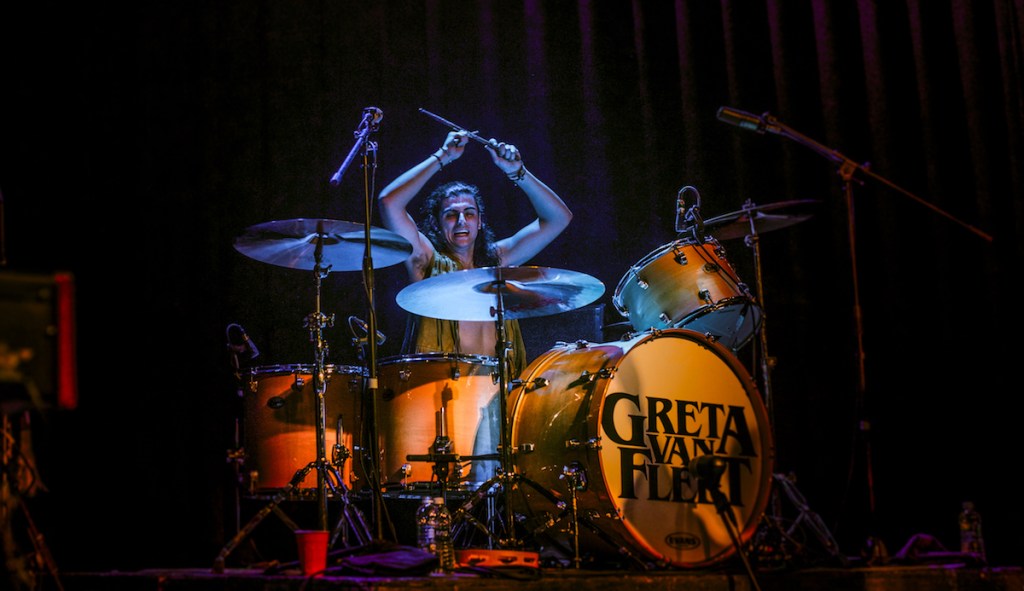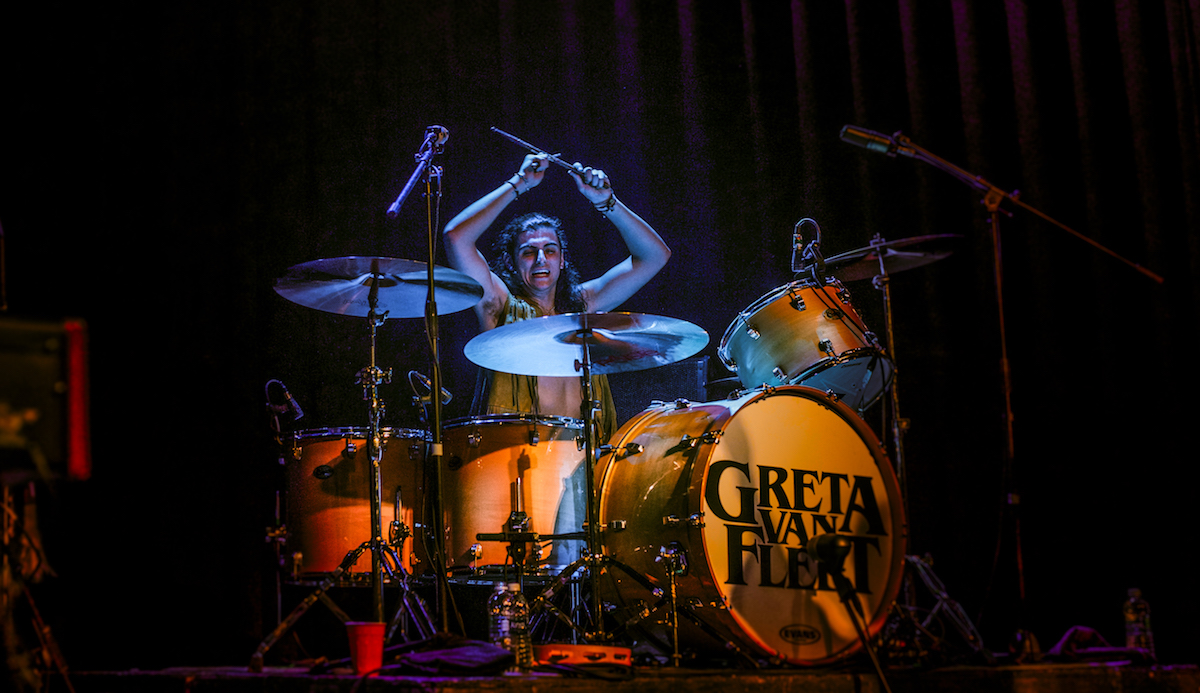 Hello Modern Drummer readers! Danny Wagner here. I play drums for the band Greta Van Fleet and am a long-time reader of the magazine. I'm honored to write an "On The Beat," especially as such a young musician.
Guitar was the first instrument I started playing when I was very young. Initially I took lessons but grew to dislike the whole idea of a schedule. So, I started to learn to play on my own, and drums became the first instrument I could successfully teach myself to play. When I was in middle school I joined the school band, which was the first experience I had playing with other musicians. When you play by yourself, you set the pace, how fast or how slow you want to play, when to start, when to stop. But when you're playing with other musicians, you have to start becoming one instrument with every other player.
When I went into high school, I joined the jazz band and that's where I picked up the guitar again. I wanted to audition for a drum slot but they were filled and I really wanted to be in the band, so I had to play guitar. I found myself falling in love with the guitar all over again but with a different approach than I had before. I started learning different styles of guitar, I tackled the French horn in high school, and have since then learned to play piano, mandolin, and bass. Advertisement
As a drummer, I've always struggled with rhythm. I wasn't confident with my rhythm and that's been a main focus for me over the past couple of years. I started finding metronome apps on YouTube. I'd put on headphones, play as many different beats as possible for hours, and just focus on one limb at a time—right arm, then the left arm, then my right foot, and then my left. I'd drill that metronome into my ear. I have improved over the years and know that if you're on the beat, you can defend yourself, and I definitely want to be able to defend myself. Music is a muscle, and there are many music muscles. Each muscle does something different; rhythm is a music muscle, the ability to recognize pitch is a music muscle, and I work at keeping those muscles in good shape.
With Greta Van Fleet, there is no standard writing process, all of our song ideas come from any one of us and that person usually takes a good part of the lead, gets the ball rolling, and provides the direction. Then we all get together, talk things through, and start to play it acoustically, over and over. We try to keep things as organic as possible. When I first joined the band, I found I had a unique advantage as I play a variety of instruments that, unlike the drums, play actual "notes." I was able to bring a different perspective and a wider variety of ideas to Greta's songs. I can also better identify with the essence, feeling, or direction of a song, and I can relate to the other instruments that drive the song. The drums don't always make the song, but they could very easily ruin one.
As far as gear, the kit I'm using now I bought with my own money that I saved up doing odd jobs. It's a really nice Ludwig kit, a brand that has never disappointed me. It has a lot of sentimental value and it represents me. I also use Paiste cymbals; they go well with Ludwig drums. Advertisement
When I play live, I set up my drumkit so I can play blindfolded, using muscle memory. I like to be consistent, so I've used the same setup for the last two years. I set it up and I tear it down myself every night. I bring a drum rug everywhere we play with tape to show exactly where everything goes so it's the exact setup every night.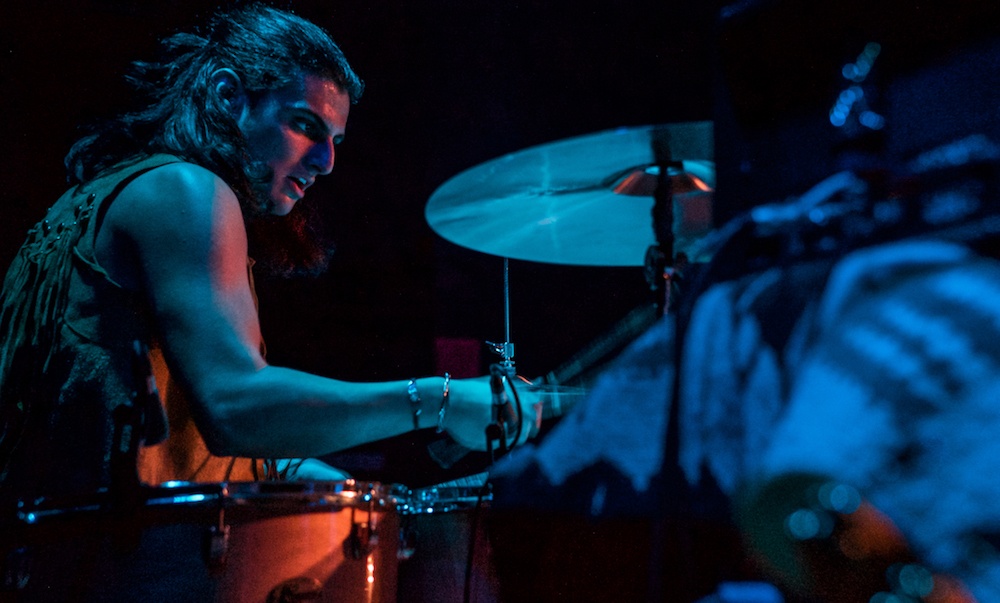 John Bonham was a huge influence for me. He had an incredible ability to evolve. He started out on the pop music scene with Robert Plant, just a drummer, but he built a reputation and name for himself. When he toured with Carmine Appice, a whole new world of drumming opened up to him. Bonham was a sponge for what Carmine taught him. And I've always had a lot of respect for Alex Van Halen and Keith Moon as both of them used every single one of the drums they had in their setups.
Another big influence was Ringo Starr, and not just for his drumming ability. From what I've read, Ringo had a bit of a tough time when he first joined the band. Paul, George, and John were already close, they could relate to each other really well, they knew each other really well, and Ringo had to learn to fit in. Jake, Josh, and Sam Kiszka are brothers; they've known each other for all of their lives and I was the newcomer. I didn't want to let them down so I found myself operating from the point of view that I wasn't actually a full member of the band. I tested my own ability; I was always challenging myself to be better. But when we started doing things like signing contracts, I knew I was "in" the band. And in fact, we're all brothers. Advertisement
Greta Van Fleet started out as a live band; we played live for a long time before we first went into a studio. I've found that when you're in the studio, it's harder to play under pressure than it is live—much harder. Once you get over having stage fright, you learn to take the energy of the audience, turn it into adrenalin, and you're unstoppable. But in the studio, you've got all the time in the world, and that almost hinders you. When we first started working in a studio, it was hard for me to find a "live mentality." I had to figure out how to do that in order to deliver a performance for the track.
Al Sutton, our producer, who has worked with artists like Kid Rock, was such a help to all of us; it's so great that we found him. He's old school and there couldn't have been a better person to teach us what we needed to know about recording. He helped us understand the difference between performing live and recording in a studio.
I've found that to be a good musician, you should never stop learning and never stop soaking everything up. Learning is the most important thing that any musician can do, but what's more important is what you do with the knowledge. Advertisement
Watch the video for "Highway Tune" here: 
For more on the band, visit http://gretavanfleet.com.
Photos by Emily Sisson