On The Beat with Ryan Bennett of Madame Mayhem: Talks New Record and Gear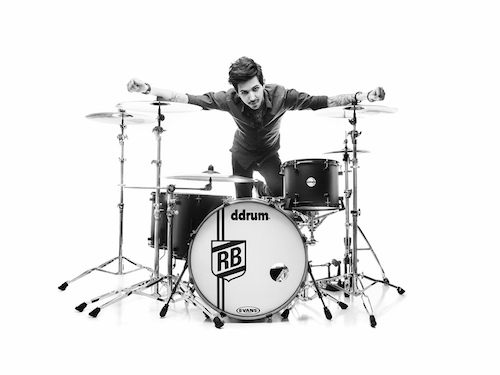 Hey Modern Drummer readers! My name is Ryan Bennett and I am touring with Madame Mayhem in promotion of her new record Ready For Me.
I've played drums for Eye Empire, Texas Hippie Coalition, Straight Line Stitch, Everybody Panic, 3 Years Hollow, and a few others over the years. My dad is a drummer and my mom is a rock fan, so I grew up immersed in music. I started playing drums at ten years old, influenced by drummers such as Morgan Rose, Josh Freese, Shannon Larkin, Abe Cunningham, and John Bonham.
I graduated high school early so I could leave my home in Richmond, Virginia and go on tour. When I was eighteen years old, I landed my first touring gig with Texas Hippie Coalition and I haven't stopped since. I joined Eye Empire two years later, and hit the road hard for the next three years straight with them, growing as a musician and learning the ins and outs of this crazy industry.
I've stayed busy my entire career, being hired on for many touring and studio projects, and am blessed to be able to maintain a level of demand. I always knew I was born to do this and have never taken any opportunities for granted. Advertisement
On this tour I am using a Ddrum Reflex Powerhouse kit with a 24″ kick, 13″ rack, and 16″ and 18″ floors. I use Sabian 14″ AA Rock hi-hats, a 20″ AAX Stage crash, 20″ and 19″ AAX X-Plosion crashes, 22″ AA Rock ride, and a 21″ AA Holy China. I'm using Evans drumheads, G2 Snare top, EC2 Clears on the toms, G1s on the tom bottoms, and an EQ3 bass drum batter. For sticks, I use the Promark Rebound 5Bs.
I tracked drums for the new Madame Mayhem record Ready For Me with bassist/producer Corey Lowery (Dark New Day, Eye Empire, Saint Asonia) and guitarist Clint Lowery (Sevendust, Seether). I think these songs are slamming and I'm stoked to see the reaction they receive.
I can't wait to see everyone out on the road! Check out updates at MadameMayhem.com or follow me on social media to keep up with the latest: Instagram: @ryanbennett_drums and Twitter: @ryanbennett_. Advertisement
Watch the drum cam video for Madame Mayhem's "Innocent" here: 
https://youtu.be/qv3jMn-co5I
 Watch Ryan's 2015 EPK here: 
https://youtu.be/OhVmQ22yCw8