Tulsa Drumming Legend Chuck Blackwell Passes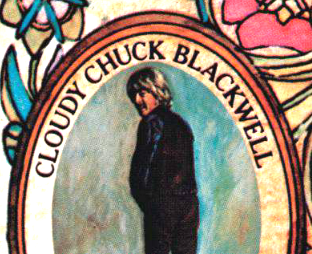 Chuck Blackwell, whose credits include Joe Cocker's Mad Dogs and Englishmen, the Everly Brothers, Taj Mahal, and Freddie King, passed away recently, at the age of seventy-seven. The May 2011 issue of Modern Drummer included the feature Tulsa Time: Jimmy Karstein, Chuck Blackwell, David Teegarden, and the Unique Scene That Fueled Classic Rock, by Cleve Warren. In honor of Blackwell's life and career, we're posting an abridged version of that piece here.
New Orleans. Chicago. New York. Detroit. Boston. Philadelphia. When you think of hotbeds of American drumming over the years, those cities would likely be the first to come to mind. But for longtime fans of classic rock and roots music, Tulsa, Oklahoma, would hold its own against many a larger, more famous metropolis.
Classic exponents of the "Tulsa feel" are often cited for their unique shuffle grooves, their mastery of medium and slow tempos, and their laid-back, low-pitched snare drum sound. Words like heart and soul are also commonly dropped, and the importance of these intangible elements is certainly borne out by the number of classic rock legends—including Eric Clapton, Joe Cocker, George Harrison, and Bob Seger—who sought out the city's greatest musicians to help bring a distinctive depth of feeling to their music.
Tulsa in the late '50s and early '60s was an unusual place. Though the city could boast Cain's Ballroom and the radio station KVOO, both home to Bob Wills, the "King of Western Swing," Tulsa wasn't a media center and didn't house many well-known recording studios. But the musicians there developed an idiosyncratic sound of their own, inspired by the city's diverse musical environment, which featured western swing, rhythm and blues, gospel, jazz, and early rock 'n' roll. This, coupled with the spirit of the land runs, the wild weather, the Native American culture, the rough-and-tumble oil business, and the rugged Oklahoma spirit, resulted in an addictive musical personality that infused a staggering number of important recordings for decades.
The list of great players who hail from Tulsa includes Jim Keltner (John Lennon, George Harrison, Ry Cooder), Jamie Oldaker (Eric Clapton, Peter Frampton, the Tractors), Scott Musick (the Call), Rick "Moon" Calhoun (Rufus & Chaka Khan), John Hoff (Stevie Ray Vaughan, Freddie King), Russ McKinnon (Tower of Power, Barry Manilow), Ron McCrory (Asleep at the Wheel, Rick Danko), and Phil Seymour (Dwight Twilley). Three men in particular, though—Chuck Blackwell, Jimmy Karstein, and David Teegarden—are widely regarded as the most influential and historically significant drummers in Tulsa's musical history. More than any other players, this triumvirate helped export the city's sound and feel to the rock 'n' roll world.
All three started playing drums in their school bands in the '50s, and there are two main influences that link them: Leon Russell and Levon Helm. Starting in the '50s, Ronnie Hawkins & the Hawks, with Helm on drums and vocals, played a circuit of teen hops and "knife and gun" nightclubs in Oklahoma, Arkansas, and Texas in the spring and fall of every year. Rock 'n' roll was still relatively new, and there weren't many touring bands. The Hawks were an exception, making them an important thread in many regional musicians' careers.
The band's performances were must-see events. Jimmy Karstein and David Teegarden agreed that Helm was the most important rock drummer they had seen. Levon's simple, direct style and dead-on timing made a huge impression on all of the young Tulsa drummers, especially Karstein. "I can remember the way he set up his kit," Jimmy says, "at an angle rather than in line or behind the band, so he could better hear and see the rest of the group. They were tight, with simple but powerful arrangements and a tremendous amount of energy."
*****
Chuck Blackwell is the undisputed godfather of Tulsa rock 'n' roll drummers. He would be quick to tell you he was not the first rock drummer in Tulsa—but ask anyone with a connection to the city's music scene, and they'll agree that he's the most important. Blackwell's parents bought him a snare drum and a foot pedal attached to a cardboard box. With this Chuck tried to play along with the radio. Popular music prior to 1956 held little interest for the young drummer. As Blackwell tells it, "When the Big Bang—Elvis—happened in 1956, all hell broke loose, and I wanted to be part of it."
Blackwell eventually found some like-minded teenagers in Tulsa, and they started playing. Among this group was a young pianist named Claude Russell Bridges—now known to the world as Leon Russell—as well as singer-songwriter J.J. Cale. After exhausting the teen hop and club scene, the band was looking to take the next step. To Blackwell and his cohorts, American Bandstand in Philadelphia was the center of the rock 'n' roll universe. Somehow they managed to cram into the back of a 1950 Ford, along with their equipment, and drive to Philly. A month later they came to the conclusion that Philadelphia was not for them. So it was back to Tulsa—flat broke.
It didn't take long for an opportunity to present itself, in the form of Jerry Lee Lewis, who needed a band to tour out west. Blackwell and his friends were more than eager to hit the road. Their last gig in Kansas ended in a near riot when Lewis didn't show. Once they made it to California, they couldn't play where alcohol was served because they were under twenty-one and subject to arrest. Fake IDs were the remedy, and the group was soon working in bowling alleys and clubs. Russell, the piano player, was discovered by someone who needed a keyboardist for a demo session, and soon he was doing major session work all over L.A. Through Russell's recommendations, Blackwell found a gig with the hugely popular Everly Brothers. His simple but powerful style soon had him playing with a host of great bands around town.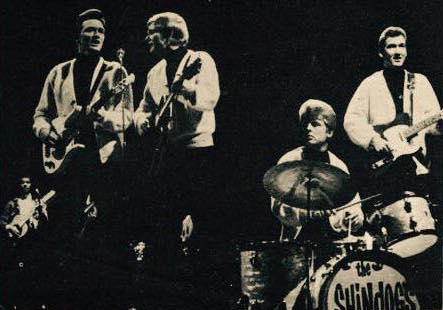 One group of particular note was the Wednesday-night band at the famed Palomino Club in North Hollywood. This ensemble contained the legendary musicians James Burton (Ricky Nelson, Elvis) on guitar, Delaney Bramlett (mentor to Eric Clapton, founder of Delaney & Bonnie & Friends) on bass, Joey Cooper (vocalist on dozens of albums) on rhythm guitar, and Blackwell on drums. Through Russell, the band was discovered by the television producer Jack Good of Shindig, who wanted a group to cover hits by acts that he couldn't book on the weekly show. This unit had the ability to play just about anything, and the members soon found themselves in American teenagers' living rooms every Wednesday night for two years. Blackwell and the guys also had a necessary quality for TV: They looked great. The band became almost as famous as the headlining stars on the show each week.
After Shindig went off the air, Blackwell started playing with the Sunset Strip favorite Taj Mahal. Chuck's three albums with the venerable bluesman—Taj Mahal, The Natch'l Blues, and Giant Step—are classics.
During this time, Russell's influence on the L.A. rock scene was becoming powerful. The keyboardist assembled a legendary band for Delaney Bramlett, with Jim Keltner on drums, which served as the opening act for the ill-fated supergroup Blind Faith. Joe Cocker soon brought Russell on board and took the Bramlett band en masse, along with Blackwell, Keltner, and session great Jim Gordon as drummers. Mad Dogs & Englishmen was rock 'n' roll's first traveling road show, and we're left with a great legacy of music and video from that tour.
Blackwell spent the next few years doing sessions for various artists signed to Russell's Shelter Records. His playing on Freddie King's Getting Ready album is an example of blues drumming at its finest. Although he retired from music for a few years to concentrate on his family and his Tulsa-based stained-glass business, Blackwell is back playing around town with some of the best musicians on the scene. He favors a straightforward style, where the snare always seems to hit just a little behind the beat. Hearing Chuck play today, you can hear the embodiment of that unmistakable Tulsa feel.