On The Beat with David Uosikkinen of the Hooters and In the Pocket: Bands, Albums, and Longevity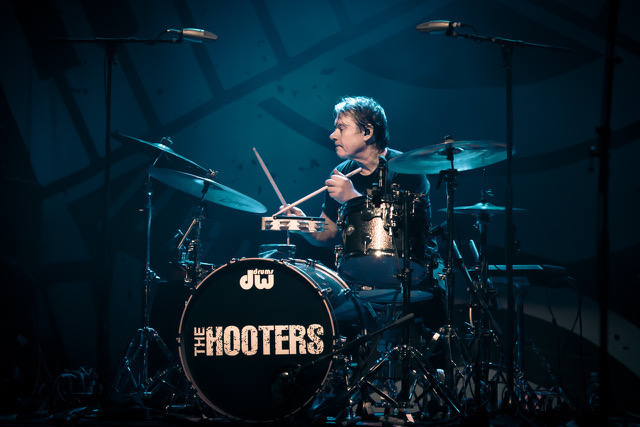 Anytime I get to write for Modern Drummer, I'm honored. MD was the first music magazine where I got the dope on the best drummers in the world. It gave me access to great tips on staying in shape and how to get better from the drummers who were living it every day.
In 1986 my drumming was noticed because of the success of my band, the Hooters. We scored a hit album called Nervous Night. Some of the better-known songs from that album were "And We Dance," "All You Zombies," "Day by Day" and "Where Do the Children Go." I have been in the band for almost thirty-eight years and have continued to tour every year.
I've been playing with the Hooters a long time. I believe you need to find other creative outlets if you're going to sustain that kind of longevity in a band. What has been a real fun project and real labor of love is my other band, In the Pocket. We celebrate the great music that came out of Philadelphia with some of Philly's best players. Advertisement
We launched in 2010 and have two albums, David Uosikkinen's In the Pocket: Live and David Uosikkinen's In the Pocket: Sessions. Both are available on Amazon and iTunes. We are close to finishing our third album, to be released in 2018.
I bet if you've ever bitten into a Pat's or Geno's cheesesteak, then you know the songs on my records. In the Pocket has covered four decades of great Philly music, from the '60s through the '90s. We've paid homage to the likes of Todd Rundgren, Hall and Oates, the Dovells, and even the Hooters. Our newest release is the 1980's hit, Robert Hazard's "Escalator Of Life." Robert is best known for penning the Cyndi Lauper song "Girls Just Want to Have Fun." You can check it out here:
If you like my drumming and would like to use me on your tracks, check out Daveudrums.com. You just log in, send me your song, and I cut the track for you. No fuss no muss.
Playing drums is a real commitment but it's a gig I love! It's in my blood. I believe you need to live it and breathe it everyday in order to be successful. Thank you for reading!
For updates and more, visit http://songsinthepocket.org/songs/escalator-of-live/