Concert to Benefit Legendary Conga Player Giovanni Hidalgo
A benefit event for Grammy award-winning conga player Giovanni Hidalgo is scheduled for Wednesday, October 4, at London's Jazz Café. Hosted by Jamiroquai percussionist Sola Akingbola, the evening will feature some of the UK's top percussionists in a night of explosive Afro-Latin jazz-funk, including Giovanni Hidalgo's first-ever UK performance since 2009. The event is sponsored by Latin Percussion (LP) and GEWA Music.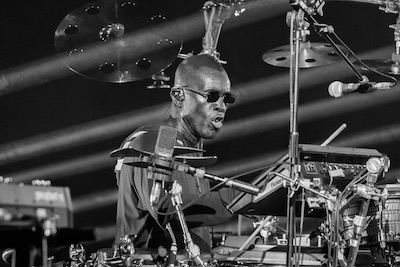 Hidalgo's battle with diabetes has prevented him from working for nearly two years and proceeds from the concert and auction will benefit his medical fund and help provide needed support. Additional funds will be raised via an online Crowd Fund campaign, which will feature LP Giovanni Signature series instruments including Giovanni Hidalgo Galaxy Bongo and Giovanni Hidalgo Wood Djembe, in addition to other LP percussion instruments and accessories.
"My struggles with health have forced me to be protective of my hands, so I have returned to a style of playing that I used in my youth, using the stick and hand technique combined—similar to the Sabar drumming perfected in Senegal, West Africa," said Hidalgo. "With an open heart and mind, my spirit of creativity remains strong. I want to use this feeling and creative energy to make a contribution to the legacy of music for the next generation of musicians in the world. It has been nine years since my last performance in London, so I am looking forward to sharing all my love, integrity, loyalty and respect with everyone." Advertisement
Hidalgo began his professional career at the age of seventeen with Cuban percussionist José Luis Quintana and within several years he had joined Dizzy Gillespie's United Nations Orchestra. In 1992, Hidalgo was named adjunct professor at the prestigious Berklee College of Music in Boston where he taught Puerto Rican, Dominican, Cuban, reggae, African and jazz styles of rhythm. Throughout his career, Hidalgo has worked with a wide range of artists including Tito Puente, Art Blakey, Jack Bruce, Mickey Hart, Sammy Hagar, Paul Simon, Charlie Palmieri, and Hilton Ruiz. His innovation and ceaseless hard work has changed the art, concept and technique of conga playing, taking percussion to new heights.
Tickets for this once in a lifetime concert are available at thejazzcafelondon.com/event/homage-giovanni-hidalgo.
To find out more about the fundraising campaign, and see a full listing of items available, please visit the Crowd Fund website.
In this Article