Ride For Ronnie: Guns N' Roses' Steven Adler to Spearhead All-Star Jam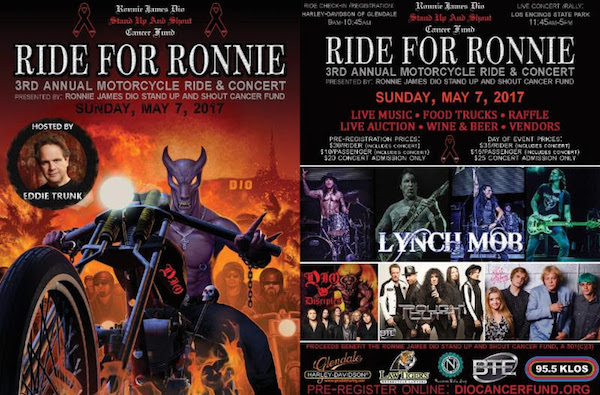 The third annual Ride For Ronnie Motorcycle Rally and Concert, benefiting the Ronnie James Dio Stand Up and Shout Cancer Fund on Sunday, May 7, 2017 will be highlighted by a host of celebrity riders joining the motorcycle ride through the streets of Los Angeles County. In addition, an all-star jam will be spearheaded by Guns N' Roses drummer Steven Adler during the afternoon of live music in Los Encinos Park. Last year's Ride For Ronnie event raised more than $50,000 for the cancer charity.
Celebrity riders expected to join Dio Cancer Fund co-founder and president Wendy Dio and the cavalcade of motorcycle riders include Sons of Anarchy actors Emilio Rivera, Sean McNabb, Rusty Coones, and Star Fields, as well as actor Chris Bruno and musicians Lita Ford, Gilby Clarke Taime Downe, and Xavier Muriel along with KLOS Radio "Horns Up" show personality Stew Herrera. They will assemble at Harley-Davidson of Glendale with kickstands up at 11 am.
The afternoon of live music following the ride will be highlighted by "Steven Adler and Friends" in an all-star jam organized by the Guns N' Roses drummer. He will be joined by Mike Devin (Whitesnake), Lita Ford, Robert Sarzo (Hurricane), Alex Grossi (Quiet Riot), Patrick Stone (Budderside), and Jeff Pilson (Foreigner and former Dio guitarist), playing Guns N' Roses hits. Advertisement
Live entertainment will begin at noon provided by rockers Lynch Mob, Eddie Money, Rough Cutt, Dio Disciples, the Loveless, Sonia Harley, and No Small Children. Marc Ferrari (Cold Sweat), Marty O'Brien (Lita Ford), Vinny Appice (Dio, Black Sabbath, Heaven and Hell), and Ronnie James Dio's cousin David "Rock" Feinstein (the Rods) will be on hand for the concert festivities.
Additionally, Rough Cutt will conclude its set with a performance of "Stars," the iconic song released in 1986 by the organization known as Hear 'N Aid to raise money for famine relief in Africa. Heavy metal's answer to "We Are The World" raised two million dollars at the time, and there are plans being made to re-issue the recording in the future to benefit the Dio Cancer Fund.
Radio personality Eddie Trunk will handle hosting duties, which will also include a raffle, silent and live auctions, food trucks, and merchandise vendors. The silent auction will be held in one of the exhibit booths throughout the afternoon, while live auctions, featuring one-of-a-kind rock collectibles, will take place during intervals between artist performances. Advertisement
Los Angeles' premier rock radio station, 95.5 KLOS, has come on board as an event sponsor and will be out in force at Harley Davidson in Glendale for the start of the ride. KLOS jock Melissa Maxx will be at the park to assist with the festivities.
A donation of $25,000 will be presented to Dr. David Wong of the UCLA School of Dentistry to help fund his team's research into the development of a simple, non-invasive saliva test for the early detection of cancer. This is part of the Dio Cancer Fund's commitment to this groundbreaking project, which is in keeping with its message that early detection saves lives.
Both riders and concertgoers can purchase their tickets by visiting www.diocancerfund.org/events.​