Drummer Jason Bittner Joins Overkill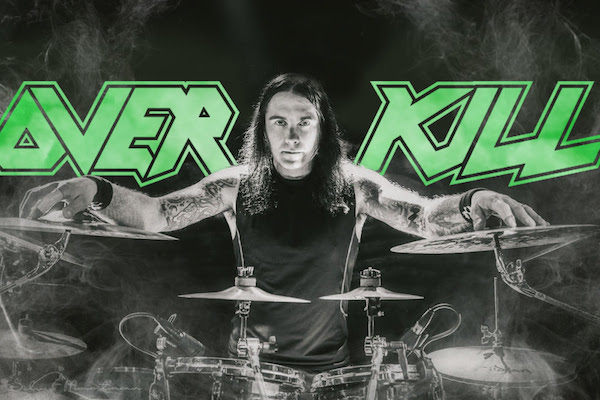 Legendary New Jersey thrashers Overkill have kept the machine running strong in 2017 with the release of their eighteenth album, The Grinding Wheel, as well as adding another US tour. Today, the band welcomes another addition to the Overkill history with their new drummer, Jason "Sticks" Bittner (Shadows Fall, Flotsam and Jetsam).
"Overkill would like to announce its newest member, behind the kit and steering the ship, Jason Bittner," comments Bobby 'Blitz' Ellsworth. "We wholeheartedly would like to thank Eddy 'The Mexicutioner' Garcia for holding down the ship and keeping the momentum up for the band over this past year plus. Eddy has and always will be part of the Overkill machine. Jason is a long time friend of the band and his ability has always spoken for itself. Let the touring continue—onward-upward!"
Bittner states, "When my phone rang about two months ago and Blitz said 'Hey, me and DD are wondering if you would be interested in joining?' it really didn't take much for me to write back a one word answer: absolutely! I am extremely excited to be a part, once again, of thrash metal history, and I cannot wait to get out on the road and wreck stages across the world with the 'Mean Green Killing Machine!'" Advertisement
Catch Overkill live:
06/20/2017 Bel Etage – Kiev – UA
06/22/2017 Opera Concert Club – St. Petersburg – RU
06/23/2017 Volta Club – Moscow – RU
06/24/2017 Copenhell Festival – Denmark
08/09/2017 Brutal Assault Festival – Czech Republic
08/10/2017 Party San Festival – DE
08/11/2017 Leyandes Festival – ESP
08/12/2017 Into The Grave Festival – NL
08/13/2017 Zeche – Bochum – DE
08/15/2017 Tivoli – Bremen – DE
08/17/2017 More Than Festival – Slovakia
08/19/2017 Summer Breeze – DE
10/14-15/2017 Loudpark – Tokyo – JP
Headbangers Ball Tour
11/26/2017 Hellraiser – Leipzig – DE
11/27/2017 Lka – Stuttgart – DE
11/28/2017 Ronda – Utrecht – NL
11/29/2017 Große Freiheit – Hamburg – DE
11/30/2017 Huxleys – Berlin – DE
12/01/2017 Christmas Bash – Geiselwind – DE
12/03/2017 Gasometer – Vienna – AT
12/04/2017 Backstage – Munich – DE
12/07/2017 Z 7 – Pratteln – CH
12/08/2017 Ruhrpott Metal Meeting – Oberhausen – DE
12/09/2017 Hessenhallen – Gießen – DE
12/11/2017 Garage – Saarbrücken – DE
Order your copy of The Grinding Wheel at nblast.de/OverkillGrindingWheel or digitally here: nblast.de/OverkillDownloads.
​