On The Beat with Jim Macaulay of the Stranglers: Talks Show Preparation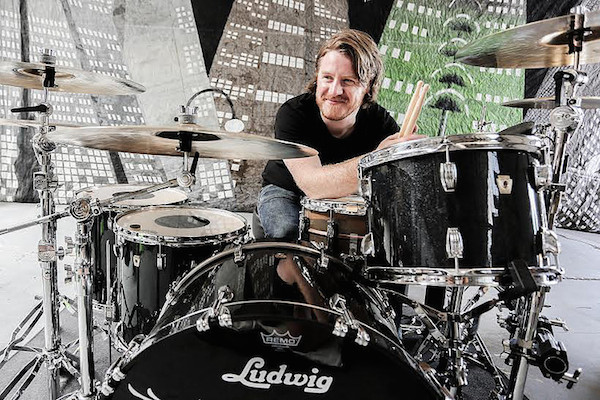 Hello lovely readers of Modern Drummer! How are you? I'm fine, thanks. My name is Jim Macaulay and I play the drums for the English punk/new wave band the Stranglers.
As I write this you'll find me with a cold one in my hand, gazing out over the azure blue of the Mediterranean. Not really, I'm sitting on a flight case at the back of Newcastle Academy trying to stay out of the rain. However, despite the apparent lack of glamour, I can assure you there is no place I'd rather be as I'm one week into the band's annual UK tour.
We've done this tour every March for the last five years and it's always the highlight of the year for me. The crowds are fantastic and we have a brilliant time. Touring is the biggest part of my job as a professional drummer. I've been doing it for many years now at all levels, from pubs to arenas, and from those experiences I've learned what I need to do to ensure I do the job to the best of my ability.
The key for me is routine—sorry to all those who were hoping for a more rock 'n' roll answer. In the past, a lack of routine has led me to neglect things like warm-ups while on the road. That, in turn, caused me a couple of years of problems with tendonitis and carpel tunnel syndrome. That's not fun; you don't want either of those things. Fortunately, we drummers tend to be sensitive conscientious characters and we can avoid these kinds of problems through proper preparation. Everyone is different, of course, but this is what I do so perhaps it will help you too. Advertisement
I start one hour before stage time with fifteen minutes of squeezing Play Dough, (other brands of children's goop are available—I believe our American readers call it Silly Putty). This helps wake up all the muscles in the forearms. After that I move on to five minutes of stretching my fingers, wrists, and hands. Then I get changed and rub my hands with surgical spirit. A climber friend of mine gave me that tip and it's amazing for avoiding blisters.
Now we're thirty minutes from stage time and the excitement is building! Time for a bottle of water and a Berocca! Then it's fifteen minutes on a practice pad, then another water and a banana, then fifteen more minutes on the pad, and BOOM! Gig time! I do these things religiously and not only do they help me play well but they also help me get my mind focused to perform at my best.
As of February 2017, I have joined Dream Cymbals artist roster. Thank you to my supporters.
For more on Jim, visit www.jimmacaulaydrums.com and www.instagram.com/jimmacaulaydrums.
For Stranglers news, tour dates, and more, visit www.thestranglers.net and www.facebook.com/thestranglers.
"Always the Sun"
"Peaches"