Justin Peroff on Spiral Stairs' <i>Doris and the Daggers</i>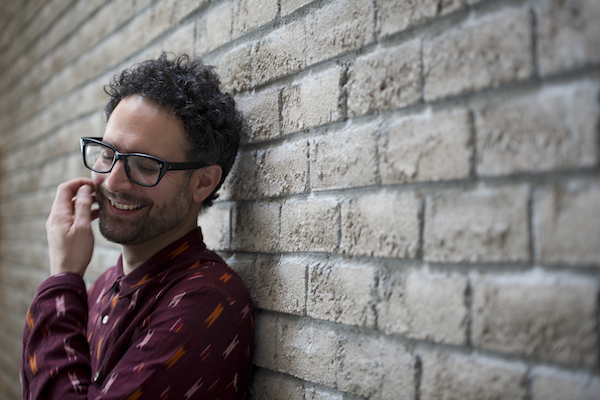 by Willie Rose
photo by Tijana Martin
On March 24, Scott Kannberg, the guitarist, vocalist, and founding member of the trailblazing '90s underground indie-rock band Pavement, released Doris and the Daggers, the second album credited to his pseudonym Spiral Stairs. The recording was originally intended to be tracked entirely in one week in Seattle. But work was derailed and the release had to be postponed after drummer Darius Minwalla unexpectedly passed away in his sleep in May of 2015, before the sessions began. (Minwalla, a member of the power-pop group the Posies for more than a decade, also recorded Spiral Stairs' first release, The Real Feel, and had played with Kannberg in his post-Pavement project Preston School of Industry.)
After receiving the news and stepping away from the studio for a few months, Kannberg recruited Justin Peroff, the longtime drummer for the indie-rock collective Broken Social Scene, to play on the album. Modern Drummer recently asked Peroff about the recording process, his melodic drumming style, and more.
MD: What was the process like coming up with parts for Doris and the Daggers?
Justin: I had some big shoes to fill. When Scott initially gave me the call to sit in the drum throne once occupied and mastered so beautifully by our dear friend Darius, I was both completely terrified and entirely flattered. I ultimately chose to take this as an opportunity to honor Darius. He was central to my so-called "process." I thought about him the whole time. He was an incredible human being. Advertisement
MD: Was there any drumming-specific input from Kannberg?
Justin: There were some basic computer-programmed drum parts sketched in the demos that he sent me. I used those as a guide, but he gave me full range to do what I wanted, which was very nice of him. There was no preproduction, so I wrote all of my parts mentally while listening to the songs.
MD: What was the recording process like?
Justin: I flew in from Toronto to L.A., where my parts were recorded. If memory serves correctly, I laid down fifteen tracks in four days. It was a good workout. It was just Scott, Matt Harris [bass], Dan Long [engineer], and me. I was also able to connect with a lot of friends while I was out there, which was great, and I stuck around for a few extra days. I love L.A. It's a very chill environment to create in.
MD: You have a great sense of melody on the drums, and your parts have creative riding patterns, broken-up grooves, and interesting tom placements. On the new Spiral Stairs record, some of that style can be heard on "Emotions," among other songs. How did you develop your style? Advertisement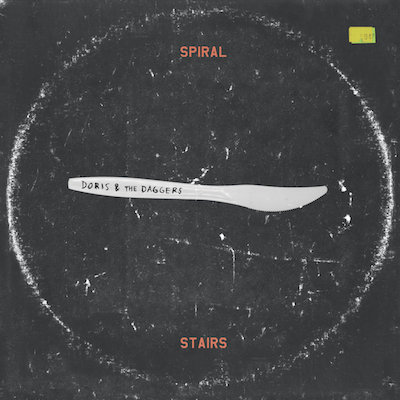 Justin: I certainly take that as a compliment, so thank you! Perhaps my approach to my instrument stems from the environment, community, and era in which I grew up while I was getting to know it. I entered high school in '91 and was drawn toward Mobb Deep, Sonic Youth, Tower of Power, and Eric Dolphy with equal passion and curiosity. I also loved metal. Hip-hop, though it was born fifteen years or so prior, was seeping into popular culture in a bigger way then. The whole Seattle scene was exploding; U2, Madonna, and CeCe Peniston were dominating radio; and the Internet wasn't yet a household name. It was an interesting time for music. Perhaps the nature of how drum breaks are sampled and manipulated in hip-hop music has directly influenced how I write and perform drum parts. Who knows? Hopefully it's constantly evolving.
MD: You also seem to have a consistent and creative drumset sound on the records you've played on. What went into developing the drum tones for this record?
Justin: The drum setup for this album specifically was pretty basic. I used one four-piece C&C kit and one set of Istanbul cymbals for every song, and I didn't swap any elements out or pull out many tricks to manipulate things while tracking. Dan definitely influenced things sonically on the way in and out. The drum sounds are top-notch on this record.
I think my playing style with the combination and level of room mics in the mix are a nice combination. I learned this early when making Broken Social Scene records with David Newfeld. I try to suggest this to producers if it doesn't feel like I'm stepping on their toes. Perhaps this lends to a specific sonic result. Advertisement
MD: Who are your drumming influences, and what kind of musical qualities do your favorite drummers have?
Justin: A lot of my current and longtime influences come directly from producers who use rhythm and percussive elements as a focus in their music. J Dilla, Flying Lotus, and Adrian Younge—not to be confused with Adrian Young of No Doubt—are all influences.
In regards to what I like in a drummer, specifically? Soul. Drummers like Airto Moreira, who has soul and is having a great time while playing the drums. If you want to look at the other end of the spectrum of soulful drummers, there's Dave Grohl. He's the ultimate rock drummer in my opinion. His parts have hooks, and he plays with soul. He isn't just bashing away at the drums—there's consideration in every voice that he hits. It's understated, graceful, and confident.
John McEntire, who I was blessed with having the opportunity to work with as a Broken Social Scene producer, is another huge influence on me. His combination of technical skill, creativity, confidence, and soul is mesmerizing. I love that man. And then there's Mark Trombino, who can somehow execute complicated math-rock rhythms with hooks, grace, and soul. He's an amazing drummer. Advertisement
MD: What projects do you have coming up in the future?
Justin: We'll be releasing the first new Broken Social Scene record since 2010 this year. We spent most of 2016 recording that. I did some drumming on Rich Aucoin's new album. That was fun, and I think that's coming out later this year too. I did some drumming for Foxtrott's next project. That was great. She's a force of talent with very cool ideas. Hopefully that comes out this year. We recorded that with Dave Plowman.
I also release DIY cassettes and 7-inches under the name Junior Pande. I have something ready to release this year. Normally I release those via Spring Break Tapes or on my own via my social-media accounts. That project, in a way, allows me to let my freak flag fly. I manipulate samples, mess around with loops, experiment with synth work, and even play some bass and guitar. It's also an outlet to help exercise my use and understanding of music software, sound, and production. I'm also starting a project this year with my dear friend Lil Jaz, who's a very talented human. We've known each other for fifteen years but have never made music together. It's time.
MD: Do you have any advice for an up-and-coming musician interested in getting into the business?
Justin: Trust your heart. Take daily walks. Don't overthink creative ideas. Drink water. Be mindful of your time management. A good uninterrupted sleep is also important, if you can find that. Take care of your health. Advertisement
MD: Are there different hats that you find you have to wear for a successful music career?
Justin: I've learned that there are no rules. If you want to wear many hats and truly feel that you can serve them all well while not killing yourself, go for it. If you only want to wear two, then try that. If only one works for you, perfect. Wear one.
MD: Can you describe your setup?
Justin: I play C&C Custom drums, with a 20″ kick, a 12″ rack tom, a 14″ floor tom, and a C&C Black Beauty–style snare. I use Istanbul cymbals, with 15″ OM hi-hats, a 20″ Traditional Medium crash, a 22″ Agop Signature ride, and an 18″ OM crash. I also use an additional 20″ Traditional crash and a 22″ Traditional Medium ride for outdoor venues and festivals or larger indoor spaces. My rig can often include a Roland SPD-SX and/or a laptop and Ableton setup, depending on the gig.