Jason Trammell on Sinkane's Life & Livin' It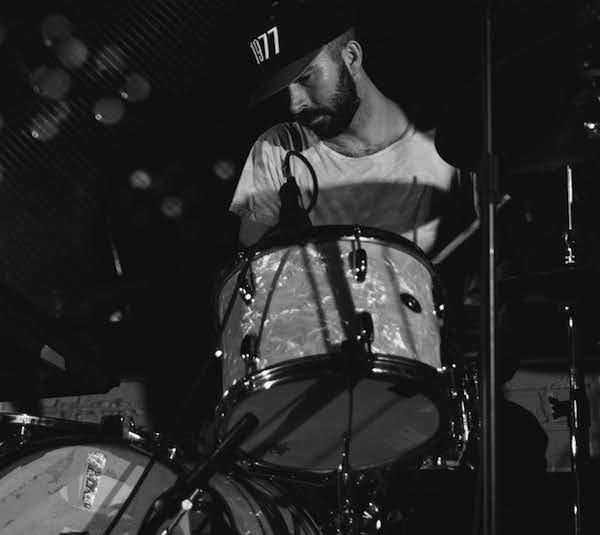 by Willie Rose
This past February 10, multifaceted producer and pop, funk, and jazz blender Ahmed Gallab released his sixth album, Life & Livin' It, with his solo project Sinkane. Drummer and longtime Gallab collaborator Jason Trammell lays down tasty, soulful, and world-influenced grooves beneath the contagious hooks and gorgeous harmonies that adorn the record's nine diverse cuts. Modern Drummer Online recently asked Trammell about the record, the drummer's deep trove of influences, and more.
MD: What was the writing process like for Life & Livin' It? How involved were you?
Jason: When Ahmed shares his ideas or demos, I explore the ones that speak to me and add anything that I feel will benefit the song rhythmically or otherwise.
The main song that Ahmed and I collaborated on together for this record is entitled "Theme." A few summers ago we were both in the mountains of North Carolina for a month or so. We had a studio set up in the back of my girlfriend's house. I was working on new solo material and with Ahmed on new Sinkane songs for Mean Love, the album previous to Life & Livin' It. Out of that time together I was involved with mainly two songs: "How We Be," which was released on Mean Love, and "Theme," which is on the new record.
As far as "Theme" is concerned, Ahmed had a bass line and some percussion loops going, and I wrote the lyrics and added some synth lines. We tossed it back and forth for a while and took it into the studio in New York. Ultimately we sat on it until this record. When I listened to the playback at the Sonic Ranch after I tracked the drums this past August, I knew the song had come together. Advertisement
MD: What was the preparation like before going into the studio?
Jason: We rehearsed all of the demos and made adjustments here and there when needed. We also worked them out for a live setting and took them on the road for a few shows to see how they would feel and possibly change.
MD: The album's drumming has a deep sense of groove. Who are your influences? Have you taken anything specific away from them in terms of feel?
Jason: Stevie Wonder, all of Sly Stone's drummers, Howard Grimes, James Gadson, Al Jackson Jr., Jabo Starks, Clyde Stubblefield—basically any soul music. From those drummers, I learned to put things where they need to be. Lay back, keep the time, and let your feel be your signature. Funkadelic, Bonham, Mitch Mitchell, Buddy Miles, and Ralph Molina are also influences.
The first time I heard John Coltrane, Sun Ra, and Miles Davis, my mind exploded. I previously knew nothing about jazz, and when I heard Elvin Jones play, I was transformed. I grew up in the woods in the South pre-Internet and had never even seen a jazz drummer. So I played to the records and tried to figure it out for myself. Their feel was everything to me. Advertisement
When I heard King Tubby, Lee "Scratch" Perry, Joe Gibbs, and other Jamaican producers, again my mind was blown and I went in that direction. Sly Dunbar, Leroy "Horsemouth" Wallace, Carlton Barrett—on and on. Then I got into African or South American music and a whole other world opened up for me. It was always through music and record collecting that I learned about everything. Rap music introduced me to sampling, which got me into everything from library records to "swamp" funk to field recordings to Willie Nelson, or even [Harry] Nilsson.
MD: Life & Livin' It sounds like it has a broad range of influences. How do you approach playing so many different styles on the same album?
Jason: Well, I love so many different styles of music, so I guess I can relate it to that. I also play records out in New York City quite a bit. By doing that, I travel through many different genres while maintaining some cohesive feel. Soul music is soul music whether it's from Memphis, Lagos, Detroit, or Jamaica.
MD: What was it like recording with Ahmed? Considering he's a multi-instrumentalist, what kind of input did he have on the drum parts?
Jason: Ahmed has a huge input on the drums. He builds drum ideas in Ableton Live when he's working on his demos. He has a very clear vision of where the drums live within his songs. Ahmed and I played drums together for several years in another band before I joined Sinkane. I play on, within, and around his rhythms, adding my feel and style to the patterns. Ultimately when it comes to the recording process we do what's best for the song. Advertisement
MD: What did you do to get the drum tones on the record? What gear did you use in the studio?
Jason: I just tune them to where they feel right to me for each song. I work closely with the engineer and listen to the way they sound recorded and how they sit with the rest of the instruments. I play different snares for different songs with different feels, and I use a lot of cloth and tape.
On this record I used a 1979 Rogers Powertone kit in a Butcher's Block finish with a 12×13 tom, 16×16 and 18×20 floor toms, and an 18×24 kick. For cymbals, I used a pair of 14″ vintage Zildjian Avedis hi-hats, a 20″ vintage Zildjian Avedis ride, and an 18″ Meinl Byzance Dark crash. In terms of snares, I played a Ludwig 7.5×14 Hand-Hammered Black Beauty, an 8×14 DW maple, a 7.5×14 Ludwig Acrolite, a 5×14 Ludwig Hammered Brass, and a 7.5×14 Ludwig Supraphonic.
​