On the Beat with Conor Sullivan of Ice Nine Kills: Talks Setup and Latest Release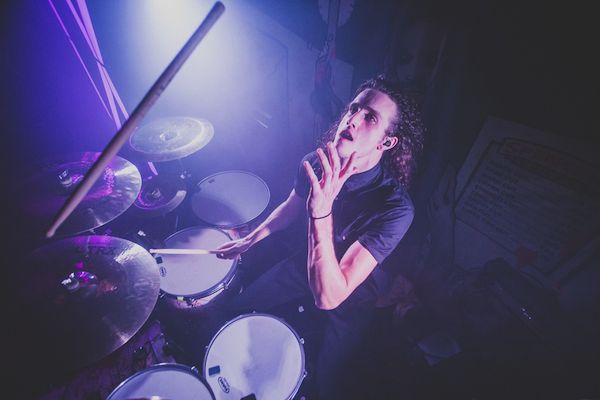 What's up, MD! This is Conor Sullivan, drummer of the theatrical metalcore band Ice Nine Kills. We have done countless tours supporting and headlining across the US, Canada, UK, and Europe. We are currently supporting our latest and most successful album Every Trick in the Book, released December 2015, on Fearless Records.
My go-to setup for our vigorous tour schedule hasn't changed much in the last couple years; I think I've found a great combination of quality and durability that is vital to any touring musician. I use a custom kit from SJC drums, a black/white/red duco-inspired fade with sparkle fleck thrown in. I'm rocking an 18×22 kick drum for that punchy yet big sound. I just switched to a double rack tom setup that I'm digging a lot (stuck with traditional sizing, 8×10, 9×12, and 14×16). My snare is a 6.5×14 10-ply shell with re-rings, which delivers that powerful crack needed to cut through our intense mix.
I've used TRX cymbals for six years, and I love them. Much to everyone's despair in the band, I tend to lean towards bigger and thicker cymbals since I'm a hard hitter. I use 14″ Blend series hats, 20″ LTD crash-ride, 20″ Icon Heavy crash-ride, 22″ Blend ride, and 20″ Icon China. (Also 12″ BRT China and a 10″ ALT splash for some added flavor.) Advertisement
Some additional items around the kit include Evans drumheads, Vater drumsticks Fatback 3As, and Drumdots for sound control. All my hardware is DW, including a 9000 double pedal.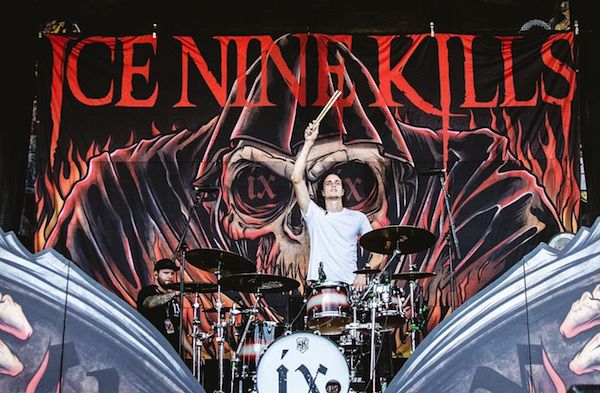 Each member uses in-ear monitors and plays to a click track, keeping our live show incredibly precise and orchestrated down to the last hit. We don't use cabs or floor monitors on stage, so other than drums, we have virtually no stage noise. We use a trigger on my kick drum, which we blend with the natural sound of the kick for a clean and consistent sound out front. The trigger is also perfect for our in-ear monitors because being a digital signal it doesn't allow any bleed from anything else on stage to clutter up our in-ear mixes.
Our latest release proved to be the most extreme drumming yet. Each track follows a fast-paced, pattern-filled trend, taking influence all the way from players like Chris Adler to Carter Beauford. We have never tried to be an extremely flashy band when it came to drumming, but throwing in tasteful fills and patterns that catch your ear make it unique and enjoyable to play.
Below you can watch a drum cam from a performance on our last headlining tour. One of the songs is the closing track to ETITB, titled "Hell in the Hallways."
Thanks for reading and see you on the road!
Tour dates:
Mar 21 – Spokane, WA @ The Pin
Mar 22 – Seattle, WA @ Studio Seven
Mar 23 – Portland, OR @ Analog Theater
Mar 24 – Sacramento, CA @ Ace of Spades
Mar 25 – San Diego, CA @ SOMA
Mar 26 – Pomona, CA @ Glass House
Mar 28 – Phoenix, AZ @ Joe's Grotto
Mar 30 – Albuquerque, NM @ Launchpad
Mar 31 – Dallas, TX @ Gas Monkey Bar & Grill
Apr 01 – Oklahoma City, OK @ 89th Street
Apr 02 – St. Louis, MO @ Firebird
Apr 04 – Minneapolis, MN @ The Cabooze
Apr 05 – Chicago, IL @ Bottom Lounge
Apr 06 – Detroit, MI @ The Shelter
Apr 07 – Millvale, PA @ Mr. Smalls Theatre
Apr 08 – Toronto, ON @ The Hard Luck
Apr 09 – Montreal, QC @ Corona Theater*
Apr 11 – Philadelphia, PA @ Theatre of Living Arts
Apr 12 – Worcester, MA @ The Palladium
Apr 13 – New York, NY @ Gramercy Theatre
Apr 14 – Baltimore, MD @ Baltimore Soundstage
Apr 15 – Greensboro, NC @ Arizona Pete's
Apr 16 – Atlanta, GA @ The Masquerade – Heaven
Apr 18 – Orlando, FL @ Backbooth
Apr 19 – Tampa, FL @ The Orpheum
Apr 21 – Houston, TX @ Walter's Downtown
Apr 22 – San Antonio, TX @ Paper Tiger
Apr 23 – Corpus Christi, TX @ House of Rock
Apr 25 – Kansas, City, MO @ Aftershock Live
Apr 26 – Denver, CO @ Summit Music Hall
Apr 28 – Salt Lake City, UT @ The Complex Advertisement
Watch "Hell In The Hallways" here: 
Plot Sickens Drum video cam:
 Alice Drum video cam: 
 For more, visit www.Iceninekills.com and Facebook.com/iceninekills.