On the Beat with Joey Cassata of ZO2 and the Musical "Natasha, Pierre & the Great Comet of 1812": Talks Challenges of Broadway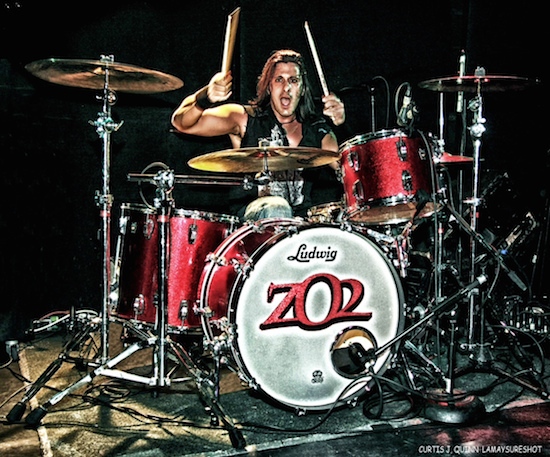 Hey, Modern Drummer readers! It's Joey Cassata, drummer for the new Broadway musical starring Josh Groban called Natasha, Pierre & the Great Comet of 1812.
I've been drumming for the show since it's off-Broadway run starting back in 2013. Before that, some of you may know me from my band ZO2 and the TV show Z Rock.
Being primarily a rock drummer at heart, the Broadway scene is very new to me. The challenges of working in theater and on a hit Broadway musical are endless—much different than being a touring drummer. On tour, being a rock drummer was more of physically demanding gig, but playing eight shows a week in theater is more of a mental marathon. Instead of feeding off the energy of a live audience and letting them take you and your band in a certain direction, whether it be an improvised jam or just playing with the set list each night, Broadway is a much more structured atmosphere. Playing the same exact show eight times a week has its own unique challenges.
Fortunately, I love what I do and am able to get excited and feel fresh every performance. Every time I get behind my kit I feel like I'm ten years old again, practicing in my room and pretending I'm playing at Madison Square Garden. That excitement should always be there; I believe that is a very big key to success. Whenever anyone asks me how it feels to have "made it" or how can they "make it," I openly laugh. There's no magic formula that is going to get you there—even if that's such a thing. You have to work beyond hard and put in the time. There will be countless obstacles and times you may want to quit and give up, but the only people that "make it" and fulfill their dreams are the ones that never give up!
If you're looking for a completely innovative, new, exciting musical experience, come and see Natasha, Pierre & the Great Comet of 1812 playing now at the Imperial Theater in NYC.
I'd like to shout out and say thanks to my families over at Ludwig, Paiste, Vic Firth, and Evans for taking such good care of me over the years and a very special thanks to Billy Amendola and Modern Drummer magazine. Thank you for reading!
Here are a few links …enjoy!
"Great Comet"
https://youtu.be/LIO5PCaZhEM
ZO2 "Temptation"

ZO2 "Painted Lady"

To keep up with all of Cassata's endeavors, please go to facebook.com/Joey.CassataZrock.