Duran Duran's Roger Taylor and John Taylor Collaborate with At-Risk Youth on New Track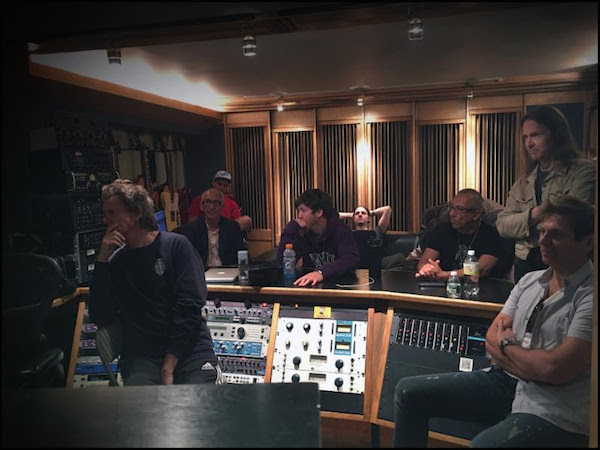 Duran Duran drummer Roger Taylor and bassist John Taylor collaborated with at-risk youth from the charity Road Recovery to produce, mix, and record an original dance-rock song, "No Rewind." The song is available to purchase exclusively at CrowdRise through a download-for-donation campaign. All proceeds will go to support NYC-based non-profit Road Recovery's youth programs. Road Recovery was founded in 1998, and involves music professionals mentoring at-risk youth through creative workshops, live concerts, and recording projects.
"Road Recovery offers a safe, drug and alcohol-free place for young people to learn and work, and with professional guidance, introduces them to all aspects of the music business, from songwriting and performance, to the delivery of their music to fans, either live or via recordings," said John Taylor. "'No Rewind' itself says a lot about Road Recovery's work and philosophy. Lyrically and thematically, it's an expression of the real concerns of sober kids."
In between Duran Duran's New York City-area stops on the band's tour in support of their most recent album Paper Gods, Roger Taylor and John Taylor took time out to work with youth from Road Recovery's RecoveryTrax program, meeting backstage and rolling up their sleeves at Threshold Recording Studios NYC, home to the charity's youth programs. Over the past nine months, Road Recovery's youth exchanged demo recordings and sonic ideas with John and Roger. The result, "No Rewind," is an original, energetic, dance-rock tinged song that was produced, mixed, and arranged by the band members, along with Duran Duran producer/engineer Joshua Blair. Advertisement
Through Road Recovery's CrowdRise website, music fans have an opportunity to make tax-deductible donations of ten dollars or more, in exchange for this exclusive track, unavailable elsewhere. For larger donations, Duran Duran is generously making a number of gifts available including DVDs, posters, and signed promotional materials from the Paper Gods tour. A grand prize of a Duran Duran meet and greet will be awarded to the fan who makes the largest donation.
Duran Duran will release a limited-edition deluxe vinyl box set of Paper Gods through Vinyl Factory later this month, featuring previously unreleased material from the Paper Gods recording sessions. The band will perform three shows at the end of the year. Please see below for dates. Ticket info can be found HERE.
12/29        Cancun, Mexico    Moon Palace Arena
12/31        Oxon Hill, MD        The Theater at MGM National Harbor
01/01        Oxon Hill, MD        The Theater at MGM National Harbor
For more information, visit www.crowdrise.com/NoRewindForCharity.