PMC's "Roadie for a Day" Drums with Rich Redmond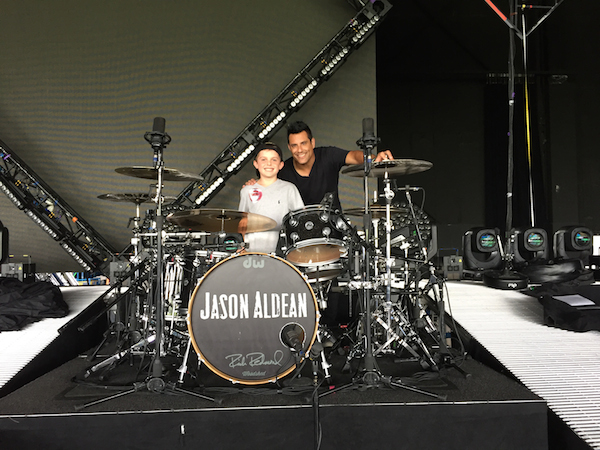 On September 30, the Percussion Marketing Council (PMC) 2016 International Drum Month (IDM) promotion culminated when eleven-year-old Henry Saad met real-life drum hero Rich Redmond prior to a Jason Aldean concert in Raleigh, North Carolina.
Henry's father, Michael, entered the IDM "Drum Roadie for a Day" and all-access backstage experience contest online on behalf of his son. The contest connects to participating percussion retailers across the country during PMC's month-long May campaign. Michael's entry was selected from more than 378 entries, making this year's IDM contest the most successful ever. Using banner ads, social media, and Google AdWords, PMC targets young, diverse audiences interested in drumming and draws them to PMC's playdrums.com website where they can enter the contest. From there, the drummers are directed to participating music stores and drum shops close to where they live. Located across the country, those retailers were provided life-size Rich Redmond standups to attract awareness for the promotion.
Henry's day began with a Crash Course for Success program at Raleigh-based PMC member Billy Cuthrell's Progressive Music Center. Before the event, Rich Redmond gave Henry a thirty-minute private drum lesson. "It really helped kick the day off for a packed schedule. Later, at the concert, Henry got to see the inner workings of a major tour, including an inside look at how a professional drummer works on a daily basis and what it takes to reach and stay at that level," says Cuthrell. Advertisement
"At every turn, Rich welcomed our son into his daily routine and shared his acquired wisdom to help guide Henry in his pursuit of a career in drums. Henry's passion for drumming is apparent to anyone who knows him. This experience and these memories will last a lifetime. We're so grateful to the PMC, Rich Redmond, and all of the fantastic sponsors that made this day possible," says Michael Saad.
"PMC's mission is to instill excitement about playing drums and to put sticks in kids' hands," notes Karl Dustman executive director for the PMC. "This promotion is one of our best vehicles to help build the drumming community and raise awareness of the fun of playing drums."
Watch a video of Henry rocking out with Redmond at