Friday Nuggets: Early Bee Gees Drum Fun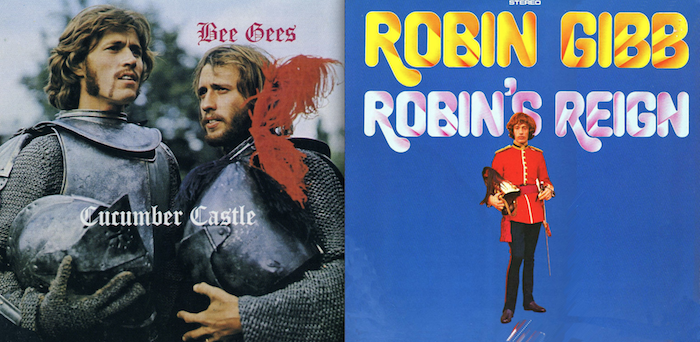 The seventh Bee Gees album, Cucumber Castle, is unique for a couple reasons. Most famously, Robin Gibb had left the group in 1969, previous to the recording of the soundtrack to a television special of the same name, which was fleshed out with additional tracks for commercial release.
From our perspective, an equally interesting fact is that the band's longtime drummer, Colin Peterson, who was considered fairly equal to the Gibb brothers within the group, was fired soon after Robin left, and before the album was completed. Terry Cox from the pioneering British folk-rock group Pentangle took Peterson's place during, it should be noted, an unbelievably busy, complex, and creative year for the band. (They sort of all were like that for the Brothers Gibb.)
There's some question as to who played on each song that appears on the final release of Cucumber Castle. The exhaustive Bee Gees website Gibb Songs suggests it's Peterson on the cut "I Lay Down and Die," which we'll focus on here, but either way it's an intriguing study. A great example of drums being used for orchestral drama and hookiness if not groove provision, "I Lay Down and Die" begins with what sounds like a floor tom playing a seven-stroke roll on 3 followed by a single bass drum on the 1. The pattern is then doubled by a snare and tambourine/cymbal crash, and a maraca on all fours is introduced. The whole production—a classic Phil Spector Wall of Sound approach—is bathed in reverb, and to our ears the drums sound more like what a symphony orchestra would employ than what a typical rock band of the day would. This is plausible considering that there are strings on the cut as well, and the Bee Gees often used orchestral backing. Perhaps the actual drummer is an un-credited classical player or two…or three…or four! We'll leave further research to another day; for now let's just enjoy the final result. Advertisement
Listen to "I Lay Down and Die" here:
By the way, if you dig the kind of production used on the track, I encourage you to check out the contemporary duo Cat's Eyes,  who've put out a few wonderful albums, including the soundtrack to The Duke of Burgundy, which is currently streaming on Netflix.
But back to the Bee Gees: When Robin Gibb left the group in 1969, he recorded demos using an early drum machine, possibly a Seeburg Select-A-Rhythm, as accompaniment. A number of those tracks were then overdubbed with an orchestra (others featured Colin Peterson on kit) and released commercially as his first solo album, Robin's Reign. There are certainly earlier examples of drum machines on record—the instrument's origins have been traced back as early as 1930, to a device called the Rhythmicon—including composer/bandleader/inventor Raymond Scott's 1964 recording Soothing Sounds for Baby and the West Coast freak-rock band the United States of America's 1968 self-titled album. But it's widely agreed that the #2 British single from Robin's Reign, "Saved by the Bell," is the first hit song to feature a drum machine, which is actually the first sound you hear on the LP's opening track, "August October." Check out this album track, "Mother and Jack," which was also the B-side to "Saved by the Bell." Echoes of Sly Stone and Phil Collins.
Adam Budofsky