Pearl Hosts Nashville Drummer's Group at Hard Rock for Gear Preview and Lunch
Giving one hundred plus drummers a chance to test high-end drums, mingle with marquis artists, and enjoy great food in the heart of America's most active live music scene, Pearl Corporation recently hosted members of the Nashville Drummer's Facebook group at the Hard Rock Café's Reverb Room in Nashville, TN. The event showcased six distinct Pearl kits, including their Nashville-assembled Music City Custom drums, as well as a variety of premium snares and hardware to players in attendance.
"The Nashville Drummer's Lunch has been part of this community since the eighties," stated group moderator George Lawrence, who helped organize the event. "Everyone is welcome, regardless of the size of your gig. We meet the first Wednesday of every month just to talk shop, eat, and network. We are grateful that Pearl has not only become a regular part of our crew, but went to the trouble and expense of recognizing us with this event."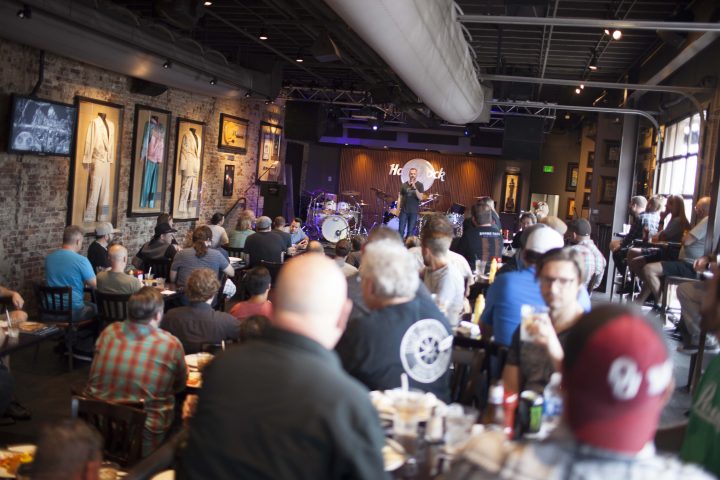 "Pearl has been an active part of the Nashville scene since we opened our corporate offices here over forty years ago," stated Pearl Corporation CEO Terry West, addressing the crowd. "With our new Music City Custom shop, we have the ability to hand-tailor drums to the players in this town, and do it according to the demanding tour timelines current headliners expect." Advertisement
"Yeah, the drums are amazing, but it's the family vibe at Pearl that's kept me there for over fifteen years," said emcee and Pearl artist Tracy Broussard (who actually worked at the Hard Rock before landing the drumming chair with Blake Shelton.)
The crowd was further treated to an informative drum duet between artist Ray Luzier (drummer for Korn) and Pearl R&D director Raymond Massey. "Drum solos make the best dining music," quipped Luzier following the explosive exchange with Massey. Product testing continued well into the afternoon, with Pearl staff and management on-hand to answer questions from each drummer.
"The honesty and diversity you find in the Nashville Drummers Group is pretty rare," says Pearl Combo marketing manager Kevin Packard, summarizing the event. "With all we have coming up in our seventy-first year, we love the feedback and are already planning our next event with them!" Advertisement