Calling All Drummers to Join Celebrity Drummers in "Sticking It" to Breast Cancer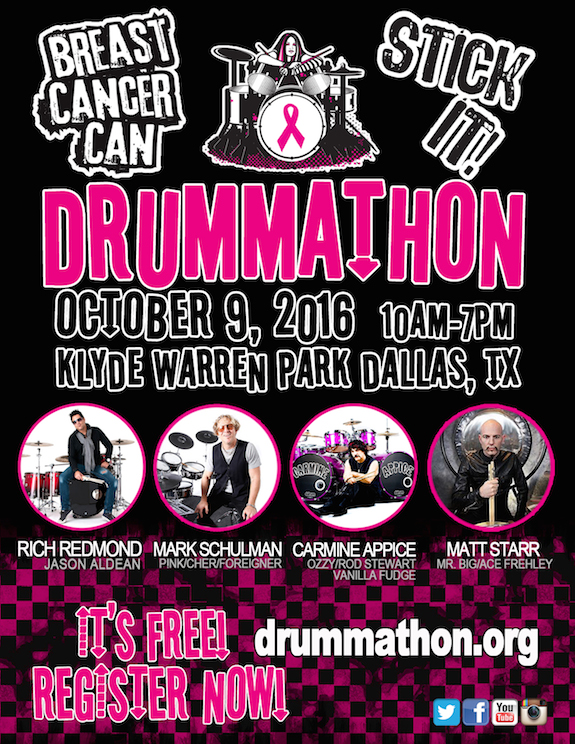 Breast Cancer Can Stick It! will host its second annual, family-friendly Drummathon on October 9, 2016 from 10 am to 7 pm at downtown Dallas' premier outdoor venue, Klyde Warren Park. The organization is calling all drummers, both in DFW and across the country, to participate in this fundraising event to help "stick it" to breast cancer. The goal is to have one hundred drummers raise $500 each, to hit the target of $50,000.
April Samuels, founder of Breast Cancer Can Stick It!, is a professional drummer and a breast cancer survivor dedicating her energies to beating breast cancer. "Ever since I came up with the slogan Breast Cancer Can Stick It! just a few weeks after my diagnosis six years ago, I've wanted to bring together the drumming community to fight breast cancer. Now is our chance," said Samuels.
This year, Drummathon is being catapulted up a few notches by moving it to downtown Dallas, and by making it free to register. Drummers of all ages and abilities are invited to register to set up a free fundraising page to get friends and family to support them for Drummathon. On the day of the event, the top forty fundraisers will have the opportunity to demonstrate to the world and celebrity rock stars what they've got during a timed solo. Advertisement
Drummathon will feature celebrity rock star drummers Carmine Appice, Mark Schulman, and Matt Starr—hailing from such groups as Pink, Cher, Rod Stewart, Ace Frehley, Ted Nugent, Ozzy Osbourne, and Mr. Big.
"I am a supporter of all cancer charities. And Breast Cancer Can Stick It! hits home as many female friends have had breast cancer; the cancer research has helped them get back to a normal life," said drummer Carmine Appice.
"I'm so excited to be part of my second Breast Cancer Can Stick It! Drummathon. It's such a powerful and unique way to support the community and celebrate life and music," said Matt Starr. Advertisement
Drummathon special guest and testicular cancer survivor Mark Schulman declared, "I beat cancer before and now I literally beat cancer every day through rhythm, hope, joy, and support. How about you"?
Emceeing the event will be drummer Rich Redmond from Jason Aldean. Redmond has a very real and personal connection to the cause. "This is a very important event for me, as my mother is a long time breast cancer survivor. I am honored to be involved," he said.
The event will include live music from Sweet Chaos (featuring fifteen-year-old female drummer Payton Taylor), Logan "Robot" Gladden and Friends (twelve-year-old "Robot" has been on America's Got Talent), the JuJu Beans, and the Breast Cancer Can Stick It! Band, featuring April Samuels. Advertisement
Businesses or individuals interested in partnering on Drummathon should contact Michelle Graves at michelle.graves@dallasobserver.com for opportunities. To learn more, to donate to your favorite drummer, or to register as a drummer for the Breast Cancer Can Stick It! Drummathon, visit drummathon.org.
Breast Cancer Can Stick It! Foundation, Inc. is a non-profit 501(c)(3) organization.