On the Beat With Brian Delaney of Melissa Etheridge: Talks Tours, Spain, and David Bowie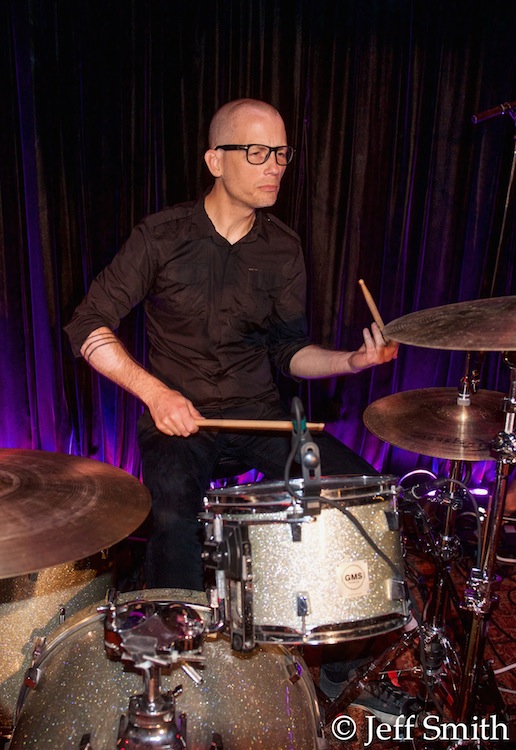 Hey there, MD readers! I'm psyched to write an On the Beat entry for you. I was out this summer with the fabulous Melissa Etheridge. We went as a trio, with Melissa on guitar/vocals, David Santos (Billy Joel, John Fogerty, Crosby, Stills, and Nash) on bass, and myself.
For the tour, I'm playing on a Gretsch Renown kit: 22″ kick, 12″ rack tom and 16″ floor. I'm using one of few different snares, depending on this or that. Her show is very dynamic. You got to stay on your toes. No tracks or click. She likes to extend intros and the solos, so it's all about listening and watching.
She has new record where she covered a bunch of Stax tunes and we'll be touring in October playing those tunes, with horns and background singers. It's going to be a blast!
In early July, just before going out on tour with Melissa, I played two David Bowie celebration shows in Spain with a group of David Bowie "collaborators and co-conspirators," as we were called. I got to collaborate with Mr. Bowie and play drums for Lazarus, his off-Broadway show that ran in NYC last fall, ending in January, just after David's passing. The shows, led by keyboardist Henry Hey, featured twenty-plus tunes from David Bowie's amazing library of music. In Spain the shows featured a dozen or more Spanish music artists who wanted to pay tribute to David and his music. What a great experience. A lot of love that night. Advertisement
We recently played another Bowie show in early September in NYC at the Cutting Room with a few singers, one of which included actor/singer Michael C. Hall (Dexter), who was featured in the Lazarus show. What an honor it is to play David Bowie's tunes with this incredible band. We hope to play more shows in the future. In the meantime, I'll be playing, recording and producing, keeping at it. I hope to see you out at a show!
I'd like to thank to Gretsch, Vic Firth, Bosphorus, and DW hardware for the great gear!
Check out http://www.melissaetheridge.com/tour/ for tour dates and more with Melissa Etheridge.
Lazarus on The Late Show with Stephen Colbert:
Photos by Jeff Smith: https://reflectionsnyc.smugmug.com.