Q&A: Islander's Arin Ilejay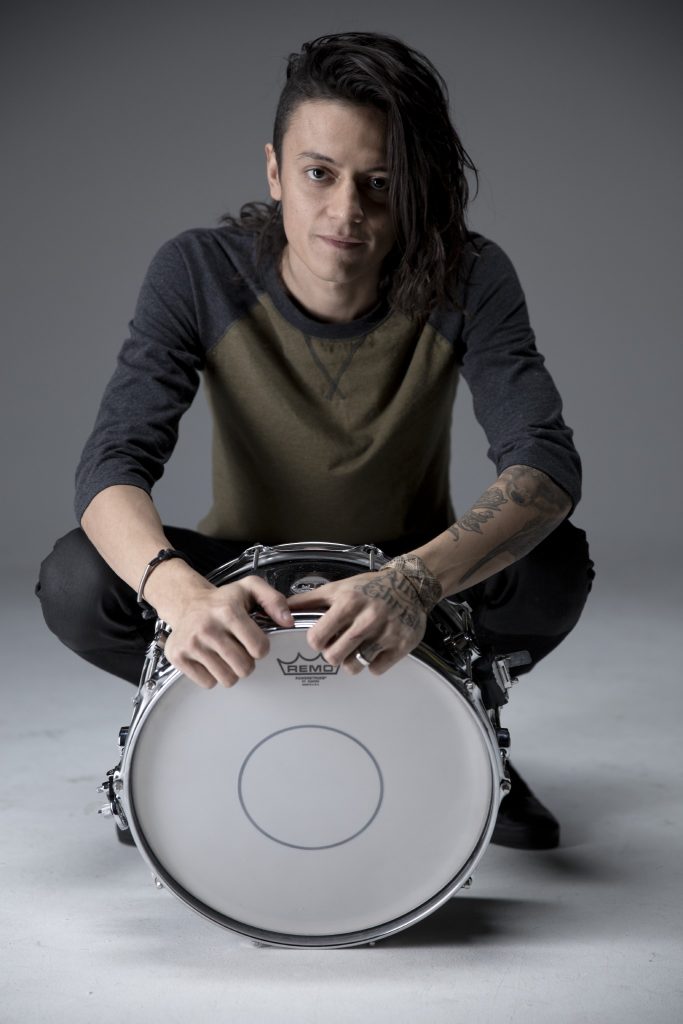 by Ben Meyer
Former Avenged Sevenfold drummer Arin Ilejay recently took over drum duties in Greenville, South Carolina, rap-rock band Islander, and appears on the group's second album, Power Under Control. Ilejay's not the only fresh face. Like its predecessor, 2014's Violence & Destruction, the new album was recorded at NRG Studios in North Hollywood with the mighty Cameron Webb (Motörhead, Alkaline Trio, Silverstein) at the helm. But aside from founding member and vocalist Mikey Carvajal, Power Under Control features an entirely new band lineup, with J.R. Bareis taking over guitar duties and Zeke Vasquez manning the bass. Modern Drummer Online took advantage of a chance to speak with Ilejay about Islander's new release to find out about his drumming background.
Arin: I grew up around music. My dad is a session guitarist, and he exposed me to a lot of more difficult genres. He was all about Top-40 music. I ended up listening to everything from Van Halen to Nirvana to Incubus to Earth, Wind & Fire. It was kind of non-stop exposure.
I started learning to play drums in church around the age of ten. After that, I got to play in worship services. That was the beginning. That's where I learned to play with other musicians.
MD: Did you participate in the band program in school?
Arin: I did home-schooling for most of my childhood. It wasn't until my sophomore year of high school that I got really into band. I was able to join the jazz band and play in the pit with the marching band. I got a little bit of training playing concert percussion, but it wasn't really extensive. My greatest passion was really behind the drumset, and my dad owned a music store, so he set up a little room where I was able to practice. I would practice playing along with all these different bands, and that was where I learned how to play "Unholy Confessions" by Avenged Sevenfold.
My dad's students would bring in music they were interested in and he would put on concerts for them so they could see what it felt like to be in a band. They'd perform for their parents and each other, and I got to perform "Unholy Confessions" for one of those concerts. It was pretty cool!
When I joined my first band, I was really into indie and emo stuff like Bright Eyes. Later on, around when I turned nineteen, I met up with some old friends and ended up joining a band called Confide. I got into bands like Underoath and August Burns Red, and that was a whole other world that just blew my mind. I was so drawn in by the passion of that type of music and seeing guys wail and just go crazy and lose themselves. I loved that.
MD: You were in the drum-manufacturing industry for a few years after that with TRX Cymbals, right?
Arin: Yeah, I was with Confide for two years and then I figured that I should probably settle down and get a real job if I wanted to have a wife and kids, which was ultimately my goal, even with music being my first love. I really wanted to have a family, so I figured I'd just go that route. I endorsed TRX when I was on the road with Confide, and I really loved the cymbals, so it was easy for me to walk up to any drummer, show them the gear, and tell them how great the company was.
MD: How did you get hooked up with the Avenged Sevenfold audition?
Arin: When I had recorded the Shout the Truth record with Confide, our producer, Cameron Webb, encouraged me to call in a drum tech, and he recommend Mike Fasano. He teched for me for that record and taught me a bunch of cool techniques that I still use today.
When I quit Confide, Mike and I didn't really keep in contact. But a year into my time with TRX, he called and asked how I was doing. Apparently he was really stoked on my playing and that kind of sparked something with him. He said, "Are you ever thinking about going out on the road again"? I said, "Not really. I'm trying to put some roots down and establish myself at home." He said, "Alright, but I know this band that's auditioning drummers." He was trying to encourage me to get back out on the road and get back to playing, but I had TRX and my girlfriend at the time, so I said, "I really can't do it, but I appreciate the call."
The next year goes by and then Mike texts me and says, "How's it going? I know you don't want to tour and I'm trying to reach a bunch of other guys, but they're not calling me back, so I'm just going to bother you. Keep this on the down-low, but are you interested in auditioning for Avenged Sevenfold"? I was at my friend's house and just had to walk around his neighborhood even to process the whole thing! [laughs] I was already a fan of the band—after hearing "Unholy Confessions" and practicing along with the Waking the Fallen album, Jimmy "The Rev" Sullivan became one of my favorite drummers. I had to learn how to do all this crazy stuff that he was writing.
So I thought about it and I called Mike back and said, "I may as well give it a shot." If there was ever going to be a reason that I would leave all that I had worked for, I figured Avenged Sevenfold was big enough! Mike is like a big brother to me. He didn't just leave it to that text and then connect me with the band, he really pulled me aside and made sure that I had my gear in order and had a place to practice. He said, "If you get this, you have to quit your job now and start practicing."
MD: How was Cameron Webb to work with on Islander's new album, Power Under Control?
Arin: He's fantastic. I worked with him on the Confide record and it was crazy that he ended up producing Power Under Control for Islander as well. Mikey Carvajal loves him too, and he's so much fun to work with. He wants what we want. Our methods work together, and it just got better and better as we spent time in the studio together. We had to learn how to trust him, and he was already super excited for us.
Arin Ilejay plays DW drums, Zildjian cymbals, Remo heads, and Promark sticks. To find out when Islander is coming to a town near you on its fall tour, go to islanderofficial.com.