Guitar Center Spotlights Nation's Best Drummers in Drum-Off Competition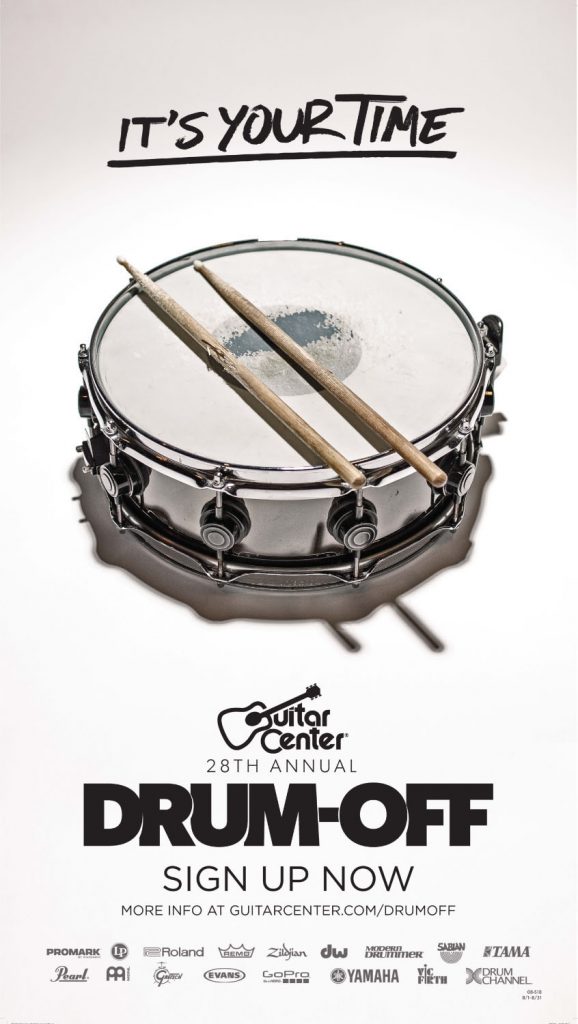 Guitar Center's Drum-Off launches its twenty-eighth annual search for the top undiscovered drummer. Developed to inspire and support drummers in the pursuit of their musical aspirations, the program provides drummers with an incentive to work on their craft, connect with a larger audience, and has grown into a sought-after launching pad for a career as a professional drummer. Past Drum-Off winners have gone on to play with Beyoncé and Prince (Cora Coleman-Dunham), the Mars Volta and Trash Talk (Thomas Pridgen), Jay-Z (Tony Royster Jr.) and many more. As Guitar Center's longest running artist discovery program, Drum-Off continues to unearth some of today's top emerging drum talent and provide an unrivaled platform for exposure.
Free and open to drummers across the country, entrants will compete for a chance to win a career-launching grand prize package valued at $50,000 including cash, gear, endorsement deals, and more.
Drummers from all over the country will be able to sign up at their local GC store. The competition breaks down into two weeks of store preliminaries at 267 participating stores. The top three drummers from each of the prelims will advance on to the store finals at all 267 of those locations. Each of the store winners will move forward to the thirty quarter finals, and then to five semifinals, culminating with the grand finals at the Novo in Los Angeles on January 14, 2017.
Each contestant will perform on a five-piece acoustic drumkit complete with hardware, cymbals, and percussion. Their performance will be evaluated by a panel of independent and credible judges on the following criteria: skills/technique, style, stage presence, groove, and overall performance Advertisement
"Over the past twenty-eight years, Guitar Center's Drum-Off has become an institution and a highly anticipated event in the drum community," said Maria Brown, manager of music and entertainment marketing for Guitar Center. "We are excited to create opportunities for drummers to play more, build their craft and shine a light on the emerging talent that we get to see during the competition."
Guitar Center Drum-Off is presented by DW, Promark, Yamaha, LP, Meinl, Roland, Gretsch, Pearl, Modern Drummer, Vic Firth, Zildjian, GoPro, Sabian, Remo, Tama, Evans, and Drum Channel.
Watch Guitar Center's Twenty-Seventh Annual Drum-Off winner, Tony Taylor Jr. and his winning performance here:


For more information on rules and regulations, please visit guitarcenter.com/drumoff.