On the Beat With Mickael Walle Wahlgren of Cam: Putting In the Time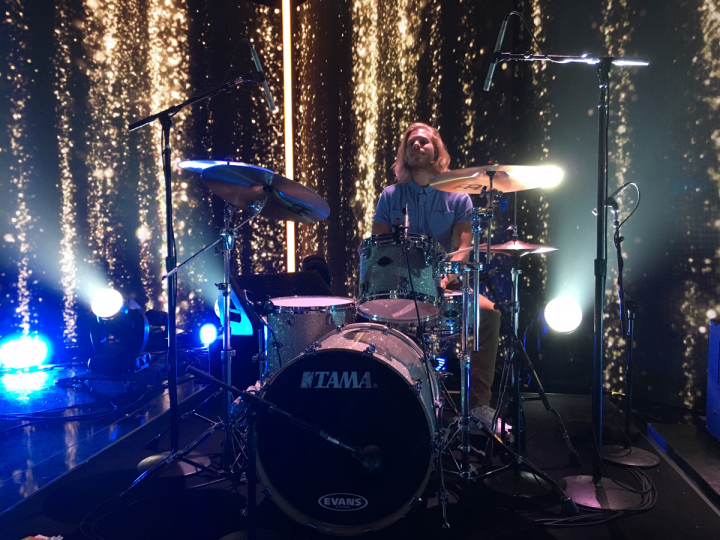 Hi MD readers! It is such a privilege to be writing for On the Beat. My name is Mickael Walle Wahlgren and I'm a drummer from Sweden. I moved to Los Angeles from Stockholm a year ago. In that time I've had the pleasure to play behind the artist Cam on pretty much every late night and award show out there, tour with Brad Paisley earlier this year, and have just jumped on the Dierks Bentley tour.
Talking to my best friend from back home the other day I found myself remembering where I came from and what led me to this point. I want to share that experience with you all.
Coming up, I did every type of gig there was, from Dixieland to hip-hop, on and off land, cafés, bars, and pizza parlors. Door deal, cash deal, and mainly no deal. I remember I did three sets at a club; two people showed up. I honestly got paid a beer, a cookie, and six dollars (which was for the whole quintet) and I couldn't even afford the bus ticket home. But I knew that things would turn around one day, it just had to, and when it did I would be ready for it because I had put in the time.
Most recently I found myself recording a heavy fusion album, four country shows, and a pop performance at the CMT's with Fifth Harmony. All within a week!
There's is one common denominator in all of this—work. When I didn't have a gig, I started a band. When we didn't have shows, I booked them. When I couldn't afford to record the music I wanted to, I built a studio in an old slaughterhouse. And when I couldn't pay rent I moved in there, because I knew above all else that there would be a tipping point—there had to be! I just had to keep working. Advertisement
Cam came to Scandinavia before she was signed on a tour that my friends and I booked. I was the drummer, promoter, tour manager, booker, merch guy, and bouncer. A year later she asked me to come to America and be her drummer, probably because I was a hell of a bouncer. Ha!
You have to put in the time. If you can't do a gig cause you lack the skills, then go back and learn that brush pattern you never sat down with, get your weak hand up to speed, and learn how to read. Educate yourself!
If you aren't putting time into your craft, like any other job requires, then how do you expect to ever get anywhere in this one? You must work nine to five on your musicianship. Always carry your pad around and listen to the greats out there. Hone your skills, and inch yourself closer to your goals. I guarantee that you will go places if you do. Advertisement
The opportunity will present itself for you one day. Have you put in enough time when it does? If not, then pick up the sticks.
Thank you MD, Tama, Meinl, Promark, and Evans.
Catch me live this summer with Cam on Dierks Bentley's Somewhere On a Beach tour.
You can also hear me on Lalle Larsson's Weaveworld trilogy, Cam's debut Untamed (that also features session greats Steve Jordan and Dan Needham), and I'll be on the upcoming release of The Elba Triangle, sharing the bill with virtuoso drummer Virgil Donati.
Follow my drumming on Instagram at www.instagram.com/walleondrums, and check out my videos at www.youtube.com/walleondrums.
For more videos, visit drum cover "Be Mine" by Robyn (see below), and Burning House live in Canada (second below).