On the Beat With Michael Bettine of Gongtopia: Relax and Bang a Gong
On the Beat With Michael Bettine of Gongtopia: Relax and Bang a Gong
Greetings, Modern Drummers! Michael Bettine here and it's been a very busy 2016 so far. In January, I was in Australia as the artist in residence at the MONA FOMA festival in Hobart, Tasmania. Over the course of three days, I performed eight times: four solo performances, three duos, and one quartet with Australian musicians. It was a fantastic experience and the response was wonderful.
I've also been busy performing solo in art galleries and art museums. I like exploring different venues and finding new ways to connect with people. In one museum, I led "sound tours" through the various galleries. In each gallery, I designed either the instrument setup or the music performed to have a connection with the art. I told a short story, played my piece, and then led people to the next gallery. In other situations I've worked with poets and dancers.
Another aspect of my musical explorations is playing gongs, singing bowls, and bells for meditation. I do a lot of work with yoga studios and health facilities. This is extremely rewarding work. I've been practicing yoga for over twenty-five years and this is a natural extension of that. Advertisement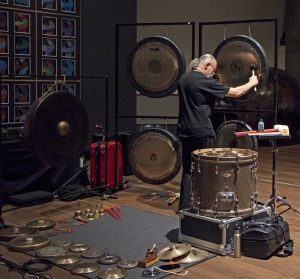 If you're a long time MD reader, you may remember some of the many articles I wrote for the magazine from 1984 to 2009. I've kept up with my
writing and currently write two well respected music blogs, Percussion Deconstruction (percussiondeconstruction.blogspot.com), which is about exploring today's cutting edge percussion; and The Way of the Gong (thewayofthegong.blogspot.com), which is about gongs, singing bowls, and using them for meditation and sound therapy. Writing and education continues to be a big part of my life. I love to share what I know and teach weekly, as well as present clinics and workshops for Paiste and Mike Balter Mallets.
I think it's important for today's percussionists to find new avenues of expression and new ways to bring their music to people. Thanks for checking things out!
Keep up to date with Michael and his activities at www.gongtopia.com.