On the Beat With Charlie Z: Drumageddon Cyborg Drummer/DJ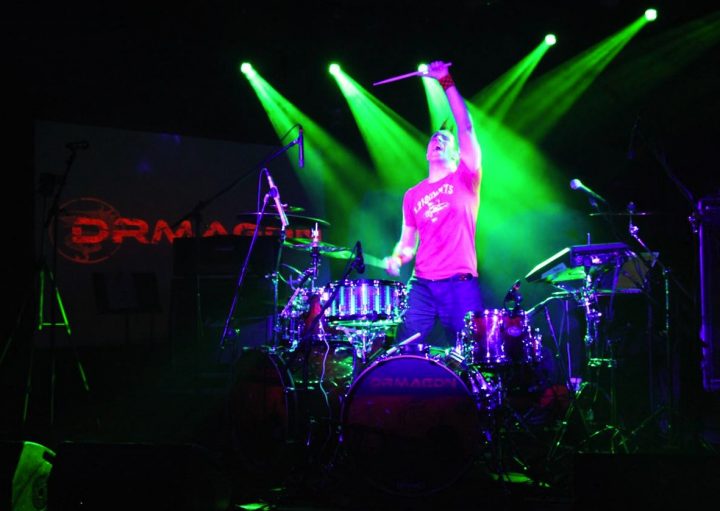 Hello! It is my honor to be a part of the Modern Drummer "On the Beat" section. Being a young drummer, Modern Drummer was actually how I got the idea to become the successful NYC session drummer, producer, and music director that I am today. I've since been lucky to have played some of the world's biggest stages including the Winter Olympics in Sochi, Russia, MetLife Stadium, Lollapalooza, Warped Tour, Carnegie Hall, and Lincoln Center. I've toured twenty countries, forty-three US states, and recorded more than one hundred records in just about all styles of music.
I've played with Terry Bozzio on The Drum Channel, Jordan Rudess from Dream Theater, plus have played with prog metal bands like Blotted Science and Behold the Arctopus. I've toured with Joe Lynn Turner from Deep Purple, Steve Augeri from Journey, and have played with pop artists like Europop Star Gala, Outasight ("Tonight is the Night"), and Kristen Chenoweth, in addition to Rock of Ages.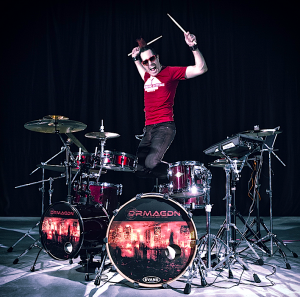 I've produced some of the finest musicians from NYC and all over the world. I've also had success with my Drumageddon video series and my solo videos on YouTube, garnering more than one million views and more than 5,000 subscribers across all my social networks. In today's ever changing industry, I feel extremely blessed to continue to follow my dreams at such a high level with so much variety. Advertisement
The project I'd like to share is an album I produced, wrote, and played drums on for artist Bella D's album The Crystal Ceiling. It is a concept record that has a powerful symphonic rock vibe throughout with full live orchestra, rock band, EDM electronics, and tons of intense drums. I produced the record under my solo project name DRMAGDN: Cyborg Drummer/DJ which is a project where I play half-standing/half-seated with electronic drum trigger pads and foot pedals, plus a crazy futuristic cyberpunk-themed drumset.
During the recording we paid tribute the band Muse and did a reinvention of their tune "Starlight," released as an independent single outside of the concept record. The tune is a very dark, moody, and epic take on the more mainstream original version. We are very happy to say that it debuted at number forty-one on the New Release Rock chart on iTunes and will be featured in Loudwire magazine.
The attached video is the drum cam footage from the "Starlight" music video and shows me playing the drums seated, standing, and jumping on the track. The endorsed gear I proudly represent includes the large Pearl drumset with Paiste cymbals, Evans drumheads, Vic Firth sticks, Dualist pedals, Audix mics, Presonus preamps, DreamEarz in ears, plus Inva Drum Technology, Rhythm Tech, Beatnik, Hansenfutz, Protection Racket, Ddrum, and Roland Electronics. Advertisement
Bella D's The Crystal Ceiling album has an accompanying comic and is available digitally worldwide now. DRMAGDN is available on iTunes, Spotify, and at www.DRMAGDN.BigCartel.com.
Watch the "Starlight" Muse Remix Cover (Drum Cam Video) from Charlie Z of Bella D here:


Photo credit: Biruta Freimane from Jadeluxphoto.