On the Beat With Brian "Nucci" Cantrell from the English Beat: Talks New Album and Upcoming Tours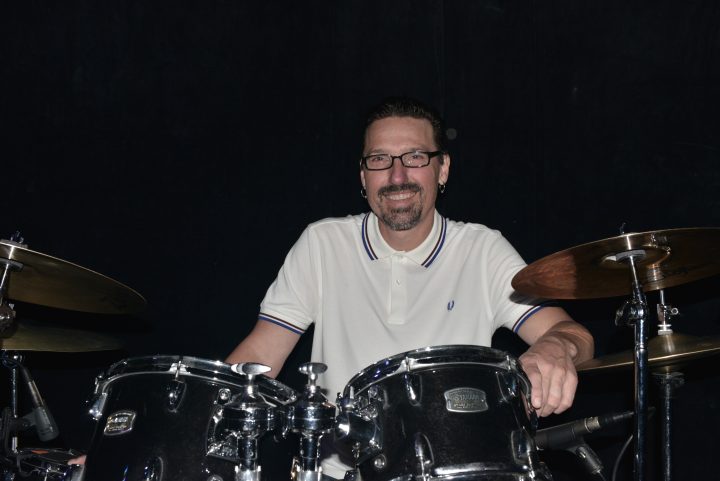 Hello to my fellow drummers, and a big thank you to Modern Drummer for letting me add to On the Beat. My name is Brian "Nucci" Cantrell and I am the drummer and backing vocalist for the English Beat. I feel fortunate to have a gig that involves playing pop, ska, reggae, and even some punk style of drumming. When someone asks what my favorite style of music is to play, I always say it is variety that I want. It's great for keeping my chops up and keeps me on my toes.
The band is finishing up a new record to be released this fall titled, Here We Go Love, and we have set up some great shows to promote the album. There are a couple states tours with Soul Asylum and Squeeze, as well as multiple one-offs with the B-52's, Train, UB40, Pat Benatar, and Culture Club. I am always excited to be playing music, but to get a chance to share the bill with so many great bands is a special honor. I'll definitely be watching all these bands in action and probably stealing, (really, just permanently borrowing), a lick or two.
To top it all off, we will be heading back to the UK in the fall for a four week tour. Being that England is where the band started, (and the whole 2 Tone genre, for that matter), there is a passion for the English Beat that is ingrained in the British fans. England also has the fish and chips thing nailed. Ahhh, the perks! Advertisement
I want to give a special thanks to the folks at Fred Perry. They've been awesome about making sure the band looks great on stage, hooking us up with the traditional "rude boy"-style Fred Perry polos.
Hope to see you all out at the show nearest you. Come up and say hello. I always love talking drums. Hasta pronto!
For current tour dates and more on the English Beat, please go to englishbeat.net/ and www.facebook.com/EnglishBeatFans/?fref=ts.
Photo by Amy Martin Friedman, www.martinfriedmanphotography.com/.