Drummers, On the Beat
On the Beat With Mike Fuentes of Pierce the Veil: Self-Taught Style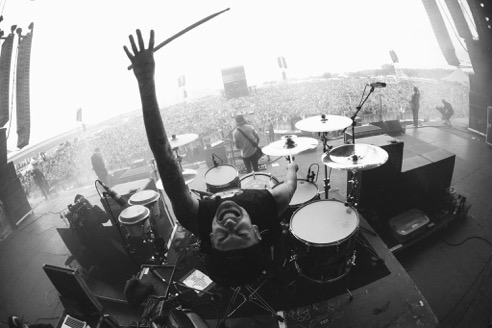 Hello everyone, my name is Mike Fuentes and I play drums for a band called Pierce the Veil. When I was fourteen years old my dad bought me my first drumset at a local swap meet along with a Buddy Rich DVD. After that, my brother Vic and I started jamming every day after school—writing songs and recording demos in my bedroom, where the walls were completely covered in posters of all my favorite bands.
Growing up in San Diego I was exposed to a lot of fast-paced, SoCal punk rock. I loved going to shows and focusing on the drummers. I would analyze and study everything that they did and try to implement it into my own playing. Because of my early interest in jazz and punk, my style has always been fast and tight with intricate parts.
Being a self-taught drummer, practice was essential. I spent hours and hours covering my favorite songs and mastering every single drum fill until I eventually starting making my own. My brother would come to me with a song and I would try to complement his melodies. Since I've never been one to write sheet music, this was all muscle memory on my part; playing everything over and over until it was burned in my brain.
We started a band and played shows everywhere and anywhere we could. After saving a bit of money from t-shirt sales and mowing lawns, we were able to record our first demo at Double Time Studios in El Cajon, San Diego. It landed on the desk of someone at a record label not more than six months later and we signed a deal and hit the road.
Fast forward ten years and I can't believe I'm lucky enough to be traveling the world and playing music for people with my brother and best friends. Our new record, Misadventures, hit everywhere this past May 13, 2016 and we're really proud of what we created for our fans. Pick it up, give it a listen, and if you come to a Pierce the Veil show, expect to see me in the back flailing around and having the best time of my life.
For tour dates and more, visit http://piercetheveil.net.